Hi Everyone,
The forum is still quiet since the last challenge, but this is the 2nd outing that I've fished of Martin's since then. I have to commend Martin for
this outing very much. The scenery is very beautiful gives you a good since of peace and tranquility while fishing.
This is a very relaxing outing to fish. It's not a quick hit and run outing. There are times that you have to let your fly drift a little before
you get a strike but you have to do that in real life. Really gives you the time to check out the currents and drift that fly in the right place
and you'll definitely get into a good fish. I spent over 4 hours fishing this outing with only one break. I was really enjoying the fishing.
Martin has done an excellent job on this one, another very impressive one to put in his book. There are 16 species in this outing which 11 of them
are jumpers. I ended up catching all 16 and it took almost all the way through the outing to get the last one. I had one huge fish hooked that I
fought for about 15 minutes and it still snapped me off. This is definitely an outing to try and spend a little time on. I'm going to try the
challenge on this one probably tommorrow and see what type of score I could come up with. Maybe get somebody interested in trying to beat it for the
fun of it. Well I definitely want to thank Martin for another outstanding outing which gave me a very relaxing and fun evening. Keep up the good work
and I hope you are enoying your holiday. Can't wait to see your new California outings. Roger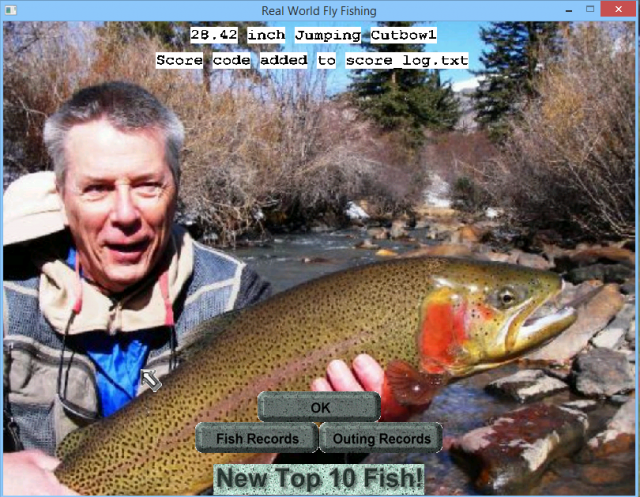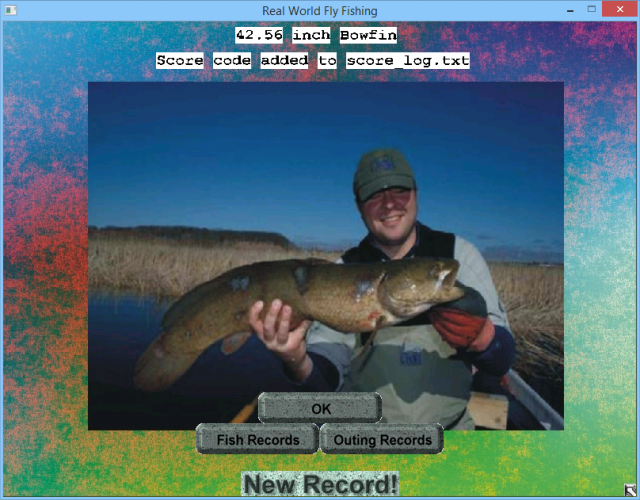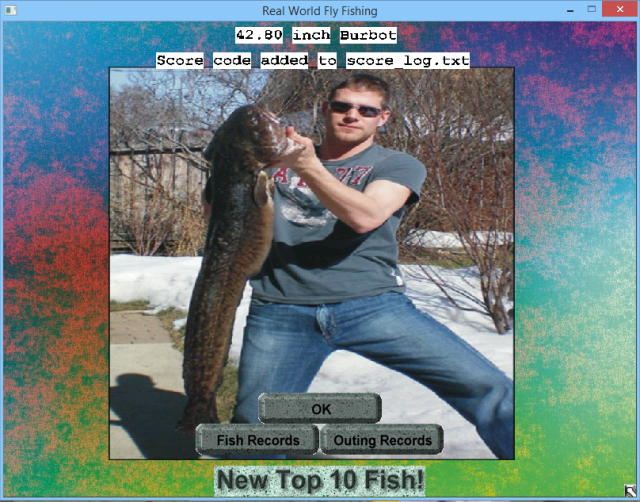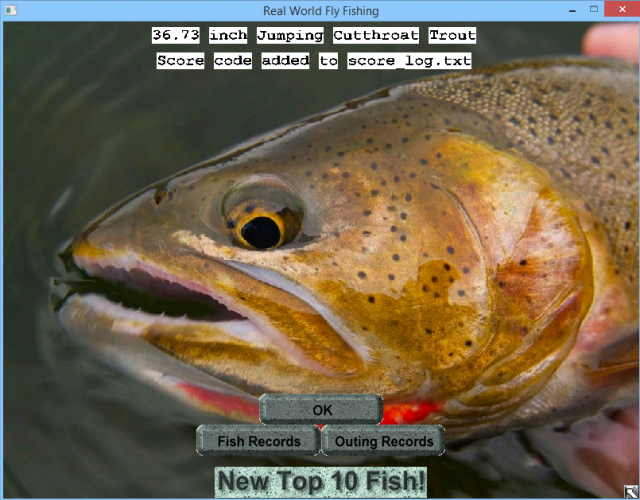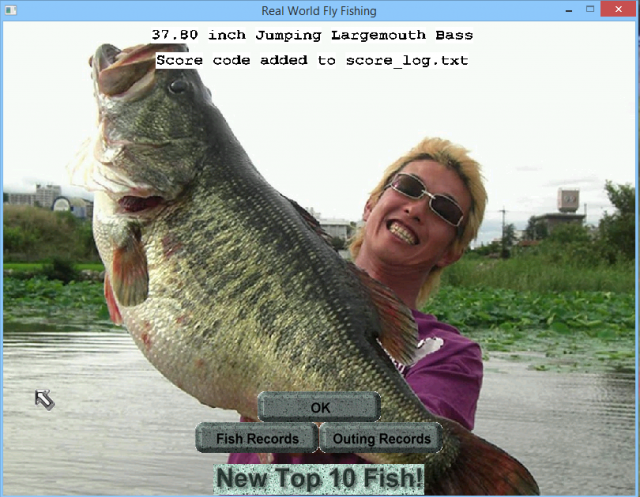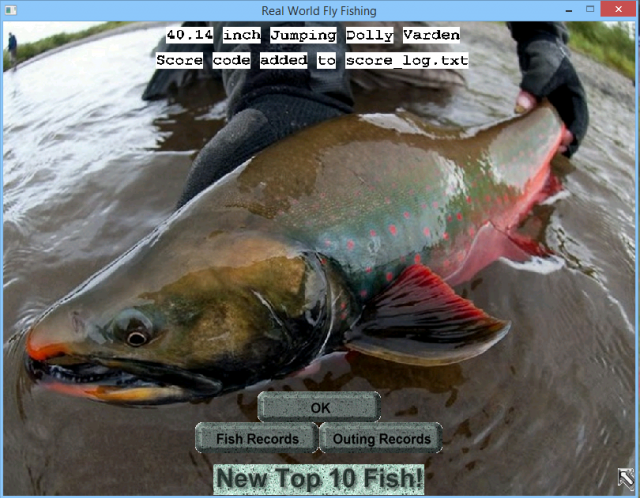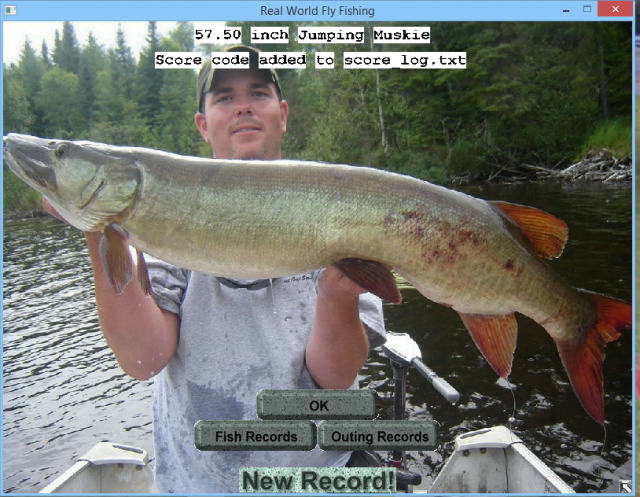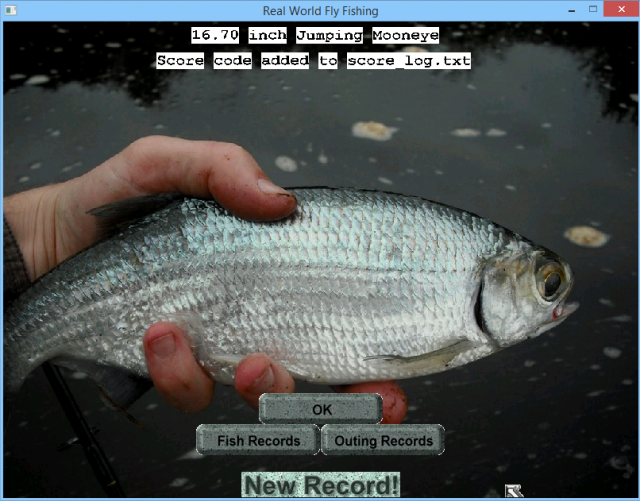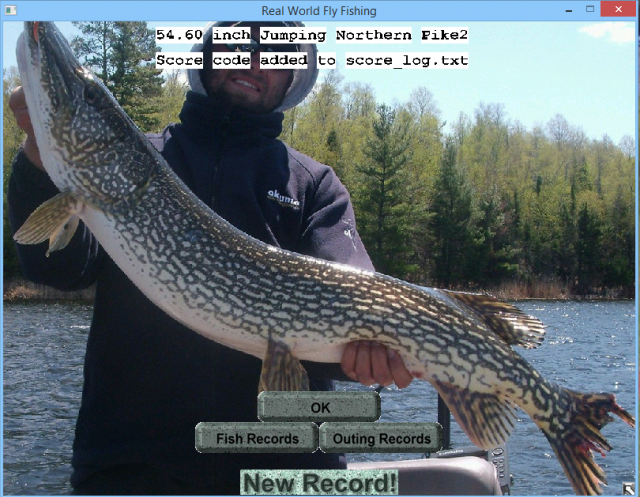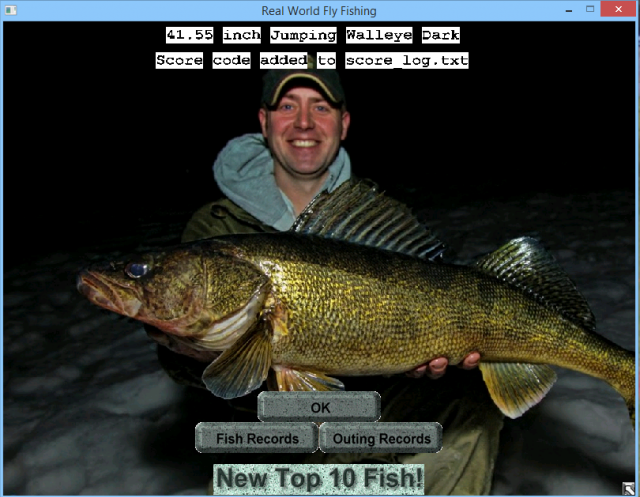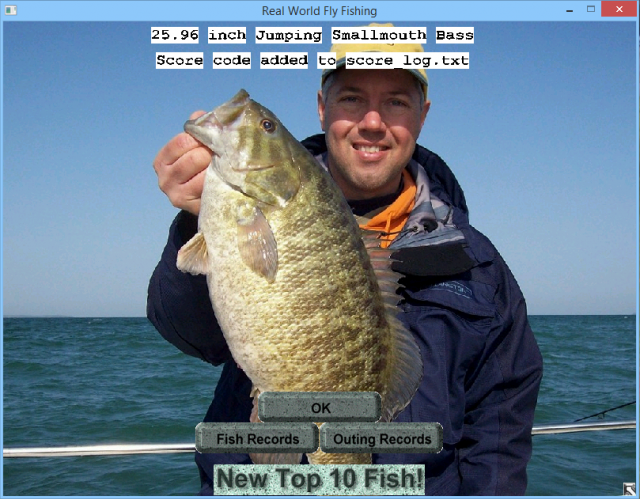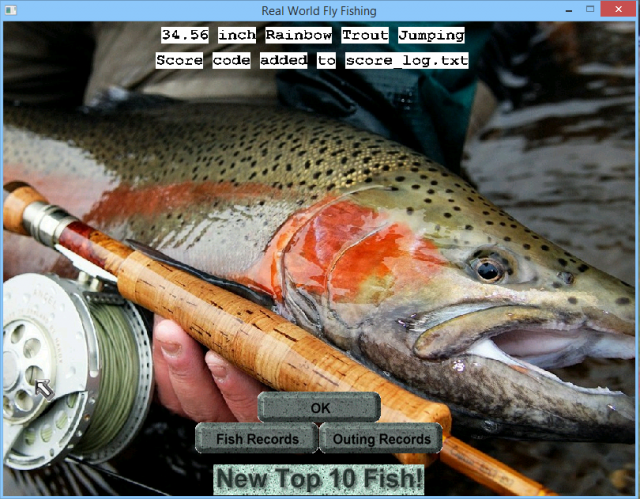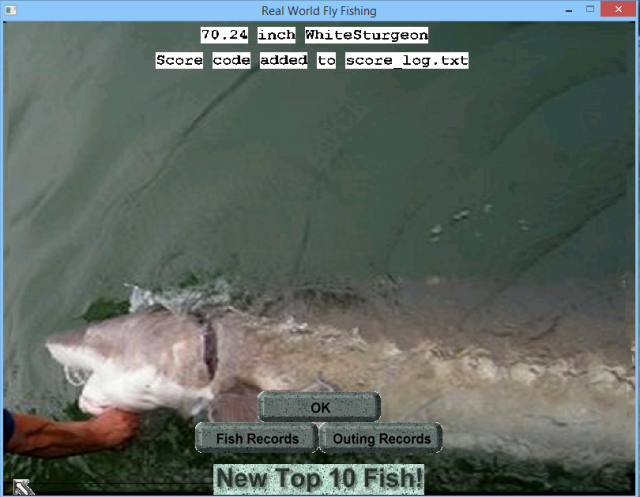 Fish: 25.11 inch Jumping Whitefish from Sw The Wondrous Mills Lake Colorado 2; Code: CKUAUHXTVOABM6909TOFZZCWVQLWLXCPGYPXQILAZCQNNSJNFZZGLRMKMBZGB
Fish: 28.42 inch Jumping Cutbow from Sw The Wondrous Lake Of Two Mountains Quebec; Code: WYXKTROZPPUZV2980EYJCDQPOKCITHXCXFAGPTQNJMIVWXNPGGLPJOPCFINAL
Fish: 40.13 inch Bowfin from Sw The Wondrous Lake Of Two Mountains Quebec; Code: XKUWGZBBXGUPU4637ZUDMJWZSQEDNEJFQSFKCBMOJCXQHBKKXEKBWMHDAPHVR
Fish: 37.80 inch Jumping Largemouth Bass from Sw The Wondrous Lake Of Two Mountains Quebec; Code: XCZTPZPRSACVS0152LKNOOBMVPLTRJPDEMEWUBBEXGTXRBJWBCZYNCSLDGZGB
Fish: 24.60 inch Jumping Smallmouth Bass from Sw The Wondrous Lake Of Two Mountains Quebec; Code: EYAJULDHOCEXJ1452YMCFKQUCQQOSLLIQOXWINTFMBGWZDRGCDJLOUGYZWFPY
Fish: 70.24 inch WhiteSturgeon from Sw The Wondrous Lake Of Two Mountains Quebec; Code: CMVVNMUJYZUKB0020WRLJFIIHXDXQYYPWHWFSZURGQZAJSMOZQPTCUFYAFQXJ
Fish: 38.16 inch Burbot from Sw The Wondrous Lake Of Two Mountains Quebec; Code: PAUXOSEUEIRCS3904IDKUDNRXJTXVOJEPKUDXXPPLAZOKWIMVOOQAEQMSYRNX
Fish: 36.73 inch Jumping Cutthroat from Sw The Wondrous Lake Of Two Mountains Quebec; Code: CDBVWQEPIEBNJ3410HCSGHNHRKSEVHCRBJSAWRZMWRUUIBBBGZNGSRGDWUBMU
Fish: 37.59 inch Jumping Dolly Varden from Sw The Wondrous Lake Of Two Mountains Quebec; Code: LLMBPSRLKEUBR9723YMQUZJRDDAYRATQELLGRTONKSVFAIWHSKIPYLAPSFCQF
Fish: 38.06 inch ArcticChar from Sw The Wondrous Lake Of Two Mountains Quebec; Code: TLETZLFLWFGTJ0639XKVEWRAXDAKXUCPDEYALHZKXKFAKOUIOIVBBPIIRPUYV
Fish: 25.96 inch Jumping Smallmouth Bass from Sw The Wondrous Lake Of Two Mountains Quebec; Code: LUBGCJUNGXJZJ6333NBBPXDJTRSSNRPOZRPLNCJSDKALCYGUDCJCIWHSCJETN
Fish: 57.50 inch Jumping Muskie from Sw The Wondrous Lake Of Two Mountains Quebec; Code: FAOBJLUWRBYJY5473COIPPVXOXIXADZIOXMEKECWTPPKWJTONCZYZOIUKGDAN
Fish: 46.15 inch Jumping Northern Pike2 from Sw The Wondrous Lake Of Two Mountains Quebec; Code: XYDOVGXTHCXZI1503QTEZVIUJDYGOTSAHPYFIISGQZVAHEANZAZJMUTSGRZLH
Fish: 41.49 inch Channel Catfish from Sw The Wondrous Lake Of Two Mountains Quebec; Code: QKSIKBEADMDHX2334DSBRDYNTKAHUOVXBMIXTDDJDRSSJKYOVIEIPWLIGXBMU
Fish: 36.96 inch Jumping Dolly Varden from Sw The Wondrous Lake Of Two Mountains Quebec; Code: LJZJHKHYILBRB5701UKKKTDFZXIPB@FQGFWYPCFVDEMJDKUQIMSBNJHBGBQCO
Fish: 35.77 inch Jumping Cutthroat from Sw The Wondrous Lake Of Two Mountains Quebec; Code: HLVFYYIDQUGBH4809CFWGJFEXEDOTMSEBFBXUJJOZXVVSMOOUGLFBFRJNKHPM
Fish: 36.56 inch Bowfin from Sw The Wondrous Lake Of Two Mountains Quebec; Code: IKQNVXYZZHQWE0407EVVYGQDZDAUGBLYDYNMZQTLYAIXZEAVRLRNVSDPHQZLH
Fish: 41.49 inch Burbot from Sw The Wondrous Lake Of Two Mountains Quebec; Code: ITXOFUBEORDJX7917TKGBEKVPQLOKTIXFXZRVYWQJZMLTUKAKCKJFDLSJTQRE
Fish: 54.60 inch Jumping Northern Pike2 from Sw The Wondrous Lake Of Two Mountains Quebec; Code: SDMHAHPKAMSLU7541GXCRJLIFQTKONVWZOZFSSMINHXKJGZWGMVFXRGZXAILE
Fish: 38.08 inch ArcticChar from Sw The Wondrous Lake Of Two Mountains Quebec; Code: HYTKUEIDQDFPF7652RYTWAKTVWYAVFZDKKJAUIXKYJTCOZDAHNSBQMTVLMJGP
Fish: 36.03 inch Jumping Dolly Varden from Sw The Wondrous Lake Of Two Mountains Quebec; Code: VTMKJTMVDHIJM4948SSAWQOPKQEJAFFGRHUTFDFGOABNEDDTXYJRALGZTIXSJ
Fish: 23.36 inch Jumping Smallmouth Bass from Sw The Wondrous Lake Of Two Mountains Quebec; Code: MJFNBZHVZLDRO4305GFEGTNCUQEFWLSOYEMXIKGOKSZOORPWBGGNIXLSOQFPY
Fish: 26.25 inch Jumping Cutbow from Sw The Wondrous Lake Of Two Mountains Quebec; Code: MUHKDQUFZLKPX5136RXDMWVGOKHIIDCNJANSGRLLCYNPNFUSWWQWMCLIBAZGB
Fish: 41.55 inch Jumping Walleye Dark from Sw The Wondrous Lake Of Two Mountains Quebec; Code: ITFJTOKDOREPX7917TKGBEKVPQLOKTIXFWZRVYWQJZMLTUKAKCKJFDLSISMFI
Fish: 34.56 inch Jumping Red Rainbow from Sw The Wondrous Lake Of Two Mountains Quebec; Code: MTWXJZTFHKTJG2011PZAHUOAVQPYA@IJBBKBSJTPCVEVBXJTIGILCBCYVZEWY
Fish: 47.16 inch Jumping Northern Pike2 from Sw The Wondrous Lake Of Two Mountains Quebec; Code: PLEPFDAKDOZLA5836BCBZPNVRDEAHGCCAYNQOWUMEONQBLVIQWFZVJRDGRGUB
Fish: 37.78 inch Jumping Bull Trout from Sw The Wondrous Lake Of Two Mountains Quebec; Code: DUSWEWBAUAVPR4316OEVWZVRZJKYHXGQAXCATOHUQTIQKAAAHEPQGSHHATABU
Fish: 42.80 inch Burbot from Sw The Wondrous Lake Of Two Mountains Quebec; Code: FRYEBIJKTNIBT6586XVRJILKTDMTZYYIWKYYOMILPDYJGAEHNMLWSJFHRZFPY
Fish: 36.19 inch Channel Catfish from Sw The Wondrous Lake Of Two Mountains Quebec; Code: QFOMTLVEQEDJB3266UILAQPSTCRXOYJANLAQIETVHUGWCQKIEWQWJZZOCOCQF
Fish: 41.25 inch Bowfin from Sw The Wondrous Lake Of Two Mountains Quebec; Code: WEYSTKQQCIQNU3570LRZBUWTECPMMXQFKTVGDDJDGGPOVSQOSGASTVIQINMFI
Fish: 41.43 inch Burbot from Sw The Wondrous Lake Of Two Mountains Quebec; Code: OGLUGLPPRKPIR7565PWSTCLVOKGAOECHTQQCDPIFJVHHJRLDGPDTKTJSCBVRV
Fish: 16.70 inch Jumping Mooneye from Sw The Wondrous Lake Of Two Mountains Quebec; Code: LRCCASBFNVVAD9196ICAIPZRXPBRXUZSBJWMXUQWOTQVTKUEFNEMEGXUBKQJO
Fish: 38.63 inch ArcticChar from Sw The Wondrous Lake Of Two Mountains Quebec; Code: KPYXVROXVMXPA6272BWZJSCJQPNSUPYTTKRYCNGLAZTCCFXQTUHFPYZQORUTQ
Fish: 36.64 inch Burbot from Sw The Wondrous Lake Of Two Mountains Quebec; Code: AXXNDPKZMFXQJ2233TZNVRFBDWUMUAIZNKJWXBWKTCNSESIGIJDXXSHQFWCQF
Fish: 36.04 inch Channel Catfish from Sw The Wondrous Lake Of Two Mountains Quebec; Code: QIFRUBNFCXQAH8382AQVPYTJQDJYEVZWLSTPQMUJVLQELEWYCCOMUZLNSZGGG
Fish: 26.42 inch Jumping Cutbow from Sw The Wondrous Lake Of Two Mountains Quebec; Code: PZXQJLFAMJVSO1702SBBLAZJAQQEIVCYRVHKCEZELLMZJOMLRTVZKOESQVNLW
Fish: 40.13 inch Jumping Dolly Varden from Sw The Wondrous Lake Of Two Mountains Quebec; Code: BTCCOQSXBUSHR5784XIEGGMJQKHSRLLXQMDEMANLDOHNUVZFHHMIWKQXOQVUG
Fish: 34.58 inch Jumping Cutthroat from Sw The Wondrous Lake Of Two Mountains Quebec; Code: AGOKDKOAJVOWO1230XTEBYQWYQQQDGRZYXXCAUYWXOFBMBXVBYQZEXKUGVOPY
Fish: 27.20 inch Jumping Cutbow from Sw The Wondrous Lake Of Two Mountains Quebec; Code: KZHRZKVDBOKVS7977LQNJTDHZXXEYDONDFHCMDSMSCHKPLRUAMJDJKRVWOKBS
Fish: 42.56 inch Bowfin from Sw The Wondrous Lake Of Two Mountains Quebec; Code: RUPLDRDPCOWUT0941YIRODRQPDAQLWYYWQVAWKRDCISWHQOJNDCSCLIENQTDC