Hi Stanley and Everyone,
I finally had a chance to fish Stanley's outing. Stanley did an excellent job with the pictures for each site,
very beautiful scenery. The currents were well done and so was the water movement. Sounds were very inspiring. To fish this outing you
definitely had to fish with light equipment. Made the fish action a lot more realistic. The caught photos of these fish were also
beautiful. If you do fish this outing in some of the sites, you better have your casting skills in good order, if not plan on losing a lot
of flies. You definitely need to be very accurate and you also need to read the water currents really well. On some of the sites picking
the right spot to cast and the right drift of the fly was needed to hook the fish or even have them interested. I fished strictly dry flies
(topwater). You can't get anymore realistic then what I experienced in this outing. Stanley spent a lot of time and put a lot of his
expertise into this outing to make it as realistic as possible. This is defenitely a must fish outing. Thank You Stanley for all your
time and hard work. This is one you can be completely proud of. Also does someone look familiar in one of these caught photos?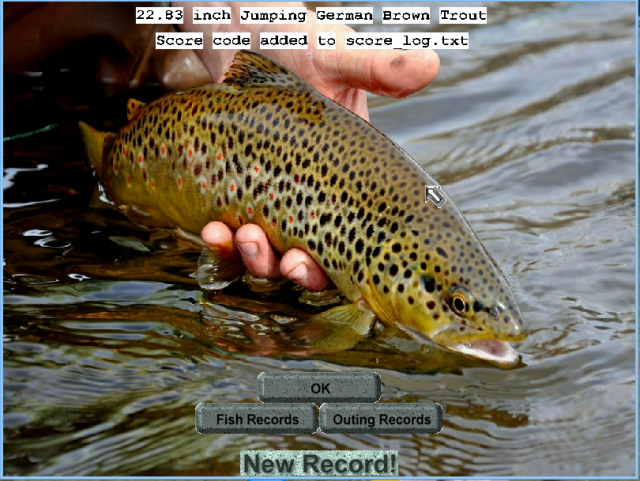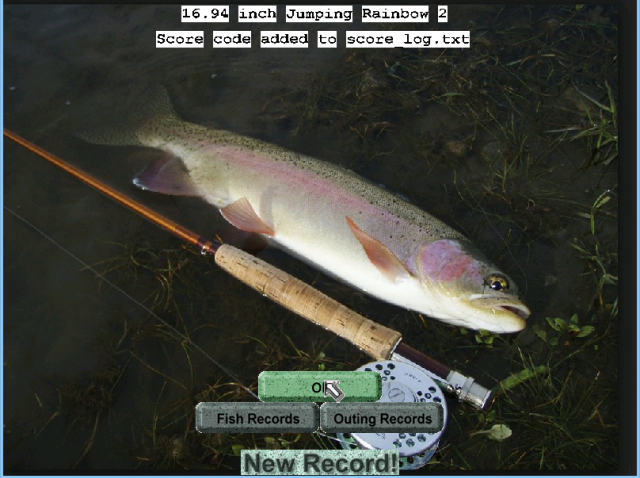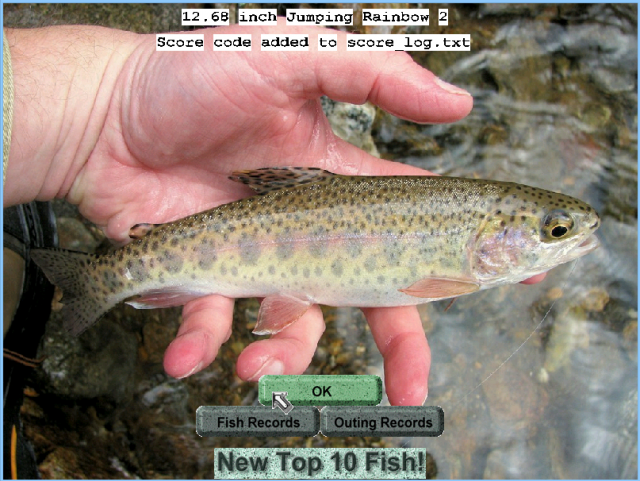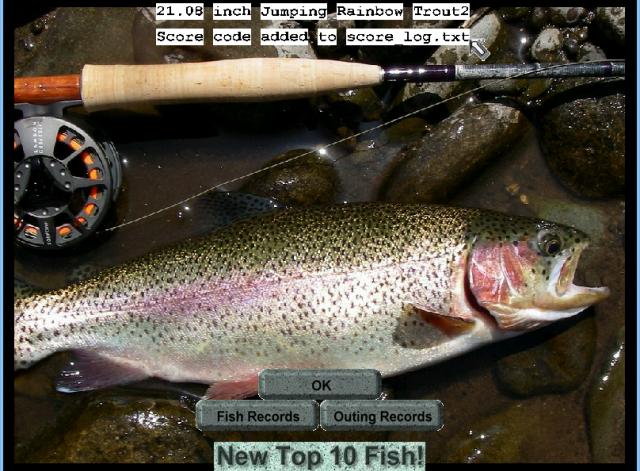 C L Kings River, California
Fish: 19.22 inch Jumping Brown Trout 3 from C L Kings River, California; Code: WLHVJASLOZRBX7039QEMQXRDDJIWITRULZCSOANVXWSXAKWUEBMAVONXGKCQF
Fish: 22.98 inch Jumping Rainbow Trout2 from C L Kings River, California; Code: PMPCZUJULYVAR6951OWOPRVZLHQSVPXRFPJWTLVMZVNAOBDQXWNCYRBFIQEID
Fish: 15.31 inch Jumping Rainbow 2 from C L Kings River, California; Code: GBXRXJVYRZUBC5292SMPURNGCVQFJRPVDXXRIIFYOKCAUZXCFWVVXCWNUPYAH
Fish: 15.19 inch Jumping Rainbow 2 from C L Kings River, California; Code: STTAMPDLJZFHQ7448AGIBLJXOWMTAITKDASWRWLFPOVYIHXHDRABZATKNTJGP
Fish: 21.66 inch Jumping Brown Trout 3 from C L Kings River, California; Code: IAZTXPVKRECIM1693UBZTQWNOXFFFLWWXAIXFFQHUBBPNXVIDDIPUNMJXAMPD
Fish: 21.02 inch Jumping Rainbow Trout2 from C L Kings River, California; Code: AQFCLSZBPVBPY9966OFAXJXDOKRYIGJTXTWOCRUBDVJRBZXITIAYBLAIOFBXF
Fish: 20.04 inch Jumping Brown Trout 3 from C L Kings River, California; Code: EJWDDVPIVIGTE3480GIZJYNBPLUPKWJAWSKAFKGVTFGKFSGUQBMAHADGLKOPY
Fish: 24.54 inch Jumping Rainbow Trout2 from C L Kings River, California; Code: VRYTTTUWBLQMX0627PQUHWQLWECWUJKXYNPATSFLUQZQIFZTXKTEIYFEHFPIY
Fish: 17.87 inch Jumping Brown Trout 3 from C L Kings River, California; Code: OXLVAVVWSVHPM8860LDBHGIIQKABIWUZGTMLYDYYLVOXCIUNZKQSYQFGXGKBS
Fish: 16.86 inch Jumping Rainbow 2 from C L Kings River, California; Code: PJQXPDQTAZIHL1505YAVSUOSUQCNTSHUGHQXDLUZKEDLFNRIRIQMDWQHSHYNB
Fish: 15.73 inch Jumping Rainbow 2 from C L Kings River, California; Code: TIXGLFRTCPVBD5512DHWIOOGKBKKJCNKCVPIUFIUWXUBCAGKSEXLZBXCXFVZT
Fish: 14.08 inch Jumping Rainbow 2 from C L Kings River, California; Code: UGPSXVIOSRCBB0194LASDISABOHZOFMIVOYGKDAVVWYSXJZRBAWJJFAFRXSFI
Fish: 14.11 inch Jumping Rainbow 2 from C L Kings River, California; Code: YSMQDOMCUPSXJ8923CEYTELPTUODXIAPSINUMWBVHJNYJJVFQKKFTRBMYXYAH
Fish: 23.06 inch Jumping Rainbow Trout2 from C L Kings River, California; Code: AQFCLSZBPXBTY9966ZCKNYRTIIVCIGJTXTWOCRUBDVJRBZXITIAYBLAILSDYD
Fish: 24.41 inch Jumping Rainbow Trout2 from C L Kings River, California; Code: VGWWZCIWKOHQO9898OVMSIKXWIEXJRAZFYWEDTBOUKLOJRVPUUKUMTEVSQLHN
Fish: 12.68 inch Jumping Rainbow 2 from C L Kings River, California; Code: XXSBAPOQOLYXS0487ZTLFSCMZBBPIURWWWXDLXKPWALPWWONOUSYWAJHVZULA
Fish: 19.74 inch Jumping Brown Trout 3 from C L Kings River, California; Code: IJNRLGYXGHXLN9281NVCMDLVXIUDICSUSXUKCNLUEBGUOOONONJKEYUMWVNQJ
Fish: 21.98 inch Jumping Brown Trout 3 from C L Kings River, California; Code: XDKYKIYVBTDYR1258YFAERIQXBFKBKKZJCSKZQDFTVBQERREIDHBQKBWFHEDG
Fish: 21.08 inch Jumping Rainbow Trout2 from C L Kings River, California; Code: SMAMOYKTNKDXN4151HQFXIHZEOXEMJKMQSVZXGZSMDAGLXHSCGWBAJNDVFDYD
Fish: 21.44 inch Jumping Brown Trout 3 from C L Kings River, California; Code: FTUYEKBKTJANA0717EUZWORUFCXCJWNBRRXDIRCPKNGOEYEPQVBKWKYDYLHNK
Fish: 21.04 inch Jumping Brown Trout 3 from C L Kings River, California; Code: WSHBIREVKWLZJ0426NNJZNBMDHDHPSZAQORPAQYIBHNOFDFIENQANFBFSGUFD
Fish: 16.42 inch Jumping Rainbow 2 from C L Kings River, California; Code: MHRVMZYZYUJBH0184NAQPOJOABHEIPXGFUPEWYHTQIORSTLXBSJZQCJWXTAOA
Fish: 21.98 inch Jumping Rainbow Trout2 from C L Kings River, California; Code: GNKTURRFZLXKB7127FJSFXTQPBTZQOCYELCVUZBRNTRVFDTXWUUHCIGOOVIXK
Fish: 22.84 inch Jumping Brown Trout 3 from C L Kings River, California; Code: ZXFIVMORYVGWS8084OKHZRMPPVMDQSRLYITHXDNCKULYBLFJARMDCMSOBTOLU
Fish: 22.06 inch Jumping Brown Trout 3 from C L Kings River, California; Code: SDMHAHPYYGQJU7541RUMCJMGOINKQSWOWNJUJYWNBLWBKGXNRWVFQYGZTZIIU
Fish: 14.95 inch Jumping Rainbow 2 from C L Kings River, California; Code: GQBXWAJGSXSNQ4364KITMFXAMCCAGLSVCTUCKZCNCKBLORFFDJSFFDRNGQRJX
Fish: 23.43 inch Jumping Rainbow Trout2 from C L Kings River, California; Code: HIEIXIPQEPRMB7583IUFKBUSKVGNFUDRAWKMVPSXYKKWJYAPZCNOZRGLKVCCS
Fish: 14.98 inch Jumping Rainbow 2 from C L Kings River, California; Code: QXQCVSWCCSHJM6384DRIRUEAAVPTPMCOHNAQKABKYPOZGXDSLZLXXCOMDMXEW
Fish: 13.65 inch Jumping Rainbow 2 from C L Kings River, California; Code: RJVEKARJKWOVT8111QNCTAKKMBRNJIHRIBFCOQXLQGDUJBIECXKJCIYOVZEDG
Fish: 25.24 inch Jumping Rainbow Trout2 from C L Kings River, California; Code: JNWLJVADACFFX6447XVJNNNQAHALTIQMQHOGYLFXAJEBUZFSBEDXEATEUKEID
Fish: 16.39 inch Jumping Rainbow 2 from C L Kings River, California; Code: HTGFZYKQVFZRJ8314TLWQMTWDPQQRMVQKLLATOECQPYXINNTCSEPVEHBESULA
Fish: 15.76 inch Jumping Rainbow 2 from C L Kings River, California; Code: HSVTFPBJLVHRK7298ROTLKVRKCRZJPTUCTIJFGNGQMXDXXDUGCWMLDXRZYCCS
Fish: 21.44 inch Jumping Brown Trout 3 from C L Kings River, California; Code: PMPCZUJELXTYR6951OWOPRVZLHQSRPXRFPJWTLVMZVNAOBDQXWNCYRBFHRHNK
Fish: 24.26 inch Jumping Rainbow Trout2 from C L Kings River, California; Code: MHRVMZYZYCJLH0184NAQPOJOABHEIPXGFUPEWYHTQIORSTLXBSJZQCJWXLYAH
Fish: 12.48 inch Jumping Rainbow 2 from C L Kings River, California; Code: KFQOJDGNNYPCR8546VZNMJCIYIEZSZAINKERJCDPWANUQGACFFYGYWHCGTPWU
Fish: 20.13 inch Jumping Rainbow Trout2 from C L Kings River, California; Code: IUQONXTFEFDKN8113YMTRHKZJUFGMUDTKMNXANPRFGMWFCSIJUAMADVDKJAOA
Fish: 19.96 inch Jumping Brown Trout 3 from C L Kings River, California; Code: YPVMBXUKBBIYD3806XXXDWZXXBWDHLKTTAUVEOAZSSCIAVJXKVMHYWQFGRHNK
Fish: 18.58 inch Jumping Brown Trout 3 from C L Kings River, California; Code: OFIKAOPMGMXNS4669ZOHZZONMHAJIFJUIYOAOMAOPWFEYBZDDJVREUQHSFTAA
Fish: 13.42 inch Jumping Rainbow 2 from C L Kings River, California; Code: LGIFYBPKWVMQV0365AZKNLSLMVSONHQLFLNOQAOEKRBSVVGAMPUDLVVDKCULA
Fish: 16.94 inch Jumping Rainbow 2 from C L Kings River, California; Code: JAFXZEWIIMGTI0596JTEGFAIDOGZAXJMHKGDGVRAAPGTYERGWXWJPTRZUVPWU
Fish: 18.96 inch Jumping Brown Trout 3 from C L Kings River, California; Code: PWGMHUNYSIKVI6465YQKPSNXMPADVDNTPMYSDCIVKYAABZYUWWPASVSLPLISN
Fish: 12.31 inch Jumping Rainbow 2 from C L Kings River, California; Code: DOCVSWRMPQLOE3843OUVTJGPPPLEVIIGBHTJEMPPJOMJTXZUNTTBKJLCNYVGT
Fish: 18.00 inch Jumping Brown Trout 3 from C L Kings River, California; Code: GSPPDABDTLBKX8595OLZWKDLPBUJWDGVTJKKMQLNKYKZLPHWNHITQXTIQCRMH
Fish: 20.73 inch Jumping Rainbow Trout2 from C L Kings River, California; Code: VHZBLLRDUTBHN2993QTPXKRDPCEOJOUDNQAVRBTKCNMQUZFPQKSFOMOYYGRKN
Fish: 13.92 inch Jumping Rainbow 2 from C L Kings River, California; Code: FHOOHCGTLWTPC8062RYFUILKBVVIQHIYQLTRVBGPLFJTTUICZXKYRMOBWWULA
Fish: 15.98 inch Jumping Rainbow 2 from C L Kings River, California; Code: SLPZTHJMDVNGW1036FLCAFITLBFMMNQIITSIJXHWEARMAHXTGYPQQQESQBVZT
Fish: 20.38 inch Jumping Brown Trout 3 from C L Kings River, California; Code: DPNANFZDHHMGV4048QRYYMFUIBDWDMCDJYXASVGLIZVDFFRLBJBETKVNTKWTO
Fish: 21.56 inch Jumping Brown Trout 3 from C L Kings River, California; Code: YSMQDOMMUWUQJ8923CEYTELPTUODXIAPSINUMWBVHJNYJJVFQKKFTRBMYJJNX
Fish: 25.90 inch Jumping Rainbow Trout2 from C L Kings River, California; Code: CFPMLYNZILWAY7631VBIBMUREIENFEZKOZRXPOTRRJVZGZUJJPDUESAQFELHN
Fish: 12.90 inch Jumping Rainbow 2 from C L Kings River, California; Code: ZRHHJMEDUZGOG5721ECXKTWOEBKCKQTSTSZBYDLSGMRAIIZMVORGNWWRRVNQJ
Fish: 13.39 inch Jumping Rainbow 2 from C L Kings River, California; Code: XQSNUZUYBRDVH7108NGXMZNGVUAWUDQYSHAFRPQCSHQXAEGQNJOYFJDAFHNQJ
Fish: 12.55 inch Jumping Rainbow 2 from C L Kings River, California; Code: GYFQPILFYQMBK8859QAJKATUJVVCCGMXPZVQKYFWGHFWWSGTZCDQFNPFBCWTO
Fish: 25.06 inch Jumping Rainbow Trout2 from C L Kings River, California; Code: HTGFZYKQVOYKJ8314TLWQMTWDPQQRMVQKLLATOECQPYXINNTCSEPVEHBETKGX
Fish: 18.61 inch Jumping Brown Trout 3 from C L Kings River, California; Code: VIJNGCRTLSCGE3019SYTCNQJIOVGRSOZVPLMFKKGCQUKGPPGESAIXNFJDHZVS
Fish: 16.58 inch Jumping Rainbow 2 from C L Kings River, California; Code: ZEZSAOIICXDMQ2770PBAVKJYGBQYRFMSSNRGYEXWGSBLUOSAIIJRYXTFSSHNK
Fish: 22.65 inch Jumping Rainbow Trout2 from C L Kings River, California; Code: LZOUTREASWPXF6671ZIARKWCDIOUVUDEKOHPWZEKFTLFCSKJEZXOPSUMCUXEW