Hi Martin and Everyone,
Haven't had much time to spend fishing on RWFF or Fishing for real. Been running both parents and older sister to either hospitals or doctor
Appointments and lately having to run myself to the doctors. Will have about 2 weeks before I go in for surgery myself for an aneurysm in main artery
going into my left leg. So will be extra busy trying to get things caught up around here before Winter sets in. Will be laid up for a six weeks,
after that, so that will give me time to catch up on fishing alot of the new outings.
Well I decided to fish one of Martin's newly released outings from the Tigris River. The outing is beatifully done. Excellent scenery, very
impressive job with the water movement. Also Martin did an excellent job with his currents. All around for just the outing itself and looking at the
fine details of the outing, I would definitely give Martin an A+. As for the fish in the outing that woud be a different story. Martin did a most
excellent job with the fish species that he put in it. One minute you may hook a small Perch and the next cast you have your hands full and your back
aching and your equipment stretched to it's breaking point while trying to wrestle in a huge Mangar or even a huge Amur Catfish. You think you may have
one of them finally caught and all of a sudden they have you almost spooled again. Thank You for such a fine outing Martin, I really enjoyed it
and definitely picked the right outing to start posting again. Another most excellent job on Martin's part and have to thank Stanley and the other
fish developer's for making these species to make Martin's outing even more spectacular. Try this it will be enjoyable but don't fish with too light
of tackle, you might not bring in some of these big boys that are hidden within the depths of each site.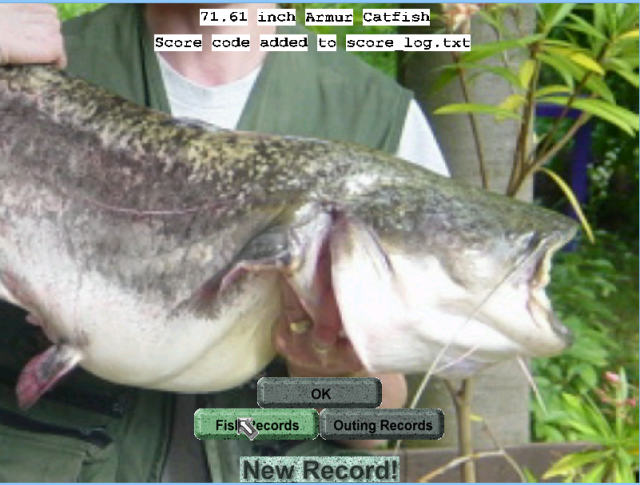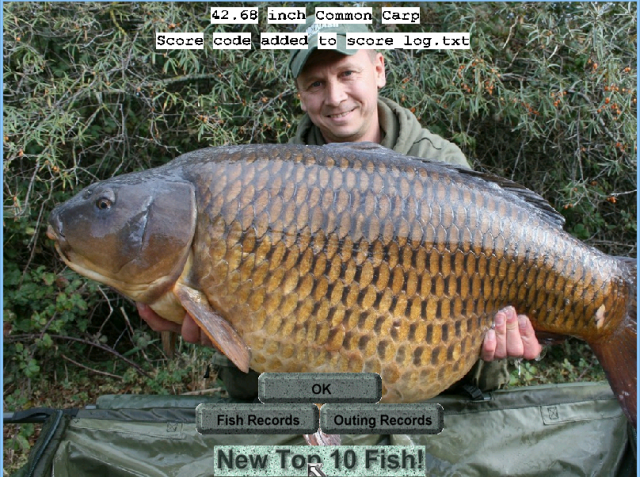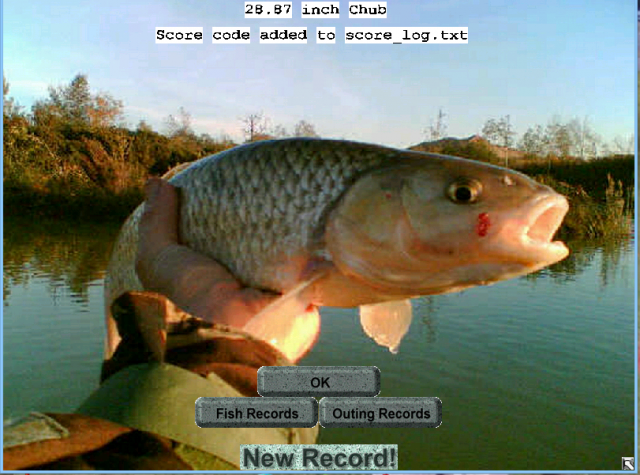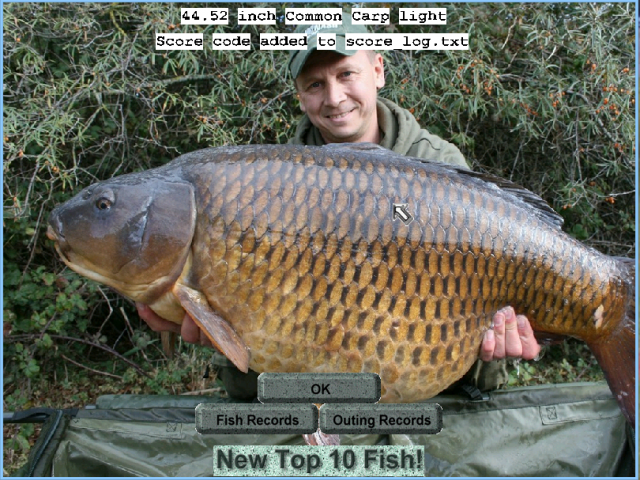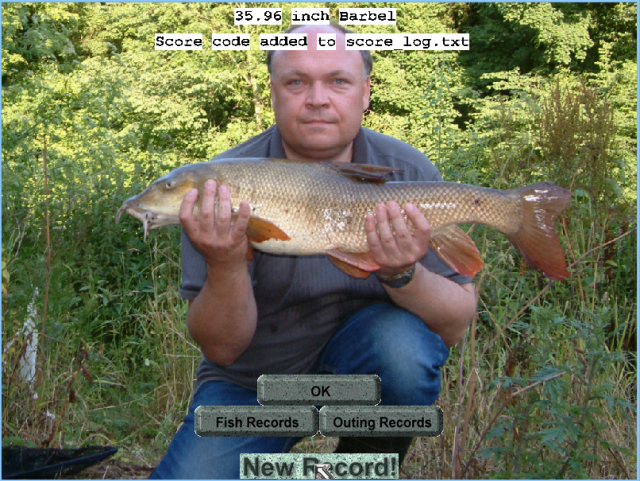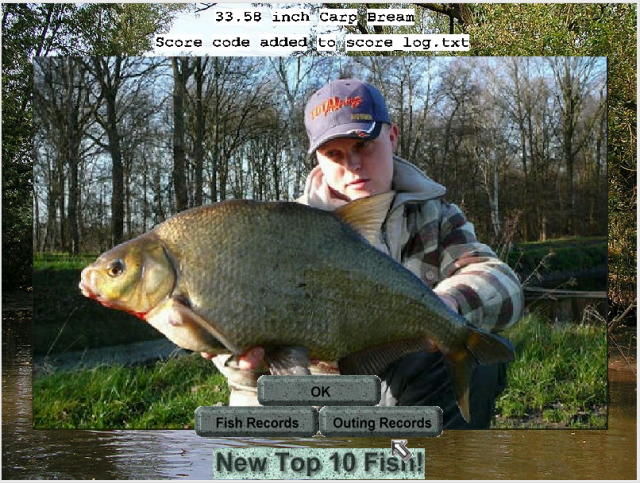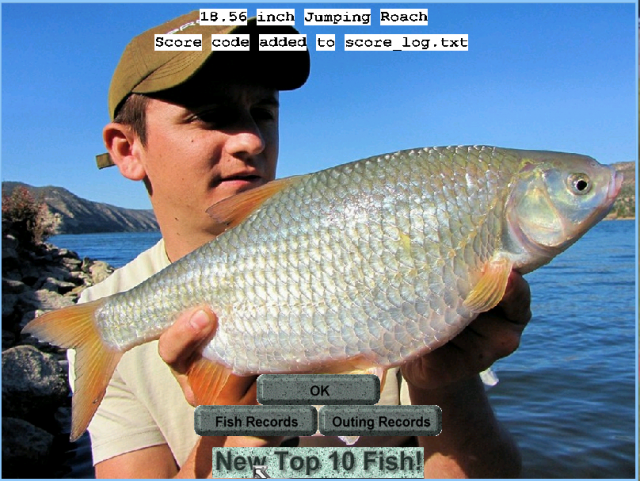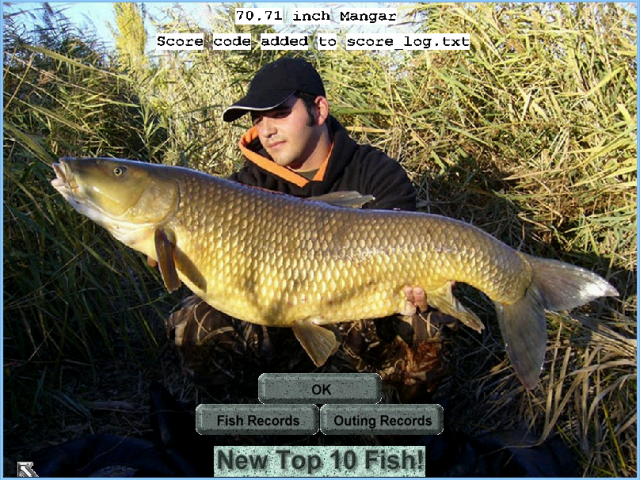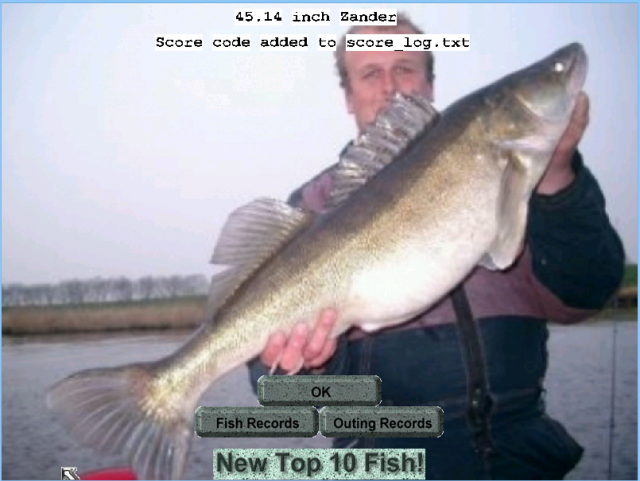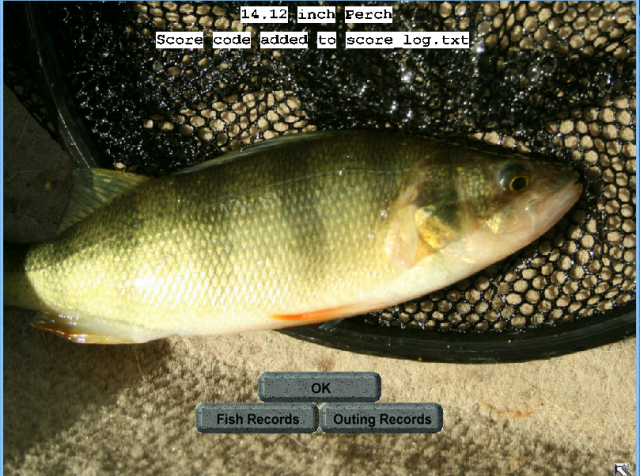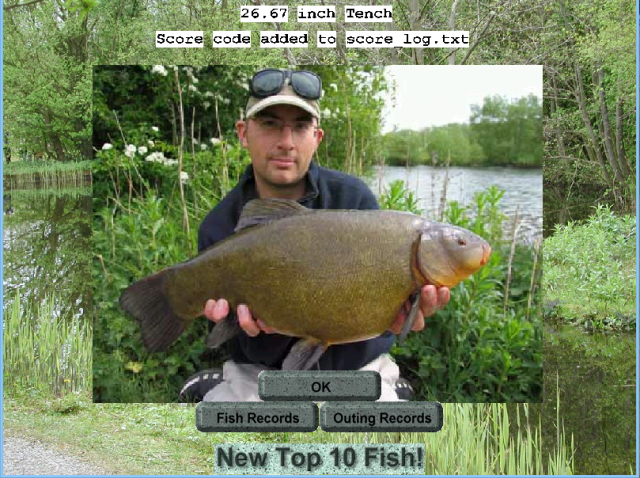 Sw The Wondrous Tigris River Iraq-Turkey Border
Fish: 62.39 inch AmurCatfish from Sw The Wondrous Tigris River Iraq-Turkey Border; Code: BRRQUWHYBGZMK1663ZURRWTUEDPJZJPAAWOORJDMWIGHTJEJYFWUUYPBELZLH
Fish: 23.51 inch Tench from Sw The Wondrous Tigris River Iraq-Turkey Border; Code: MBLNVLEBUPIFV0800XDHVTMEOXMDYPQQDYMIHSDFZWVKUCOENRNKPSOZTVUMP
Fish: 17.33 inch Yellow Perch from Sw The Wondrous Tigris River Iraq-Turkey Border; Code: SIACYACWKEQNI6819UWKNSHZXQUUKKZXNMHUKJWWBFIWLFMPXDRRJBUTCXWCV
Fish: 28.10 inch Chub from Sw The Wondrous Tigris River Iraq-Turkey Border; Code: BJENSTFFUDDHI4270TLASSYZGCWHMOVYGPNAJKAKTLCVLIDVJLDJTGZJHCNSL
Fish: 38.71 inch Jumping Amur Pike from Sw The Wondrous Tigris River Iraq-Turkey Border; Code: HNJWOYZISPARX6840KWVDRWDSCVXHMOIRWQNWISFGDFRLWQANJAATULFZOGUB
Fish: 44.52 inch Common Carp Light from Sw The Wondrous Tigris River Iraq-Turkey Border; Code: ZESSXOEIDZDGQ2770JTJXFUOOJWYN@LEVOHRHYNRSOCCPATEGCJRMDUFWJYTZ
Fish: 14.07 inch Perch from Sw The Wondrous Tigris River Iraq-Turkey Border; Code: CVCDKSBUTZIGU8639JDXRYWOGKNZSOVSYNILGHXWRQENHMVOTEIHBSOBBNRNX
Fish: 26.68 inch Tench from Sw The Wondrous Tigris River Iraq-Turkey Border; Code: IZELRHMISNMIJ9471BOSDPNSSKMIOMGCCNKXBGQZFIHJHIHTYBOYAQJPTAXFD
Fish: 43.09 inch Zander from Sw The Wondrous Tigris River Iraq-Turkey Border; Code: WRMXJEULTRRTS9321FAPWGNWTDJQDQWILADJVCXIFANMOYWVOZIPXULUTKUJX
Fish: 42.68 inch Common Carp from Sw The Wondrous Tigris River Iraq-Turkey Border; Code: MCXZSIKCMJDHL1926YIKAVLJHJDUGLSVLZXZVBVBGHWEGTYVJZVNWDHKZCINR
Fish: 65.95 inch Mangar from Sw The Wondrous Tigris River Iraq-Turkey Border; Code: JCWPXIEJMTAQP4528GWTKFRCODEIEJWZAVDWJGRVURRYQXUAEQMWULUNMCFTD
Fish: 30.04 inch Carp Bream from Sw The Wondrous Tigris River Iraq-Turkey Border; Code: NRIOVCVVXJAVE7793CHPOJNIECMFDJALCWTRIZLIUVIMLLCWZGGJRKHSJJHVR
Fish: 44.04 inch Common Carp Light from Sw The Wondrous Tigris River Iraq-Turkey Border; Code: QSWGBJQGITEYZ7018WZCCCGVHDTJGIPDWRILBCGSOOWMUXYPTGXLDDDSDGBJK
Fish: 35.96 inch Barbel from Sw The Wondrous Tigris River Iraq-Turkey Border; Code: VTEPVRDPDGLYM4948XHTJLADBQEJYEFKRGUTFDFGOABVAPCOGCJRFIIZWEWAA
Fish: 18.56 inch Jumping Roach from Sw The Wondrous Tigris River Iraq-Turkey Border; Code: NSSWQXLHGGVGD0618WFKLLMOWXMXLOCPKWWIXIDMBYRGXBMVOWOUBLQDQLOJQ
Fish: 14.12 inch Perch from Sw The Wondrous Tigris River Iraq-Turkey Border; Code: WXSCLCEOXASKE9884IPZSWDXMPKRJKDJPPWPBKZRJIHJGBUTTUDMNKHZCDJYZ
Fish: 40.96 inch Jumping Amur Pike from Sw The Wondrous Tigris River Iraq-Turkey Border; Code: RHHNDAHRKFVEE4880ODFTQQOJCFEPCSDVNFXDTDGVOVXHPGSQSUVDEHSPURCE
Fish: 70.31 inch AmurCatfish from Sw The Wondrous Tigris River Iraq-Turkey Border; Code: CYYHMVBRGWWDA3955OCYHOAYDDFSIMLWXXASWHQSGHODQAIWASOFUXAZUVUMP
Fish: 44.88 inch Common Carp from Sw The Wondrous Tigris River Iraq-Turkey Border; Code: ETGNAUXRDTYWN1114UROJRSFSQPEKMZOCSPHYVQRQEUAODKUVUVYFUWMWPBKA
Fish: 17.98 inch Yellow Perch from Sw The Wondrous Tigris River Iraq-Turkey Border; Code: COYRGRBPYIJUR5249FQKYFZZCEUGE?UUMCLVUREROEAVDCNASTFHATJTNVMRN
Fish: 40.96 inch Common Carp from Sw The Wondrous Tigris River Iraq-Turkey Border; Code: GUWHPIGOWYZYN0516LNOALTNBPSKA?BIMDPDXBLZDAVEWILQVZYGNHWWJQYBO
Fish: 45.14 inch Zander from Sw The Wondrous Tigris River Iraq-Turkey Border; Code: JQCJYQJLUPSCE1574XUTEQCXFQQMFHFCRYXQXOWOBWPIZZSEFMBWLLGKAXQMY
Fish: 40.46 inch Common Carp from Sw The Wondrous Tigris River Iraq-Turkey Border; Code: PAVSZMJOEKSGS3904NSDHYZFOJTXTNJIPMUDXXPPLAZWGIHHESOQFBSMTVYBO
Fish: 14.74 inch Yellow Perch from Sw The Wondrous Tigris River Iraq-Turkey Border; Code: NTFZJQFZYDOJT1714YKNROSTHJEOLKWLSNAZLQUIBJRAJREMKFWFKEIOXSPBQ
Fish: 41.20 inch Zander from Sw The Wondrous Tigris River Iraq-Turkey Border; Code: VLQTWXBRYINQK8236RXDLQFQEPLYDJDQFAUEEEBXDEGJKPCAJBYHEYSHDINKN
Fish: 17.67 inch Jumping Roach from Sw The Wondrous Tigris River Iraq-Turkey Border; Code: PWGMHUNOSHJSI6465SITRNYNUXGDRXMFSOODMWYQWUBRWLZYUQPAELULVOHSG
Fish: 27.31 inch Chub from Sw The Wondrous Tigris River Iraq-Turkey Border; Code: FBSJPMMOIYRTP6699IBEZNORPJIHGHBQXXPVYVUABSQUEDCIKWGJNMTFROXUD
Fish: 34.11 inch Barbel from Sw The Wondrous Tigris River Iraq-Turkey Border; Code: ZSKZQTDQMWWYF8626ZSJJZGCWWITOOMAETBDOFSJZTTLPCSPHYZRANHUDWYBO
Fish: 42.35 inch Zander from Sw The Wondrous Tigris River Iraq-Turkey Border; Code: GAKFQWMPIZTUM3376KZVRJZRAQENTOULYHCDDUDQAVCXDDOPPANSHRGKVBFTD
Fish: 33.58 inch Carp Bream from Sw The Wondrous Tigris River Iraq-Turkey Border; Code: HDKRGFYOLWLZF7117TCZDJVFRDLME?YGOBSIMJGFOAZJYQVVGJZCXSVZKJKOF
Fish: 16.94 inch Perch from Sw The Wondrous Tigris River Iraq-Turkey Border; Code: HLBKLSZYPBHSH4809HUPTERSOEDORLSIBJBXUJJOZXVDOYNJDKLFGCTJQERQJ
Fish: 28.76 inch Chub from Sw The Wondrous Tigris River Iraq-Turkey Border; Code: EZERAEDBHPXYA2378FYYXHJGMCQFYGFQGKANWVKAUEPYGFISAXRVUKSJGUCDA
Fish: 14.88 inch Perch from Sw The Wondrous Tigris River Iraq-Turkey Border; Code: EFAYLHNWSADHZ5138ESOPYHJKDVBJOYTLQVNJOLZJZWRFALRTYGZPUKXSKPBQ
Fish: 70.71 inch Mangar from Sw The Wondrous Tigris River Iraq-Turkey Border; Code: JJXVDZQBATTIA7185SIGLYORAKXTRIEXMMATDXCIXCMQUHCPFBPWTUAUCIGHV
Fish: 18.54 inch Jumping Roach from Sw The Wondrous Tigris River Iraq-Turkey Border; Code: VCUMUCPGHHCMR2645BBRQKLYWCAEHSOSCWIZIWYSSMBEJYSUYRWTUNLMZAOJQ
Fish: 71.61 inch AmurCatfish from Sw The Wondrous Tigris River Iraq-Turkey Border; Code: TSZWGTCNLHJVN3216PLBKSAVSJBVJKDRHXVXFPKYAVJAKTCSXXGBFVQQKQWAA
Fish: 32.56 inch Carp Bream from Sw The Wondrous Tigris River Iraq-Turkey Border; Code: FEJPFZYETWFZV1736GIFOVSJMCRHWERNVIIDOVVOQJACFROQQCEAWXHDISSIH
Fish: 23.57 inch Tench from Sw The Wondrous Tigris River Iraq-Turkey Border; Code: VHJCYFIJUWBRN2993KLYZFCTXKKOFITPQVQGAVJFOJNHPLGTOESFOSSYDJUMP
Fish: 30.76 inch Barbel from Sw The Wondrous Tigris River Iraq-Turkey Border; Code: URKUMKLMKWMZJ1014QJSKHLUDQYCWRWTJEPEKWUNAYNCJKNRCCNKMYEVKPGZG
Fish: 28.87 inch Chub from Sw The Wondrous Tigris River Iraq-Turkey Border; Code: UEUWCXPZSNTGM6963CIVVYGEFPVQCGPUIZZBRGGQAMXNVPYFPVGVYRCJCUIIU
Fish: 70.03 inch AmurCatfish from Sw The Wondrous Tigris River Iraq-Turkey Border; Code: EAKCUKLUATTFD6870VIHFKXOCDLZL?MNXNOGRWBDUBCVZOXLDLKNPVHDMWYQO
Fish: 32.36 inch Barbel from Sw The Wondrous Tigris River Iraq-Turkey Border; Code: KKVPMRZQIDXTF7904XBDFSEUGPLJMQMZEKCRKVVXEBIPREHMMMMSMRQWNBIIU
Fish: 60.25 inch Wels from Sw The Wondrous Tigris River Iraq-Turkey Border; Code: JKKGCOYIRSSZR8200MFJIAMWLWPKZEYBVALKRFUEFOVKGXUOTRFHJLMFIJJRZ
Fish: 36.44 inch Jumping Amur Pike from Sw The Wondrous Tigris River Iraq-Turkey Border; Code: MAQHNIEKLTHNW7706VFMYIFYVDMLRLWUVGIRTCLJZTUQIMEEZBFZRZHPMSODL
Fish: 16.23 inch Yellow Perch from Sw The Wondrous Tigris River Iraq-Turkey Border; Code: NJNPBITNRRGNK3008OQZQFRVGJTDHOFRIOKDAZIHRGMADKBQDNNGFQTIOCPWT