Hi Martin and Everyone:
After my grandson finally goes to bed, I have a couple of hours of quiet time and I sit down to do a new fish for RWFF. After reading Martin's email mentioning his outings based on Northern China and Mongolia I decided to do a Jumping Giant Taimen for his upcoming outings. The Mongolian, or Eurasia Taimen is a legend of sorts in many different countries where these great fish are found. These fish can attain immense size and some can live up to 90 years or more in ideal habitats. In Mongolia these fish are considered "citizens of God" and they can not be harvested. Sport fishing is done by barbless single hook, and catch at release only. So if you should latch onto one of these great fish in one of the new outings please don't forget to put it gently back into the water after you've had some serious fun of catching one.
This fish is big, long and slender and this makes a good fish profile picture a nightmare to find and this is why. When an angler holds the fish up to show off his new trophy, the fish's body invariably will become very distorted with head and tails drooping down in a very unnatural manner. After a lot of searching I finally found a profile picture that might work but I had to disassemble the fish's body several times and reassemble it so I could end up with a straight looking body. This was a serious technical challenge for any fish builder but it was a lot of fun to do. Here you will see the results.
The maximum length for this fish is 71 fighting inches. I hope you will have lots of fun catching this one. (Sorry Barry, you will now have another fish to catch to complete your task of catching one of every fish listed in RWFF!)
Some pictures of the new Jumping Giant Taimen: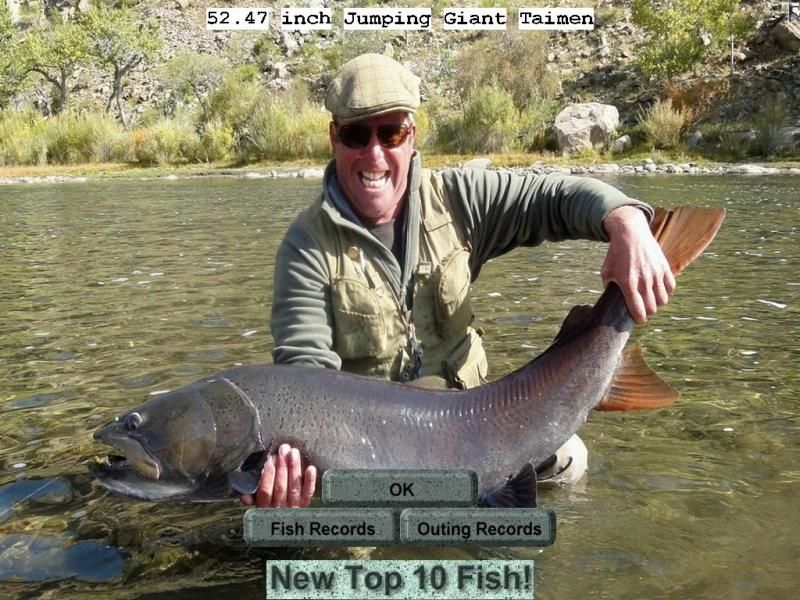 Regards,
Stanley
PS. As Taimens are found in many river systems in Asia I named this fish Jumping Giant Taimen instead of "Mongolian Taimen" as this will allow outing makers to use this fish in other countries as well.