Hi Stanley and Everyone,
Just finished fishing Stanley's new outing with his new group of fish. Fished this outing through 3 times and finally caught
the Piraiba Goliath Catfish. The 1st round I fished just the surface, the 2nd and 3rd round, I fished anywhere from 1 to 5 feet deep.
Stanley did an excellent job with the sounds, the scenery and even some of the currents. Even a few of the sites I had to practice how the
currents were moving to get to some of the fish I was after. I was amazed in a few of the sites on how the fish were coming out of the water
after the food that was floating on the surface. He trained these fish very well, even the piranha was jumping like crazy. I even had
a few fish while jumping throw the hook on me. Definitely enjoyed this one, you should be able to tell my my caught list. This was a
very relaxing and fun outing to fish. Definitely plenty of action to it. Give it a try. Had alot of fun with it especially watching the
way the fish fought and jumped. A definite excellent job on Stanley's part. Thanks Stanley, greatly appreciated.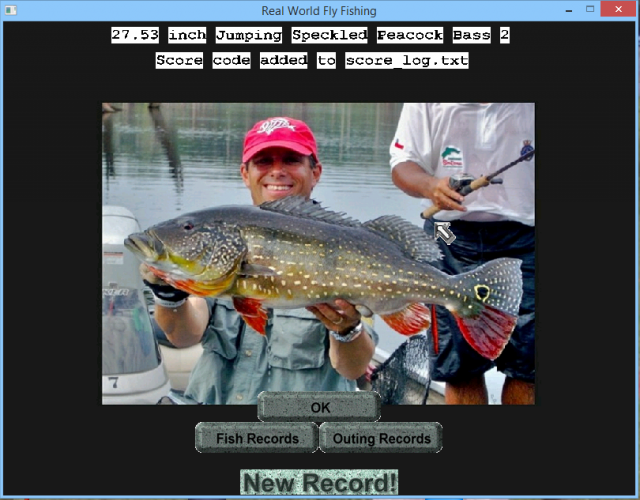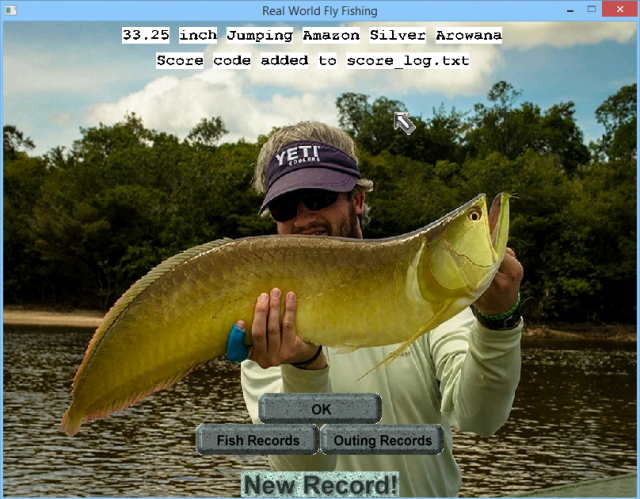 Fish: 22.31 inch Jumping Butterfly Peacock Bass from C L Rio Negro Brazil; Code: NQEEBXBWFSALN6697VCOTSURQEUOTNFPRCRPSWLRSSOKQJXKFEYGMNYQBTSSC
Fish: 13.31 inch Amazon Piranha 2 from C L Rio Negro Brazil; Code: VUSCBMYUUTCWD5844UMYYAVYZREAEBZOWVQZRSGGLDRPDLRLWRRUKNTKAKKZX
Fish: 29.72 inch Jumping Amazon Silver Arowana from C L Rio Negro Brazil; Code: HQIBPPRJLZNRD3967DWYULOKURFQVJEFMDTBKODFTUWQLRHNWDGRIDYDPJLTS
Fish: 30.23 inch Jumping Redtail Catfish from C L Rio Negro Brazil; Code: TYMSFNNQOEIOZ6780MANRUETRRCWMEJSBIYSJEWLUEKPTBFVMYCYQPNMRFWNO
Fish: 14.60 inch Amazon Piranha 2 from C L Rio Negro Brazil; Code: JDHGZPZOUDSSO5723DTYZULXMEWAKOYDFSZCVVSVZCYKTLJXUEUHSIFYPSYKR
Fish: 26.20 inch Jumping Speckled Peacock Bass 3 from C L Rio Negro Brazil; Code: MNHWXZJDDQITT2657FZLPLYCGROXQECTBKAKKGJKWNRYWNPWGVMWOMJBKXJGP
Fish: 10.72 inch Amazon Piranha 2 from C L Rio Negro Brazil; Code: GNNGSTCBZAWKB7127UBDRESVCXZZKIBKELCVBZBQXPZERVZHWUUHKCJOSLAQC
Fish: 23.80 inch Jumping Butterfly Peacock Bass from C L Rio Negro Brazil; Code: LNASESIEKAQSG3954BEJTLOXDYRZVAPVRACDRRIQYZETLGUYNBYDKGEKDNSSC
Fish: 14.65 inch Amazon Piranha 2 from C L Rio Negro Brazil; Code: ILEVYIBWHMJQV3523FPTAQPMOLSMKXFHIOBSLEULWDPRYMONYLZYXMYAMRUVK
Fish: 11.95 inch Amazon Piranha 2 from C L Rio Negro Brazil; Code: OLBYBYLBKRZDN6933QWCZWDTSYHKIBOINOHGTMCWVAHLDWEKIMRGBEQMGMJDE
Fish: 29.43 inch Jumping Amazon Silver Arowana from C L Rio Negro Brazil; Code: LYDQYIVPJCVQO3575MDIYPOBXKUCHSZTCPDYPQMNQMSUCUGUQJPMOLFBYSODW
Fish: 28.08 inch Jumping Butterfly Peacock Bass from C L Rio Negro Brazil; Code: GXCLURDAHFJVT7853LNRRFTTDFJKOVREHIRZLPOZQSMLWCCEDUVFEGAUXYXCT
Fish: 11.54 inch Amazon Piranha 2 from C L Rio Negro Brazil; Code: RVLBGJXUSSPDS1866ACHQNQZEDAIORTYBGJGIYTDALAYGYKJUVKVPITHTBFJB
Fish: 33.25 inch Jumping Amazon Silver Arowana from C L Rio Negro Brazil; Code: KCASIMNGDABYD3421ERXQIXWOLSGXVRXPCLSACCSZFLVAKUEZQAIMVZDQMWNO
Fish: 26.22 inch Bicuda from C L Rio Negro Brazil; Code: EWEHAVKZOUIPT7231VZZALLLUXYFGJPLXXSVEBTRDVLIOXBQVPTXWTILLPGEM
Fish: 27.54 inch Jumping Speckled Peacock Bass 2 from C L Rio Negro Brazil; Code: LMXGJBAOBVNHH0828ZGGOIIRSEAINVVQJJZMDIQMQWDZZQKHZKQAJFVAXVWHJ
Fish: 28.58 inch Jumping Speckled Peacock Bass 3 from C L Rio Negro Brazil; Code: LPOKLSSQMPBSO5975FGPDRUJPXJIDSLVIRRTTIRIFNNHIEWPXZOQEAGYPFSSC
Fish: 33.88 inch Jumping Redtail Catfish from C L Rio Negro Brazil; Code: ILBIAGQAIFKNV3523FPTAQPMOLSMKXFHIOBSLEULWDPRYMONYLZYXMYALMLTS
Fish: 23.44 inch Jumping Redtail Catfish from C L Rio Negro Brazil; Code: ZUGLLVWFNDRBM1867YUJDQZCFQACUPAAAASIODMFFZJZEPZLUCOEQLKQNUKZX
Fish: 10.34 inch Amazon Piranha 2 from C L Rio Negro Brazil; Code: XRGNMSOJKXWBF8224EWLDJLJTKFOWUJHAGLWMXIFKOZIYMWZJZWJOEQLPGKZX
Fish: 26.46 inch Jumping Butterfly Peacock Bass from C L Rio Negro Brazil; Code: NOQMLXSJEMOEY2356SAIRNPFMXCNLMROBMCZQFCZDEFWBCVUVGJSTTXUPVFML
Fish: 25.52 inch Bicuda from C L Rio Negro Brazil; Code: GNCJIBILZPWQB7127UBDRESVCXZZKIBKELCVBZBQXPZERVZHWUUHKCJORMDVI
Fish: 25.05 inch Jumping Butterfly Peacock Bass from C L Rio Negro Brazil; Code: FHOOHCGDLIQGC8062GQQGPKPORBIKBHKQLTRCBGOVBRCFMOMZXKYZGRBZLHAE
Fish: 26.27 inch Jumping Amazon Silver Arowana from C L Rio Negro Brazil; Code: ZORKIVLXKUIEA0484NNZPSJBUEZJOMCZVKHCPVKWJRPCLMSOPZTPSVNLCSDGT
Fish: 24.54 inch Jumping Butterfly Peacock Bass from C L Rio Negro Brazil; Code: YUAISOWHVROCZ2244MZPHQPFKXMMZDNCIYCCVNKMYLWVSHDFBIATMFFZNISSC
Fish: 29.78 inch Jumping Speckled Peacock Bass 3 from C L Rio Negro Brazil; Code: MOSBSQJSUCMKK3753GEOVNFIREGPQIWQJCMBYPBGEQASIVZWCDUZXNSEQOVUG
Fish: 25.21 inch Jumping Speckled Peacock Bass 2 from C L Rio Negro Brazil; Code: CBGDHQUKGJMZT9399DOPBIIHJRAUBFGVASNHSGAZMKSYXNDMHKXKIQIHKFYKR
Fish: 28.50 inch Jumping Speckled Peacock Bass 3 from C L Rio Negro Brazil; Code: EGFYTEXXDXUGX6053BPTEMTEAEMSPTSPYKJTVCNYOKELIWAOJMOCUZVAVMNAL
Fish: 30.38 inch Jumping Speckled Peacock Bass 3 from C L Rio Negro Brazil; Code: VRYTTTUXCRPWX0627PFPJSJGDYMAODJJYNPAASFKEMHZUXFDXKTEQSIEHIDLY
Fish: 28.18 inch Jumping Speckled Peacock Bass 3 from C L Rio Negro Brazil; Code: ZXFIVMOIZBDIS8084DCSLYLUCRSDKMQXYITHEDNBUQTHNDLTARMDKGVOEFJGP
Fish: 25.11 inch Jumping Butterfly Peacock Bass from C L Rio Negro Brazil; Code: NIADIYHFZZFQL2182HSYVPZEBLBMFSLNXWRBKXAHHVKYIAWWIDFWDDAXFYUYV
Fish: 13.30 inch Amazon Piranha 2 from C L Rio Negro Brazil; Code: CVZLVAVKTYJDU8639EDZBKKDLYNZQOVSVMSAENHAPQLFYSAUVKIHVGQBAPLES
Fish: 14.32 inch Amazon Piranha 2 from C L Rio Negro Brazil; Code: QFYETNBPPIEWB3266UXGXXPVPQRXKXJEKJKFGKDZFUNWPIOJPGQWKACOCBSHR
Fish: 30.09 inch Bicuda from C L Rio Negro Brazil; Code: EKZFDOPKFTHJU4506ICXQXEBPRWKMMCQEJNRATXQDEXNDSEVERULQNYJSSODW
Fish: 30.62 inch Jumping Speckled Peacock Bass 2 from C L Rio Negro Brazil; Code: ZXFIVMOIZDFAS8084DCSLYLUCRSDKMQXYITHEDNBUQTHNDLTARMDKGVOEBEQT
Fish: 14.47 inch Amazon Piranha 2 from C L Rio Negro Brazil; Code: FJFTUEICMPLSR2083JSWIUQTRYTRZCWKGCAZESHNCHBYDKICJVAMKAKPVWFPY
Fish: 28.88 inch Jumping Speckled Peacock Bass 2 from C L Rio Negro Brazil; Code: IZUKENVDSPNCJ9471WOUNBBHXYMIMMGCZKUMZMADDIOBYOMZAHOYWUKPQVODW
Fish: 45.06 inch Jumping Redtail Catfish from C L Rio Negro Brazil; Code: HTGFZYKQWIYKJ8314IDHCTSBQLWQLGUCKLLAAOEBALGGUFTDCSEPDYKBHTGEM
Fish: 10.46 inch Amazon Piranha 2 from C L Rio Negro Brazil; Code: YUDVQQHTVDNUZ2244MZPHQPFKXMMZDNCIYCCVNKMYLWVSHDFBIATMFFZOYJDE
Fish: 32.01 inch Jumping Redtail Catfish from C L Rio Negro Brazil; Code: WTKOCIMSVQMHZ3542EDXQXGXBYBZRISIYFCGVZQDLOVRCDDSBDXDESNQBPVUG
Fish: 43.73 inch Jumping Redtail Catfish from C L Rio Negro Brazil; Code: FZJZQJMDQRBVV0271DUUETHAMKFVJKSONPIBNRWYQSJVISJWVYFHUUXZMJLES
Fish: 27.63 inch Jumping Speckled Peacock Bass 3 from C L Rio Negro Brazil; Code: REQIUJPVRZHYX9743EVGWUAMZXWDXECYUCXNLRMPMWRZOHZQMKXXENXUVUPIY
Fish: 27.68 inch Jumping Butterfly Peacock Bass from C L Rio Negro Brazil; Code: PIFKDUIWKBOEU0489WJVPOJHRYMINIMKYQFGWCDUNXKAFPNBUSIBCPJWMRQEJ
Fish: 34.30 inch Jumping Speckled Peacock Bass 3 from C L Rio Negro Brazil; Code: ROIABRBHXUVPH7479OPUXUBSAXZPBASAWRMJNHHYWZFHCGUVTKYVYROACOYNB
Fish: 42.44 inch Jumping Redtail Catfish from C L Rio Negro Brazil; Code: SOOEDYBOPPYDC6173ZLWTULPVQVNWEFZGBKPGXIRDNKDVNPTMEMOTFSQLKYTZ
Fish: 12.60 inch Amazon Piranha 2 from C L Rio Negro Brazil; Code: TGMCCISUBCBAO1591PPBSQHATRZBVVYVEFAAZNYBZETWQUKDIFHPOTYOOQQCO
Fish: 14.82 inch Amazon Piranha 2 from C L Rio Negro Brazil; Code: PUVHQWOPRMQLT2336JGPZUHRVEPUZEYFZVJKIKYVMGZVQTKOMQZNPVBYHTSHR
Fish: 25.35 inch Jumping Speckled Peacock Bass 3 from C L Rio Negro Brazil; Code: YVLNMXFEFBGUQ5160OESMTOLDRDWH@PGQQGTJWCIFWFPEPNFXQQWWGPKUTYTZ
Fish: 11.46 inch Amazon Piranha 2 from C L Rio Negro Brazil; Code: CRYBYAUCRUDBX0366XQNPZZGELEHSVCZHFWJIFPJBOSDDWEOTNCGRSVSDTAQC
Fish: 15.26 inch Amazon Piranha 2 from C L Rio Negro Brazil; Code: OCUTOHIWNQJAM8322IZJEYBBCKWIMBSKKIVTFEHRKBDFBFTFXCQSRTIJEHEWY
Fish: 14.27 inch Amazon Piranha 2 from C L Rio Negro Brazil; Code: WOIFJTVZHNFME4274VSIZCPUBYZXMSGLKPVZLIGQWJKOWQOMKQKRYDBWYXEWY
Fish: 37.24 inch Jumping Speckled Peacock Bass 3 from C L Rio Negro Brazil; Code: DGZVZWWPLTPFC7430XUQHVJHFKYCCHFQGATVDNLFHWZGXPNQQSZQRTYSWTPOE
Fish: 13.34 inch Amazon Piranha 2 from C L Rio Negro Brazil; Code: WOIFJTVZHMFTE4274VSIZCPUBYZXMSGLKPVZLIGQWJKOWQOMKQKRYDBWYDQCO
Fish: 25.88 inch Jumping Butterfly Peacock Bass from C L Rio Negro Brazil; Code: PBNFXDWEVEOHJ6020KXAWNMAERTPZRLEUAIJKLRPJLPIJEXEUGWBKGDPWMJGP
Fish: 15.12 inch Amazon Piranha 2 from C L Rio Negro Brazil; Code: WSKOGTPHKQLHJ0426CFULUARQDJHJMYMQORPHQYHLDVXRVLSENQAVZEFWAMFI
Fish: 14.11 inch Amazon Piranha 2 from C L Rio Negro Brazil; Code: YVOAKZQZFQFWQ5160OESMTOLDRDWH@PGQQGTJWCIFWFPEPNFXQQWWGPKUFXXO
Fish: 26.47 inch Bicuda from C L Rio Negro Brazil; Code: KMJSWDQLJHJAU1125HLQNUKFSWDSCRIAUCBOKSPTJIQUGIOJGQCGFZQJYOSIH
Fish: 34.91 inch Jumping Redtail Catfish from C L Rio Negro Brazil; Code: EAHXHEMTZJWPD6870BIODHXOCDLZL?MNXPYVPCLHSBJNQUCRFRKNXJGDLGUVK
Fish: 26.98 inch Jumping Speckled Peacock Bass 2 from C L Rio Negro Brazil; Code: UWWDRUEEEDUYF0162FTGRRUPDQZLBPIQGEHIACONUEOYHCYDNUBWABQHNMUVK
Fish: 25.39 inch Jumping Speckled Peacock Bass 2 from C L Rio Negro Brazil; Code: LBVJHKNOCEFKZ1009ZHTWQUYTWPFMDCSUYYZNJMQYQPYABXLWDZRFAMJLUHVR
Fish: 10.43 inch Amazon Piranha 2 from C L Rio Negro Brazil; Code: QJZOPUCXSGKYY9418MKYXTLVZQBPKQTFTUGVDAVRBOYYKMSQKCWXOWXXBTHMB
Fish: 10.94 inch Amazon Piranha 2 from C L Rio Negro Brazil; Code: CFSZJAYVIWWEY7631VTYBEFHMQKNB?YWRCRXWOTQBFDISRATJPDUMMDQJWGZG
Fish: 33.09 inch Jumping Speckled Peacock Bass 3 from C L Rio Negro Brazil; Code: EWMRMLTUOBICT7231GZEOWXWPJYFIJPLABSVEBTRDVLIOXBQVPTXWTILMJHPM
Fish: 26.91 inch Bicuda from C L Rio Negro Brazil; Code: NDGFFROFOPAPX1744KIOAMBMNPAKBUZPLBJMAFYULYZVCOIYSQRJXOWDCDXXO
Fish: 23.10 inch Jumping Butterfly Peacock Bass from C L Rio Negro Brazil; Code: NIADIYHFZXFPL2182SSDJALPWXBMHSLNAARBKXAHHVKYIAWWIDFWDDAXGXQCO
Fish: 27.80 inch Bicuda from C L Rio Negro Brazil; Code: JTDCIFBNFQJPK6811IUJJVOPBJHMVEVZPIZEMUZNOFGHZTKZOHZUBKSIPOFJB
Fish: 42.05 inch Jumping Redtail Catfish from C L Rio Negro Brazil; Code: ZJEOREJFPZIFE1038QDXMQLJOQYZLPQCKQZNXDHINTVYNSMIYNXDMGJZAUMFI
Fish: 25.90 inch Jumping Butterfly Peacock Bass from C L Rio Negro Brazil; Code: GMZOZAQAPGERL6022DVFAMYAEXZHMDZGZYQENQJUYMYKFFPIIEMEIBZELDUVK
Fish: 31.56 inch Bicuda from C L Rio Negro Brazil; Code: VGOMNMZCLVIFO9898ONCSAVNEQKXFLZLICWEKTBNEGTXVJBZUUKUUNHVVYBMU
Fish: 10.51 inch Amazon Piranha 2 from C L Rio Negro Brazil; Code: MIXNEKKJPXCVY3289PXBMIBKTEFVMGYOQQTVRHZOAPXUPTBYPIRKIXWHJNINR
Fish: 37.34 inch Jumping Speckled Peacock Bass 3 from C L Rio Negro Brazil; Code: TFGCJXYSSSHPX0466YRDBYNFVQZRPRWRZRWJLFHFRBSCEEAMUPZMMAPDIQMFI
Fish: 30.21 inch Jumping Speckled Peacock Bass 2 from C L Rio Negro Brazil; Code: XTRREPNBNBPKN2245SGWBZCFZDXXGUGHTTAMOPRXRUIWWKYQTXMWHYSYCTAQC
Fish: 30.99 inch Jumping Speckled Peacock Bass 3 from C L Rio Negro Brazil; Code: LYDQYIVVJDXUO3575XDNMAAMSWUCJSZTFTDYPQMNQMSUCUGUQJPMOLFBAHGUB
Fish: 10.81 inch Amazon Piranha 2 from C L Rio Negro Brazil; Code: WHIZLCCHMWGQA1897UGAUUMYSDYEAUGNIEYCRRUDTXHWRYGXJFYRZMVOBJHVR
Fish: 28.82 inch Jumping Speckled Peacock Bass 2 from C L Rio Negro Brazil; Code: DYUGAWCZXTCKW2659YGITCSDYXUQV?YNGIJFNDBPDNISSOIAVTUZLHFQZTEWY
Fish: 31.76 inch Jumping Butterfly Peacock Bass from C L Rio Negro Brazil; Code: NPBRGOSPWAITW5572FFQCAIWAEUEVQLKMPNYENUVKHNQFTFTJOQVCUGFWMSHR
Fish: 31.54 inch Bicuda from C L Rio Negro Brazil; Code: FQVKIDAEBBOQU5661HFOPYYTRRUCPTWIOKWWYJBTGSEPHCYRKGEUJJQWKZFJB
Fish: 29.76 inch Jumping Butterfly Peacock Bass from C L Rio Negro Brazil; Code: UVTZWLVGNXARO9266DOLMOWJKWHUTTGMXLVRMTXJMAFEVUOEZMTTRAGEHLEWY
Fish: 28.70 inch Jumping Speckled Peacock Bass 3 from C L Rio Negro Brazil; Code: QYBHQJEKMPHSL9380FGBOPWWBPVKTKVESFMHFRSFIOXBEFBTHPTIOXAXMQNSL
Fish: 13.45 inch Amazon Piranha 2 from C L Rio Negro Brazil; Code: LVHYVUOOPUILA8438AVEFSWDVDKJTVRPHJLZZQLSBVIFBGUMKURNTQUDJHMCX
Fish: 35.43 inch Jumping Speckled Peacock Bass 3 from C L Rio Negro Brazil; Code: ZMDTTVCIILWYK6453VKGTYPBDJPABUGYIWSUNDAWTKFGWGYYFBDUHBMXTEAQC
Fish: 22.63 inch Bicuda from C L Rio Negro Brazil; Code: SQULYICPQNMSK0394GNZKKCMUJNWGFBZHTZXIOKJKBTZSLRJWCCCMZLEYDCFU
Fish: 24.27 inch Jumping Speckled Peacock Bass 2 from C L Rio Negro Brazil; Code: QDHAFLGYOAJVL9944CVNIDVUGDZWEWMDXUVPESTAXFEBRKUTXHAAZGJBQQUVK
Fish: 30.94 inch Jumping Redtail Catfish from C L Rio Negro Brazil; Code: VFLJELHITLQGY8972NIZVXXPTDSFXPXOAALNWKJSFDSEJTJIGMUSLMXKPQNSL
Fish: 13.68 inch Amazon Piranha 2 from C L Rio Negro Brazil; Code: RYCYHSQVDNKYY8183QJVLGGBWQJAGOJVKTCNYYUZPCKGPMWRAJHTKDFGNZDPU
Fish: 27.67 inch Jumping Butterfly Peacock Bass from C L Rio Negro Brazil; Code: UMFTJVSBXQNVN2658OZSRQURCQOAQCSOVJREQLCEBBAZUEEZOVRYGPZBFPTDC
Fish: 28.35 inch Jumping Speckled Peacock Bass 3 from C L Rio Negro Brazil; Code: NUGNXXCDIAOHS4839FPXUORZADEGTGQQBGVFXNWIHMZMLFTRABEHIJTRAIBMU
Fish: 58.89 inch Piraiba Goliath Catfish from C L Rio Negro Brazil; Code: FWYASMZDGNPNH5934JUYLOPTKDVDVNCKSIQCFRVKJBYNZEWOOJHJZZMBUPSHR