8/16/2014 Sw The Wondrous Dunajec River Gorge Poland
Hi Everyone,
Well I fished another excellent outing from Martin which was made especially for our new found friends and members from Poland. Martin did an
excellent job with the sounds and currents. I found in a few sites that I had to use certain currents to get my fly floated in to an area where a few
fish I needed was setting. I liked the scenery and the background sounds, it made the outing alot more enjoyable to fish. Be patient when fishing
the action may be a little slow in some sites but the rewards would be tremendous if you check out my caught list. There is nothing wrong with the outing
that's for sure. There is plenty of action and alot of fish to catch. Thank You Martin for another excellent outing. It was develpoed with alot of
time and care, greatly appreciated. Want to thank Stanley also for the most excellent job of the new fish for this outing especially the jumpers.
Another big Thank You to Martin and Stanley for another job well done. I fished between the surface and 5 feet deep and I caught 13 of the 15 species
Martin put in this outing.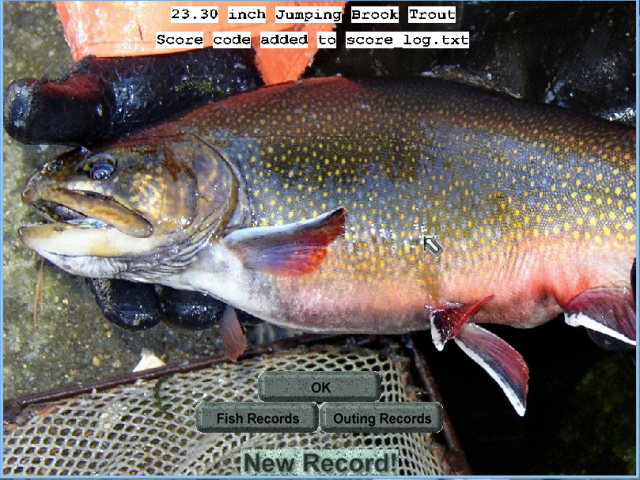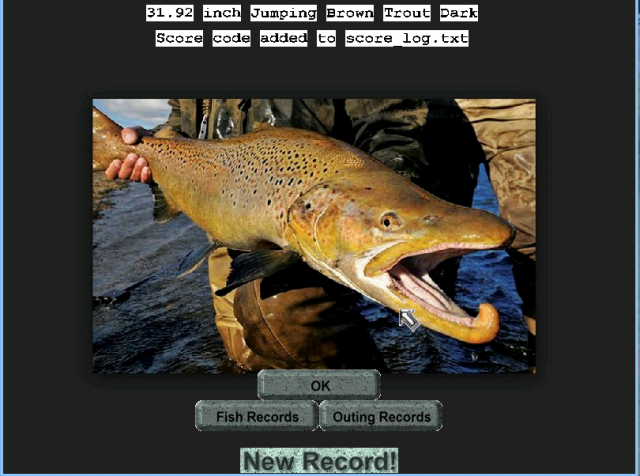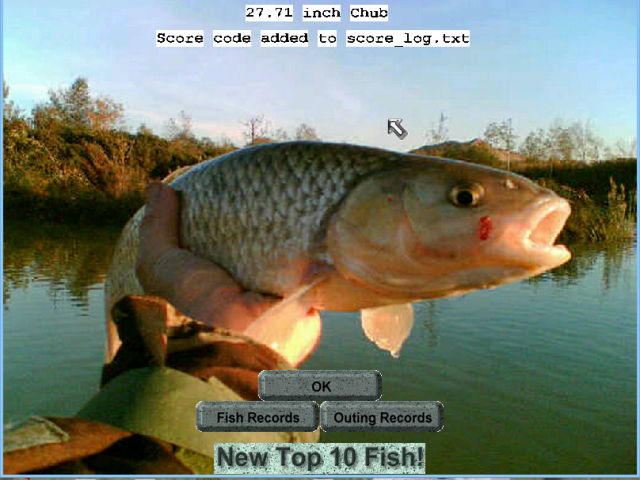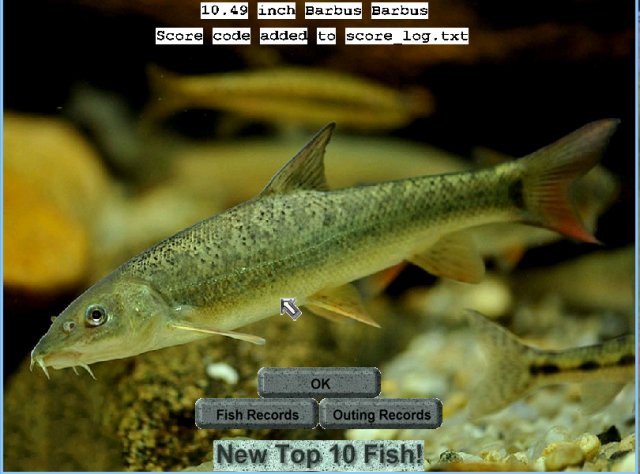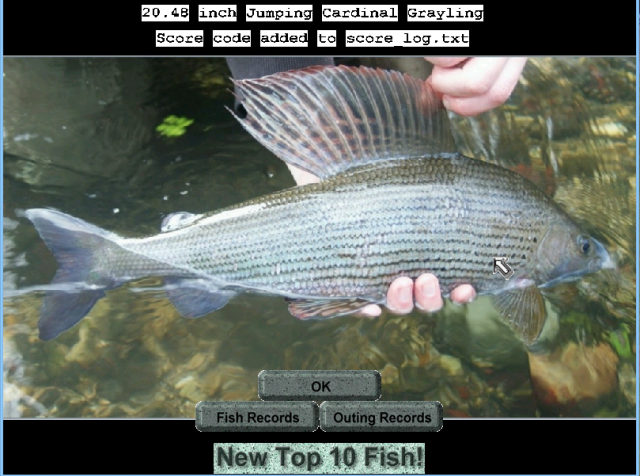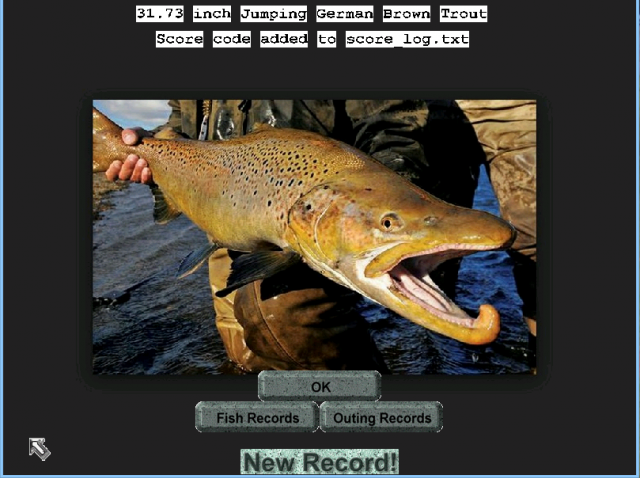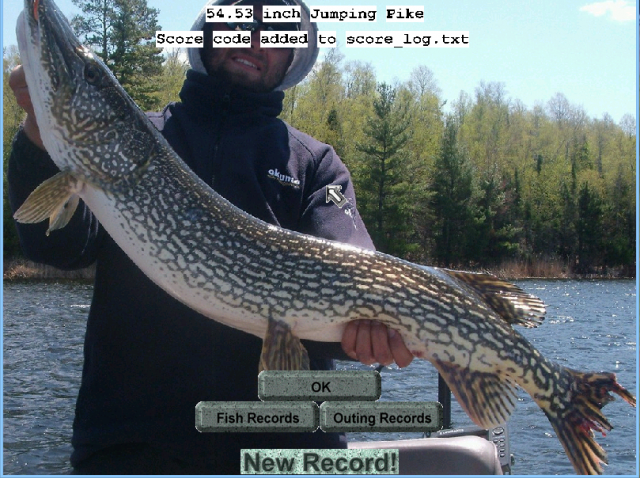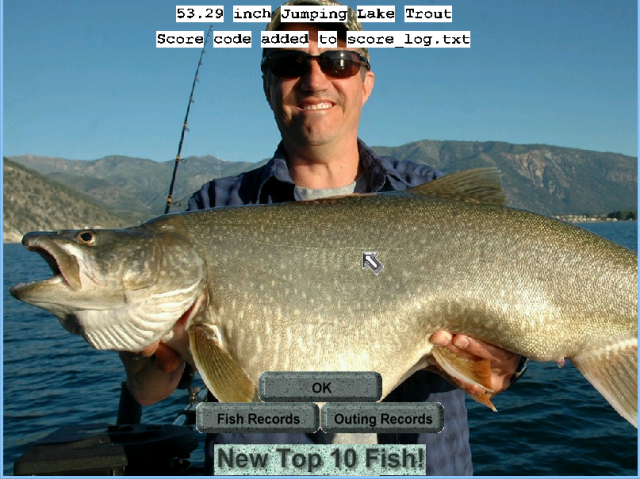 Fish: 29.71 inch Jumping Brown Trout from Sw The Wondrous Dunajec River Gorge Poland; Code: VJMABTAIWMVBV4115JYMLLUTYDQNTIPPGIFOCNSFVYWFUJSJYDITBTQTLQDNT
Fish: 35.89 inch Jumping Rainbow from Sw The Wondrous Dunajec River Gorge Poland; Code: WJTEUABGOFAUQ5818MBGACMYTWFDGUCOYRDVVCTYCLJKFQFHRXOFWZUCSERZC
Fish: 14.62 inch Jumping Roach from Sw The Wondrous Dunajec River Gorge Poland; Code: LWPYRJLZHWCNZ9554JMHOXPWMJZRRRLTPHEBPTTRKYBRCIJFWEZYPCKGLDHHW
Fish: 19.32 inch Jumping Cardinal Grayling from Sw The Wondrous Dunajec River Gorge Poland; Code: IVTBIOUEOEXGM1238PUMSEXJIRSNOTWBVPOZXPXIQFWRTWVMDFIWDJNFSCADP
Fish: 20.36 inch Jumping Brook Trout from Sw The Wondrous Dunajec River Gorge Poland; Code: GXCLURDAGXKXT7853LYWJTASWLYAOVREKMHKNJEVSSFDMOHYBOVFQRYUXPFBL
Fish: 31.76 inch Jumping Red Rainbow from Sw The Wondrous Dunajec River Gorge Poland; Code: NYPXTFWKLEWGP0082BFKKBXCGDCOPIIJHKHODQFWXGLOWVUSARKRYQMAEKTOV
Fish: 37.22 inch Jumping Pike from Sw The Wondrous Dunajec River Gorge Poland; Code: WTKOCIMQVVMCZ3542EOCILNWUEQPRISIBGSRXTGZNOOJSPIMZXXDMRLQBRCCI
Fish: 31.50 inch Jumping Brown Trout Dark from Sw The Wondrous Dunajec River Gorge Poland; Code: SBYPLHXLXXXFF3320CUEWRNZQEQRULZAIXSXQALQGTNGOMOBXSFSUXOMBSIUZ
Fish: 20.48 inch Jumping Cardinal Grayling from Sw The Wondrous Dunajec River Gorge Poland; Code: XCZTPZPIRJAPS0152LKNDJIOKJAJNIPHEMEWUBBEXGTPUFSRKGZYWCTLCDFML
Fish: 21.88 inch Jumping Cardinal Grayling from Sw The Wondrous Dunajec River Gorge Poland; Code: LYDQYIVFIUXJO3575MONQDVAQQJSHSZTFQTJRKCJSMLMSGLOODPMWKDBXYNLW
Fish: 21.76 inch Jumping Cardinal Grayling from Sw The Wondrous Dunajec River Gorge Poland; Code: QHJJCLHZRZRKQ5287YTRZQBFMDYWAPFEDBPYKDCNWAICCAVUXYGJDBBCNLCCI
Fish: 53.30 inch Jumping Lake Trout from Sw The Wondrous Dunajec River Gorge Poland; Code: WEGIDKZEDURSU3570LRZQPDVTWECIWQJKTVGDDJDGGPGYWZJBKASMQIQGVSVN
Fish: 29.71 inch Jumping German Brown Trout from Sw The Wondrous Dunajec River Gorge Poland; Code: XMQEXZBFZFQRK9856DWJEKIMLRLCRWFJGJUAESWFQJGWHMNVRGAXQOKRJKRZC
Fish: 44.42 inch Jumping Pike from Sw The Wondrous Dunajec River Gorge Poland; Code: SXCJQPERMWMOV4781HLVHGUHWJVXRWCXMKMFEZTSQNHJFQFSVQOCLHPTLEHAE
Fish: 31.92 inch Jumping Brown Trout Dark from Sw The Wondrous Dunajec River Gorge Poland; Code: JXNWRVMZIVXTP4153ESNZJMSHRGMRXFAVHTOSWIBEHKJKCLAGXFWOXLRLAVOI
Fish: 7.25 inch Barbus Barbus from Sw The Wondrous Dunajec River Gorge Poland; Code: DMGJPBCROBYMP9824AACBERNBLJVHBLSGVUMLPVLNEMWXDQIBPDFOILOCCLHN
Fish: 40.50 inch Jumping Lake Trout from Sw The Wondrous Dunajec River Gorge Poland; Code: IBKYSGEIBYUDL2899WMRYIFTQKRTHBPEIWBHCIYGNADKARYDPFQATHFUBYNFQ
Fish: 46.43 inch Jumping Hucho Glowatka from Sw The Wondrous Dunajec River Gorge Poland; Code: MGGIZIPIPPQRI9268AESULABXSXMCNCOAATYRKFSVBPYIHMCDEBWXCBTSARUX
Fish: 18.79 inch Jumping Cardinal Grayling from Sw The Wondrous Dunajec River Gorge Poland; Code: ZZTHCMGNZBANI0205ZVSTWZKRXTMAFMYREYAIOEODEWNANKEIJCREZMCNDJTD
Fish: 10.49 inch Barbus Barbus from Sw The Wondrous Dunajec River Gorge Poland; Code: IFEMALAXDWIUI0041VRVKTQIYYBLECZFODGXGYQYCCOMVVUKRCDBQDADZZSPQ
Fish: 24.19 inch Chub from Sw The Wondrous Dunajec River Gorge Poland; Code: HCHCXSWTAEQJP6011MOSGLUTGLVUUTWKYJPRYBOJOXRZTANESBRRAULOBYCRA
Fish: 16.60 inch Jumping Brook Trout from Sw The Wondrous Dunajec River Gorge Poland; Code: ZRHHJMENUDFKG5721TLCUTMYUEACEKSEWUPMHXBNSISBKMKQTIRGDPXRRAJTD
Fish: 14.41 inch Jumping Roach from Sw The Wondrous Dunajec River Gorge Poland; Code: NIADIYHVZOGUL2182HDDYIZBFXBMFSLNAYHMMRQDJVDQYMBQGXFWLCYXFGWNO
Fish: 41.07 inch Jumping Lake Trout from Sw The Wondrous Dunajec River Gorge Poland; Code: YKIQKGKXPUXKP3530DPGETUIAJBTWHWHFBDRVQOHPIKFVNGDZCZVAAMTYNFJB
Fish: 9.01 inch Barbus Barbus from Sw The Wondrous Dunajec River Gorge Poland; Code: BWTMCMFMLQFCF0031CPFIYXFADRTDHBXMTVDCAOHSFRUGNUIORKGKABVGTHAE
Fish: 30.00 inch Barbel from Sw The Wondrous Dunajec River Gorge Poland; Code: FFSCMANELDEFM4831CZPTMTFBXJZCALJAVTUCDMSPMJGYZRPMSMKEHOGNEQJO
Fish: 28.96 inch Jumping Brown Trout Dark from Sw The Wondrous Dunajec River Gorge Poland; Code: QIMWWBIECPTOH8382AQVKIZNDDJYAUZAIRTPQMUJVLQWOIFTLGOMDYMNTMRWR
Fish: 31.73 inch Jumping German Brown Trout from Sw The Wondrous Dunajec River Gorge Poland; Code: RDFDZAGVHUOXZ8648CBIPUZPXXWMPIACMDJHZCLPGTKXTDULWWPUSPEJQZILE
Fish: 47.64 inch Jumping Lake Trout from Sw The Wondrous Dunajec River Gorge Poland; Code: UYSDYCOSGIOMU4383XHMLOURDXRMHQWRTSEBENOADSIEVUFODNQKJYQDZYHPM
Fish: 30.22 inch Jumping Rainbow from Sw The Wondrous Dunajec River Gorge Poland; Code: PUSUSUDTSCNDT2336JRUXXNSMQPUZEYFZVZVKEOROGSNGFPIKKZNNYAYHSBMU
Fish: 54.54 inch Jumping Pike from Sw The Wondrous Dunajec River Gorge Poland; Code: VHZBLLRBWBBON2993FWFHUWJTKKODITPNQQGAVJFOJNRWDQTOESFUJQYAQJGP
Fish: 29.95 inch Barbel from Sw The Wondrous Dunajec River Gorge Poland; Code: PKTPWSINLNJBB4610AXYPXVXNLUFVJAKPYKZANCQEDNOSHMDLSYOTUJSZMTDC
Fish: 29.10 inch Jumping Red Rainbow from Sw The Wondrous Dunajec River Gorge Poland; Code: NGNMTYPAZLSTE8961ETXRNIYIKZYPRPMHFSWKZHMCPCVBOZAWYPIQMGCTEEQT
Fish: 13.09 inch Jumping Brook Trout from Sw The Wondrous Dunajec River Gorge Poland; Code: IFMHOGFHDZHGI0041VLGKEGIOXHHECZFLYGXGYQYCCOMVVUKRCDBGHBDBYCCI
Fish: 9.43 inch Barbus Barbus from Sw The Wondrous Dunajec River Gorge Poland; Code: VRQYFYPWBWPBX0627PQUHWQLWECWODJJYNFLCMVGGMARKJKXVETEOVHEHDHAE
Fish: 27.72 inch Chub from Sw The Wondrous Dunajec River Gorge Poland; Code: EQPLNNAWJKKZH6767KUMCZBHURNASPJSBZWIINPVJMKDMHINPGXAEGTODVZGB
Fish: 9.18 inch Barbus Barbus from Sw The Wondrous Dunajec River Gorge Poland; Code: IETIGURQTUOER9945TODFBHKVKPPXGFBDZCGSIZUCRNSKFKTVUNYEGRSVPHAE
Fish: 23.30 inch Jumping Brook Trout from Sw The Wondrous Dunajec River Gorge Poland; Code: DMOEDWHBORZRP9824AUNBPHNRKPRHBLSDQUMLPVLNEMWXDQIBPDFEMMOEJPIY
Fish: 48.17 inch Jumping Lake Trout from Sw The Wondrous Dunajec River Gorge Poland; Code: LFXSDKGPFVKGE7249VFXSUAQZDOTZFVTXUSALLMDOKBZLRGMWTMAIZOSIKFJB
Fish: 56.32 inch Jumping Hucho Glowatka from Sw The Wondrous Dunajec River Gorge Poland; Code: NUGNXXCSJCOES4839UAXEHMTYXUCRGQQYBLQZHMEJMSEBRYLYVEHGMSRZYWHJ
Fish: 29.44 inch Jumping German Brown Trout from Sw The Wondrous Dunajec River Gorge Poland; Code: CNTFEYQFPLOHA1126YWXDOSOOJUPSTSYBFIWGIMNOTALYEFBWCXELZZJCJGGG
Fish: 33.28 inch Jumping Brown Trout from Sw The Wondrous Dunajec River Gorge Poland; Code: XJZHWIJZGQCTD3511YXOCJEZKAMLB?PEFATTOSVSBRWHYXBGKSCYMXZSQKRUX
Fish: 42.86 inch Jumping Pike from Sw The Wondrous Dunajec River Gorge Poland; Code: EGFYTEXUDLWQX6053BAMCHAHPVMSPTSPYKZEXWDUQKXDYIFIHGOCSCUATLAWP