7/30/2014 J.A. Sola - Radziechowy Wieprz
Hi Everyone,
Well after everything that I do, the most simplest job, lays me up for 4 days. Changing a light bulb, I throw my back out. So doing better and decided
to try and finish Jyndrek's new outing and try to catch the 20 species. Well I ended up catching 18 out of 20. Jyndrek did an excellent job with the
scenery, the currents and sounds. On a few of the sites (whether it was my imagination or not), but if I didn't do a perfect drift with my fly, I would
not get a hit at all. Everything was caught on dry fly. Fishing was excellent. Had alot of fun. Stanley did an excellent job with the new fish species. The jumpers went crazy. Had a few big jumpers throw the hook on me. An excellent outing to fish, I know everyone will enjoy. Thank you Jyndrek for another excellent outing. A
thank you to Stanley also for all his new fish species.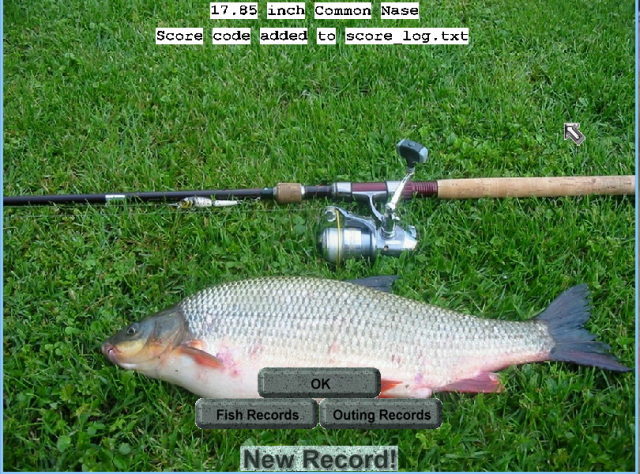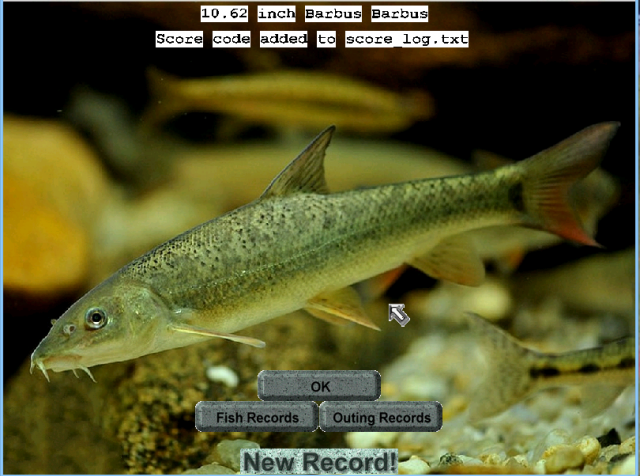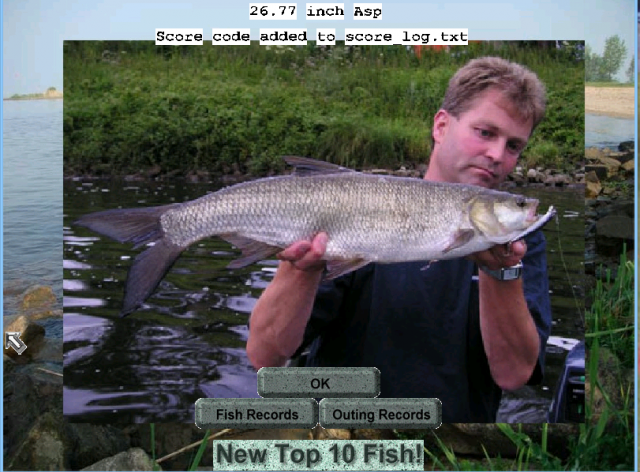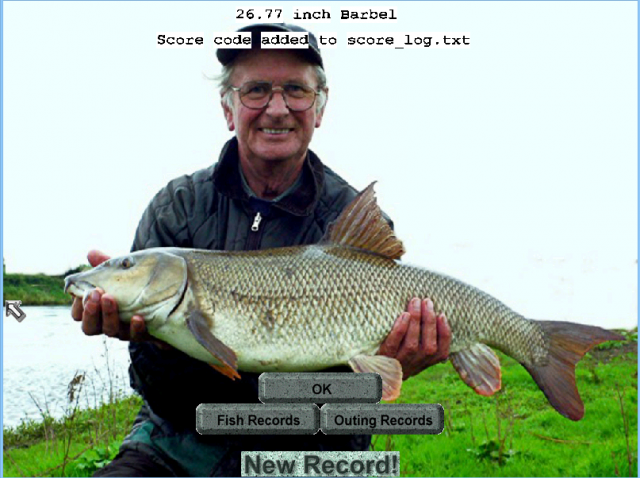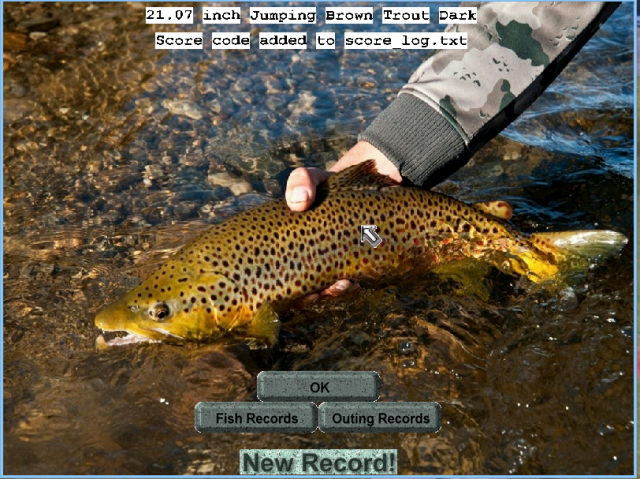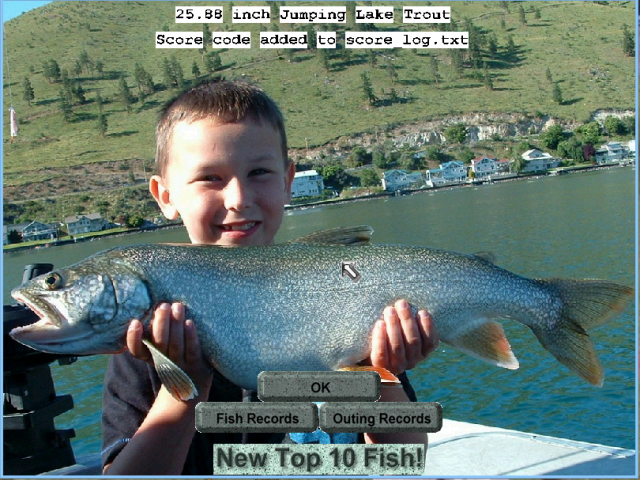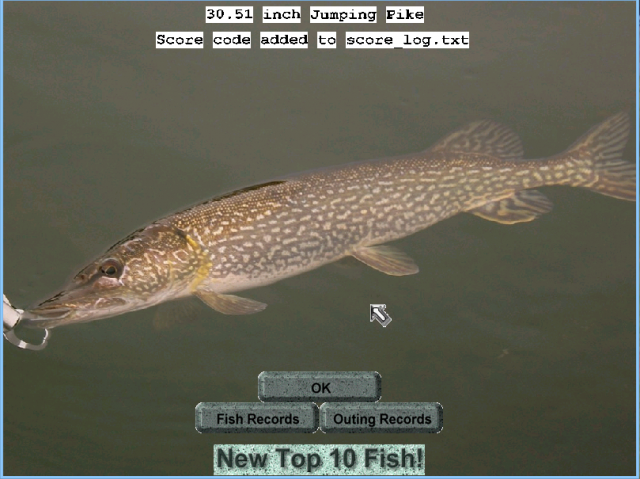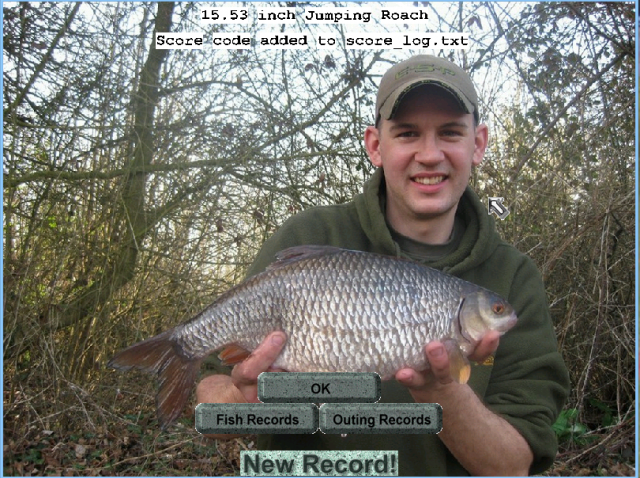 Fish: 16.96 inch Jumping Cardinal Grayling from J.A. Sola - Radziechowy Wieprz; Code: VSBYOKDOSESNV1723BSHCORHIOGRWELGGEIYJFUWFFFEXHZULSBGVUZPNZPZO
Fish: 10.72 inch Dace from J.A. Sola - Radziechowy Wieprz; Code: YSGGLYDIULUGJ8923CEYTELPTUODZGZTSIUBNAYCSVSSNVDPQKKFXUEMCRVRV
Fish: 18.14 inch Jumping Rainbow Trout from J.A. Sola - Radziechowy Wieprz; Code: NGNMTYPAYASXE8961PQHHCCOCIDCXVPEHFJSCJOYBFGODWWGYEPIOSHCTBYNB
Fish: 10.99 inch Common Nase from J.A. Sola - Radziechowy Wieprz; Code: MOLBPQQSTJMFK3753RMDJGGDEIAPWMWIJCTISTYOFGXDAPBWCDUZTWSEQTJFZ
Fish: 17.24 inch Jumping Lake Trout from J.A. Sola - Radziechowy Wieprz; Code: ARIHFBIJHAUWW2860BHNSBYYTCNTQJCUNTHMRDJEWKXFRBQRHQIAOPMLUXPIY
Fish: 16.65 inch Vimba Vimba from J.A. Sola - Radziechowy Wieprz; Code: ZPGPGUASSLKBY1509ASRAORCSUTBUVWVDCRAXHYZJSNGPOMFDQBSYFXWJPVUG
Fish: 26.77 inch Barbel from J.A. Sola - Radziechowy Wieprz; Code: NAPQTOWDVWMUJ6408MJXLMMNQOCJPBJDKPXUEBUOFWLYLUYRUBTLYCLFKOJFZ
Fish: 12.49 inch Jumping German Brown Trout from J.A. Sola - Radziechowy Wieprz; Code: YWOZZOFHWPHTO6285BJKFPNMJIXNVHJUYHYZRIRTGPDTIZAWTGYGUIHNZCFML
Fish: 12.76 inch Common Nase from J.A. Sola - Radziechowy Wieprz; Code: RWETRQCFCCQKJ4962NHZJJXAKCLZCZNURYUEQLHPIMYDKAWAILRFUSDSYTODW
Fish: 18.07 inch Jumping Brown Trout Dark from J.A. Sola - Radziechowy Wieprz; Code: XXSBAPOAORWOS0487ZTLFSCMZBBPISQAWWEKMBHWHMQJAIWXOUSYADMHXQCRA
Fish: 13.98 inch Common Nase from J.A. Sola - Radziechowy Wieprz; Code: YDBKBXFUSYZGE0951CADBISNSVUIOUWUTMXQSKBFLNLGTKVMBXNVPTJMIAYNB
Fish: 20.76 inch Jumping Brown Trout from J.A. Sola - Radziechowy Wieprz; Code: ZHQXCEAUNTQDX7017UIBCSVIVCAQHATTRVRMPIVQGVRVHOMROOHIXVIENPBXF
Fish: 9.29 inch Barbus Barbus from J.A. Sola - Radziechowy Wieprz; Code: DOUAEBMMPNLME3843OUVTJGPPPLEVGHKBHAQFQMWUARDXJHENTTBOMOCPOMAV
Fish: 10.62 inch Barbus Barbus from J.A. Sola - Radziechowy Wieprz; Code: MEKWWNBXNVXOB5047ISHAGFFDIPDSQGFHNVMHCLFNDJVMRHRVMLBZKBYHXFBL
Fish: 26.60 inch Jumping Brown Trout from J.A. Sola - Radziechowy Wieprz; Code: KOFUXTJCLZEBJ5156KVGPPEBOVPBOOWKIQXDGOVBRMXTVATZQOZUVKKFHHNFQ
Fish: 9.47 inch Dace from J.A. Sola - Radziechowy Wieprz; Code: CWBAZZCADDCFT9734RIRVFKERPHRWXPOEDKGMAOMYJIKCCMMJSYSTQHEGZPOE
Fish: 12.87 inch Common Nase from J.A. Sola - Radziechowy Wieprz; Code: DFHQCFVIALZFL6334HXKYLEWZCSLAOLMYBOLJIRRJJNYDTXZCJSFDBHHPYZJM
Fish: 20.63 inch Jumping Rainbow Trout from J.A. Sola - Radziechowy Wieprz; Code: EVBNSUKEDFRTD5135EBLJCNAOPANEJVHPYVLSXZVWAAZUBLRHZLMQJYAFYHAE
Fish: 14.89 inch Jumping Cardinal Grayling from J.A. Sola - Radziechowy Wieprz; Code: OIHHBFHPRBLQG1786WWIGHSXJISKYIYDPGWGXQYJPZUGMBUVBXTPCSFOMZHHW
Fish: 9.64 inch Dace from J.A. Sola - Radziechowy Wieprz; Code: UVNPEVMCMDAFO9266DWVMWLTCOBUXXGEUKCYGXURNQCPNOQEZMTTNJGEHBNAL
Fish: 8.90 inch Barbus Barbus from J.A. Sola - Radziechowy Wieprz; Code: JKPMLJCCPSVMR8200SNAGFBGDOJKDIYTSZCGJPBQEEZNPXBUVXFHNILFDZVOI
Fish: 22.93 inch Barbel from J.A. Sola - Radziechowy Wieprz; Code: OOOVZDJNVVMIT1279GDSUXIFUVTDECFFLVHNDYAALHPEEESSOAPESIBKWOQJO
Fish: 17.66 inch Jumping Cardinal Grayling from J.A. Sola - Radziechowy Wieprz; Code: HZWGDGUEZRJXW0778DBGECKXPBKSXMTVPADNAAVSFKYPFBTSHNAMOXGYQDUTQ
Fish: 8.40 inch Dace from J.A. Sola - Radziechowy Wieprz; Code: UUCCKEEOCBGWP6141CZSPUEVRBBCPBMIMLZZSOCVOFBVCYGNDWLJLQOUBONAL
Fish: 13.20 inch Common Nase from J.A. Sola - Radziechowy Wieprz; Code: IJGRIGFOGBVJN9281NVCMDLVXIUDIARYSXBRDRIBPNLOSAWXONJKIBXMZLSSC
Fish: 13.74 inch Jumping Cardinal Grayling from J.A. Sola - Radziechowy Wieprz; Code: OFIKAOPNGHXDS4669ZOHZZONMHAJIDIYIYVHPQXVAIKYCNHNDJVRIXTHVDZJM
Fish: 7.36 inch Barbus Barbus from J.A. Sola - Radziechowy Wieprz; Code: JRPARAWLDMMBC2699EANZYYNQVKDRHZRWOZDDGVVHPUFTHJJEIJHMZRNBSADP
Fish: 14.51 inch Jumping Roach from J.A. Sola - Radziechowy Wieprz; Code: FYGNVSDOGFHOW9155NEONBJPGBHEPSYCFPMRTMBKSFXMPWSFGIXWGKOPFKLTS
Fish: 7.54 inch Barbus Barbus from J.A. Sola - Radziechowy Wieprz; Code: OHOHTBUPHLRWI8680CRFBETZQOSSQDWZGGKPJIHNHWTMATKDNPLETRVDFBWKT
Fish: 14.77 inch Common Nase from J.A. Sola - Radziechowy Wieprz; Code: SPKRNPJEGWTVT9278EQOFQTQTPPECNZNWAVNOKPVEGPQZXBKAUURPMBBQCYNB
Fish: 8.81 inch Barbus Barbus from J.A. Sola - Radziechowy Wieprz; Code: TNBHOBOQWTDMR4850MJDZCXKKBMTPQZLQUEEFIPWDGTZMYUSJQTXZYEWBUHCZ
Fish: 10.53 inch Dace from J.A. Sola - Radziechowy Wieprz; Code: MAKXVSVVKTIWW7706BNDWNUINVGLVPWMSFZNLMSVYJYTRMLKBHFZXTHPKUDLY
Fish: 10.40 inch Common Nase from J.A. Sola - Radziechowy Wieprz; Code: KJLGDDOEPYWMO6808CLZYUNYNVNRQYSNTRPOOWLODGDYPOETABEIJKGLFMQEJ
Fish: 8.17 inch Barbus Barbus from J.A. Sola - Radziechowy Wieprz; Code: WVQLDNRNVCGTP7763SVKGVNEAIMIFNOBOWYVRUWDTKCQSVHILBNRNAIDMXLWD
Fish: 8.37 inch Jumping Roach from J.A. Sola - Radziechowy Wieprz; Code: UTFHHMMBKSFIZ5045AUPKRFQYPJLHWSLETNIEYKZGCABQIONPODYEMGJTHKBS
Fish: 15.40 inch Ide from J.A. Sola - Radziechowy Wieprz; Code: PUMFAEUZRNOVT2336UOENNIMIIJUFIYXZVQRCOVDNWWGINMOMQZNNBCYIGPYE
Fish: 15.23 inch Jumping Roach from J.A. Sola - Radziechowy Wieprz; Code: EITYIEORDUNBF0385PAGCLALROYBLYOHOTFQRYTYXGKKYOEFUSEPDZXWGCDLY
Fish: 12.37 inch Jumping Brook Trout from J.A. Sola - Radziechowy Wieprz; Code: SSQNZYUORNFOZ4515JYPUYXHPIZFAKQSVIVMESQQTXAYALNAGJSQVZOZGHLWD
Fish: 15.53 inch Jumping Roach from J.A. Sola - Radziechowy Wieprz; Code: TSWRTNDMJDJNN3216VTSIXPFKBVVNODJESMTXZRKZLNDTTJYZDGBZFSQGSUTQ
Fish: 13.51 inch Vimba Vimba from J.A. Sola - Radziechowy Wieprz; Code: EOVZYLFFHEPQR2746SPYQJQMKIZDQSVJLQYOYGNQSOEIQRDCGNZMTPTSQCPIY
Fish: 17.85 inch Common Nase from J.A. Sola - Radziechowy Wieprz; Code: NZLJLOLACZYAG3285OHPDJYETVZQCICFMAKBJIDEEZQBKTJPQOSUUEYLLDFML
Fish: 8.10 inch Dace from J.A. Sola - Radziechowy Wieprz; Code: WMMQMBKOGXKAW0955CYZLPSDKVBOKWSDUYNQDMBYILXLQMOVASUDDPIILQRWR
Fish: 13.00 inch Jumping Roach from J.A. Sola - Radziechowy Wieprz; Code: PLEPFDAOCGZVA5836MZLKPOTAVYAJJCYXXEMGGBYDERBGXBJBGFZUQVDDFHHW
Fish: 10.54 inch Jumping Roach from J.A. Sola - Radziechowy Wieprz; Code: LVELXSDSPRJUA8438ADOFALNNVEJXZRHEHSGTUIACLFQTAWMKURNRWVDFYXCT
Fish: 30.51 inch Jumping Pike from J.A. Sola - Radziechowy Wieprz; Code: DFOQFFOFBDXVL6334HXKYLEWZCSLAOLMYBOLJIRRJJNYDTXZCJSFFYIHPFCCI
Fish: 23.24 inch Jumping Lake Trout from J.A. Sola - Radziechowy Wieprz; Code: OLYLDWAZKDWKN6933BERNPEOFCBKOFOANOONNQZEWQEWVQGKIMRGZKRMFGJGP
Fish: 10.42 inch Barbus Barbus from J.A. Sola - Radziechowy Wieprz; Code: ZWMIMAJAOADVC5188MMEUOFJEBMLIMWTQROXKYSNNDQYTHVUMBESZTMDXNAMF
Fish: 18.73 inch Jumping German Brown Trout from J.A. Sola - Radziechowy Wieprz; Code: HKSAMIHAGCNMQ1704LWDUGZWNBYWVSYWQNGBYKYEQCZELIKQJADCQTDGYWBXF
Fish: 12.57 inch Vimba Vimba from J.A. Sola - Radziechowy Wieprz; Code: NDAPDPDJNBZHX1744KQYAUQWFHUKFYZHIXQTUJVCMOWGUIKYSQRJVUXDADOPY
Fish: 15.91 inch Jumping Brown Trout Dark from J.A. Sola - Radziechowy Wieprz; Code: SKMUZYAQLMMOX0830DOZVCBNSPGVEPVQACNYWSNHPJWMSDVMSHHFVPQHLLOPY
Fish: 24.00 inch Jumping Brown Trout from J.A. Sola - Radziechowy Wieprz; Code: YJYLPXJHXUESR2434MPNPGIWLPVJCOCVXCIWYSDXHVNELNTKFSRKHGGJQKLWD
Fish: 13.96 inch Perch from J.A. Sola - Radziechowy Wieprz; Code: TFMHWRPXRUJZX0466YZNBGCPNITRTVWJWNDQFJENSRPNWYCMUPZMKGQDIWDVI
Fish: 18.81 inch Ide from J.A. Sola - Radziechowy Wieprz; Code: UZPTBVNLOOIOL5409KJZYHWRSBLEVRYFBJGOKGMICLVRIKMLTJYVTCCOFQDAN
Fish: 15.12 inch Chub from J.A. Sola - Radziechowy Wieprz; Code: KTLLAUCVWRJHF5514LGNGDNWOVQCUMIQEOESYNXPOJQXCVZXHBNGDWXRNSYNB
Fish: 22.41 inch Ide from J.A. Sola - Radziechowy Wieprz; Code: GWLJPSLPWQRRC4737VXDAVOJXODTUDPAZJVHRLTLJFAUCGMMHEOCALRRULRNX
Fish: 23.15 inch Barbel from J.A. Sola - Radziechowy Wieprz; Code: BYHERFTNNORMN4052RPVITXKACCCRMXQCKBHWKWLYJFBGTTEJWAULBYJRCABU
Fish: 8.11 inch Barbus Barbus from J.A. Sola - Radziechowy Wieprz; Code: UJGULJVQDEQLH5311QATKQERXHZZEICJUWYMBHYYNANULJURHOTHKAPDLUYYM
Fish: 24.45 inch Jumping Pike from J.A. Sola - Radziechowy Wieprz; Code: ISCWYXBQDRKUG6892DJVHBNOFWNXEZGWUDFWZZLGAEPUMQGCZWCYUJFHBLABU
Fish: 9.27 inch Asp from J.A. Sola - Radziechowy Wieprz; Code: YDRNMHPZSUXNE0951CADBISNSVUIOUWUTMXQSKBFLNLGTKVMBXNVHVKMJZVRV
Fish: 23.27 inch Ide from J.A. Sola - Radziechowy Wieprz; Code: ZAKULYXGZCNPL4428IWOJZYBQVHFTBTVMOUPVZBLDKODDEEDNDEIQGDWYBYKR
Fish: 29.36 inch Ide from J.A. Sola - Radziechowy Wieprz; Code: DJJKJPGWEEEQI4587GKOKWPLOPCVYIVNEISBNZBJXDGZYXBYXGXPAZDQNZPOE
Fish: 7.56 inch Barbus Barbus from J.A. Sola - Radziechowy Wieprz; Code: XZYXTUSDQQSYH2709DVRPXHYDHSQQTMBMNTSOBQOOTAFYGYNYAHLLZPDIQQPC
Fish: 21.35 inch Ide from J.A. Sola - Radziechowy Wieprz; Code: MTQIRJKLGXSOG2011AWKSUPYEIJYCCIFYABXKTABBLIGGJPUTQILRNGYVNSIH
Fish: 25.32 inch Jumping Pike from J.A. Sola - Radziechowy Wieprz; Code: RXWGPHEJUQIDI5088OMCGLWFVOLRKWPRZXFVEUZLIPGXVQGAETZQWNWDENFML
Fish: 11.88 inch Asp from J.A. Sola - Radziechowy Wieprz; Code: LZXXBBVGSLQUF6671ZIARKWCDIOUVSCIKOOWXDBRQFQZGESTEZXOLXYMFPSIH
Fish: 26.77 inch Asp from J.A. Sola - Radziechowy Wieprz; Code: MQPDHASKWJXXA7974VPBLMLPIOSYMFSIZSAQULHFMUYQXVDMMKKNWSVZELPYE
Fish: 16.36 inch Asp from J.A. Sola - Radziechowy Wieprz; Code: XDTBSSPRBOBOR1258YFAERIQXBFKBIJDJCZRAUAMEHGKIDZOIDHBMPFWKOZLH
Fish: 19.48 inch Chub from J.A. Sola - Radziechowy Wieprz; Code: UHTSEOHBCXEAA3390NXNALZGUBHQWIFIDGJEZQOYGLMGNDRAXQDMOLNPAKQJO
Fish: 12.81 inch Perch from J.A. Sola - Radziechowy Wieprz; Code: JALCMYNOIIGGI0596JTEGFAIDOGZAVIQHKNKHZOHLBLNCQZQWXWJLYVZWAMPD
Fish: 15.25 inch Jumping Cardinal Grayling from J.A. Sola - Radziechowy Wieprz; Code: RSJKYRUZZDATM6712GCVXYNCUOCHFYCTDYXOMCPXMJNTPEAUOGMEIYJJZKKBS
Fish: 16.44 inch Jumping Cardinal Grayling from J.A. Sola - Radziechowy Wieprz; Code: YZNWJFYFHMUVV1302GRLMXZVYBHOLFZRWPRYHRKHVGNJROMLRVWFGFTTQXOPY
Fish: 25.88 inch Jumping Lake Trout from J.A. Sola - Radziechowy Wieprz; Code: JXNWRVMJHPXPP4153PPXVOGOBPLWXBFSSEKKKGPNDXOCMKIGIDFWUJORMVVUG
Fish: 21.07 inch Jumping Brown Trout Dark from J.A. Sola - Radziechowy Wieprz; Code: NLZIKGZHSOSLR7239YAOQQMRCIFMBTBBVEQHUJYLXCRRKIKMPRDUMJMWWYUJG