Hi Everyone,
Stanley, you did an excellent job with this one. Definitely a kids paradise. Excellent scenery and currents and sounds. Didn't get to
pay to much attention to the great details you put into it, because the fish definitely didn't give you to much time. Another excellent job on
the new jumping fish. Definitely an outing to get the younger people to fish and enjoy. Had alot of fun as you could tell with my caught list.
Thanks, Roger (Rwwalleye)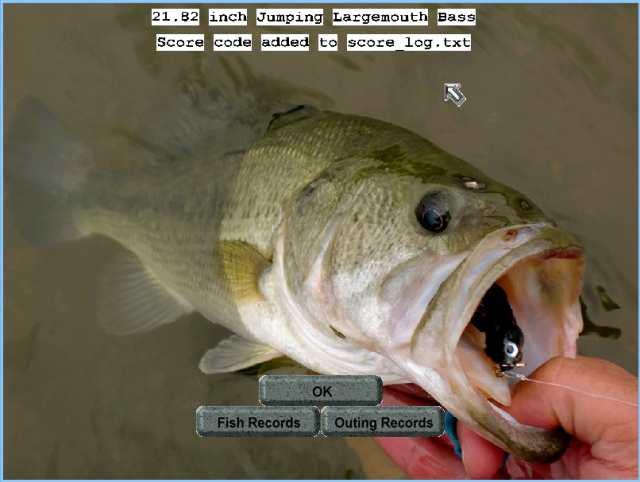 Fish: 7.24 inch Jumping Bluegill from C L A Day Fishing With Kids; Code: NYPXTFWUKGUGP0082BFKQQWEEJNYZOIYEJRDNOBQHVPEQWVTCXKRMANAFJQJO
Fish: 22.20 inch Common Carp Light from C L A Day Fishing With Kids; Code: FNXPQCMWPZYBO8324QIFSIGRYQCBDBGAMBEXUBMNLYRHIBSEDAGVPJMYSPILE
Fish: 15.26 inch Jumping Black Crappie 2 from C L A Day Fishing With Kids; Code: EITYIEOBDUOEF0385EDWMVFRVWEBLAOEOTYJJMIGIFKHQHIAUSEPFOVWGPFML
Fish: 11.18 inch Yellow Perch from C L A Day Fishing With Kids; Code: GEYVGCZLKOGVJ2639MPOLJEEDEOFVOFBCNQQRISBZMRGZSVPLLTTAMJTPPLES
Fish: 8.64 inch Bluegill Male from C L A Day Fishing With Kids; Code: KYOLWRAHRUTCT4872JTKZAKFTDFMSMMKSFFSITXKVNCYBARRXOBSLAALRIVUG
Fish: 18.88 inch Common Carp Light from C L A Day Fishing With Kids; Code: QMGFQBFCDHZQE5555HVZWTKCKJSQETJQWZHCFSIVUUFWDNKBQRUWJMHWRVABU
Fish: 8.75 inch Redbreast Sunfish from C L A Day Fishing With Kids; Code: YOSQSSXVRPOSM1780KCKQDFXQXKLZOPPLAJWJXUSOAZFKSLLWFEWXKIDEJKZX
Fish: 20.48 inch Jumping Largemouth Bass from C L A Day Fishing With Kids; Code: FVIQLKLHVSUNQ4039WAVQDCEVQVLRXICHHELDAPWONNBXBKKATZGPBBQOBBMU
Fish: 18.58 inch Jumping Largemouth Bass from C L A Day Fishing With Kids; Code: BNMBCQHBWNMVF3423NBUMACMKQGZFVFORVTNXQHORURXHYLDFOILJLVSEXGEM
Fish: 8.35 inch Jumping Bluegill from C L A Day Fishing With Kids; Code: BSZYTZROINSSA2888VLBWNUHKQHBLRRLFUBCQQRKOAKBFSZCWBEXXAZMIBFML
Fish: 8.26 inch Bluegill Male from C L A Day Fishing With Kids; Code: OJCTNUVFJWCQX2901NWBVUDIXDQBGESWXXSQDNFVZBVFPLIPYNBSQFVRSLIUZ
Fish: 7.32 inch Jumping Bluegill from C L A Day Fishing With Kids; Code: CKUAUHXYVWBWM6909TOFUJIAIQLWLACIDXZMAGHUJRUUJRUUSUZGSWOKKUAWP
Fish: 19.36 inch Common Carp Light from C L A Day Fishing With Kids; Code: JBJCJNAXSYXYY1692ZBXVRMMZJERARCSPBKUFVVTWDUEGAVCKGELHJKKCQUYV
Fish: 15.50 inch Jumping Black Crappie 2 from C L A Day Fishing With Kids; Code: OSYZJNTZYQYBQ9512CTUQSYJNQAVCWPVRDEWZVAAKBALRBSUJXDFAQVUUKWNO
Fish: 7.33 inch Bluegill Male from C L A Day Fishing With Kids; Code: PMHBQSOPLJTNR6951DZEZBAFPPWSRNWSFPJWMDHBVGSRKGPVXWNCGGDFJXUTQ
Fish: 21.72 inch Common Carp Light from C L A Day Fishing With Kids; Code: DTIJGNXJKJTGA3201MHAUHUQTXSGBEMFPFBYPELSBFLEWPAXEGHNFNAWVQKYH
Fish: 8.47 inch Redbreast Sunfish from C L A Day Fishing With Kids; Code: MAYYZMQRKRHQW7706QQTGXZORDMLVPWJSFSGDAHDJIYQJFPFBHFZZIFPLMPOE
Fish: 12.79 inch Black Bullhead from C L A Day Fishing With Kids; Code: UHSWFBLPCQGFA3390CADKVEMYJNQWIFFDGCXREDGRKMDFWVVXQDMAVLPZVPTJ
Fish: 6.16 inch Jumping Bluegill from C L A Day Fishing With Kids; Code: IRRRMOBNLYQGH3996QHIMJLORJTFWVMPMEUYDFIKMAHXSBSGLGVNNXLWVLCCI
Fish: 21.31 inch Jumping Northern Pike2 from C L A Day Fishing With Kids; Code: VQNGZCUERZWEG7592VKZKSQBBPUINLPCQVMBYBAEJYVNSUBZBULTGMXBBCXSJ
Fish: 8.00 inch Redbreast Sunfish from C L A Day Fishing With Kids; Code: HNRNACLPRLYYX6840FHCLGQTOCVXLSOXOVACGGOZQSJRMPBBPPAANDMFXZODW
Fish: 8.35 inch Bluegill Male from C L A Day Fishing With Kids; Code: CQCIXNNMZIBFG7261DEXQZYBCCMQQXIJZNKSGOJDFAORBTSRFXUVHMKHVHQEJ
Fish: 7.68 inch Redbreast Sunfish from C L A Day Fishing With Kids; Code: KQBCYXEPLQYFR9477VBCBFOSWKMCERSIYYFEATTBSRGMLARLANPPKQKSWFILE
Fish: 8.78 inch Bluegill Male from C L A Day Fishing With Kids; Code: OPRUZUGJNQNEK4375XLLJKMRRXRUMBZYTNEXJVHEDJPVINGMCIXPFVJVBZNLW
Fish: 23.53 inch Common Carp Light from C L A Day Fishing With Kids; Code: EMOHBDDZGEWXK8525LQIYNQOKKOTATZGUACZODTYWHVJLDFHWPJZKKQFEMEQT
Fish: 6.25 inch Jumping Bluegill from C L A Day Fishing With Kids; Code: AJEPNBGBCMAVU6377CSNDQISHJAJVQIOTMZQBSVLWUTQTUTYSXOQKJWBZZLTS
Fish: 16.50 inch Jumping Largemouth Bass from C L A Day Fishing With Kids; Code: GZQDJRMFHDEHI9974HICZNFGYPBUKCGUXZGHRZJHJVLHENCPOSLTXVBQLSLES
Fish: 14.72 inch Jumping Black Crappie 2 from C L A Day Fishing With Kids; Code: TYMSFNNANOKLZ6780MLSPXKUIDCWSKJHBIYSVWIBGTHXDOLQMYCYQKMMRDGEM
Fish: 8.09 inch Redbreast Sunfish from C L A Day Fishing With Kids; Code: PYCVAYQDUIBIQ0686QWYBHYHCWYMCEIVGCNIYTDCNXHNVLMQOUNOLMVHDTGEM
Fish: 19.97 inch Jumping Largemouth Bass from C L A Day Fishing With Kids; Code: MFDDEZGYWNRIR6162ZAAPSJRADVVAPIGPEAWNZKQFNKUQAVMRUTLNXKJPNLES
Fish: 7.06 inch Bluegill Male from C L A Day Fishing With Kids; Code: FJUFNACBMIKDR2083JDBGXWUIKTRFIWZGCAZQKTDOWYGNXOXJVAMKVJPSOUTQ
Fish: 22.16 inch Jumping Northern Pike2 from C L A Day Fishing With Kids; Code: LFXSDKGREVKFE7249VFXSTZMXJYXFLVIXUCPVJIXYZFPFSHNYZMAKROSIMVRV
Fish: 8.70 inch Jumping Bluegill from C L A Day Fishing With Kids; Code: WOFSLRKNHHGDE4274VDNXFVVSKZXSYGAKPVZXASGIYHWGDUHKQKRODBWWYUJG
Fish: 10.54 inch Yellow Perch from C L A Day Fishing With Kids; Code: FJEFDEIRMLMZR2083JDBGXWUIKTRFIWZGCAZQKTDOWYGNXOXJVAMAAKPSLOPY
Fish: 8.70 inch Bluegill Male from C L A Day Fishing With Kids; Code: PQJKNSHFOEJHW4194CMILMCUFDFKHJGTLWNUQTSTKALTFKLCRTTLAHGOHAPTJ
Fish: 20.38 inch Jumping Northern Pike2 from C L A Day Fishing With Kids; Code: KKDKATIGHRXVF7904SMKNHYKCPLJQWMOBJMGUTRROQMPSXSNOSMSKFPWLSPZO
Fish: 7.94 inch Bluegill Male from C L A Day Fishing With Kids; Code: WAWXYIDWYZMMX7228EFNKTRIJXFTQBGXTKBFJSMNBBIMFBWDIUVRQDPHIEADP
Fish: 21.96 inch Common Carp Light from C L A Day Fishing With Kids; Code: PFHOQDLKYCCZO2362RNRGJDQLJDHDRVUAAMZAUOWSVXAOOHGWLCCXUYYUMQEJ
Fish: 8.78 inch Redbreast Sunfish from C L A Day Fishing With Kids; Code: JEPXHIJALGNVF8849FJGCZQDWKVRXQSONJCTVVWHLUEMPOHSQUCKRJPJTSCRA
Fish: 10.18 inch Yellow Perch from C L A Day Fishing With Kids; Code: JVBDIXFNGIABZ0832AQHVTOQBQZNPDJPCVOVADUVHIFLGFKLYFPIKETWAECCI
Fish: 13.82 inch Jumping Black Crappie 2 from C L A Day Fishing With Kids; Code: YFWBTXIZUITMU4172UFRNFDFAJSREPSRJDFRMPZNDAUZICBYLVLIDECATJSVN
Fish: 8.04 inch Bluegill Male from C L A Day Fishing With Kids; Code: URKORKZBJAKFJ1014LUZSWFKZQYCAXWIGDZTUUQHKNRCKDYSEINKKMDVGILRG
Fish: 10.05 inch Yellow Perch from C L A Day Fishing With Kids; Code: VZDKTVIYGTIQZ4102DHKFRLCRCFCIFLALTXOVKDJUYISULMEMDNGOCFWCONLW
Fish: 21.79 inch Jumping Largemouth Bass from C L A Day Fishing With Kids; Code: PNSGMDKDDYWSP9857XEHWEYLIKWJRMQWNGNNALZFVJBLWWZULFVNGMVQPGXCT
Fish: 7.82 inch Redbreast Sunfish from C L A Day Fishing With Kids; Code: KONLJXVUKGFXJ5156ZYWZZJHSDVBOQWHIQQWYCKJCLXQNTXUQOZUPBKFIYIUZ
Fish: 22.32 inch Common Carp Light from C L A Day Fishing With Kids; Code: BUGPGZXZKLMLQ6800ZNHGTZTOWZKTMFMWLQKKHABVOUPDQBSGZULYHCATEAMF
Fish: 8.44 inch Bluegill Male from C L A Day Fishing With Kids; Code: XQKMLXZTBMDAH7108CJNWJSMZCGWUDPZSHAFKHCROSVOWJSVNJOYDDGAHUYYM
Fish: 23.19 inch Common Carp Light from C L A Day Fishing With Kids; Code: IXASMNHGPAQPT5250SXTJZBXKDUYKZSRJUFWJNCCIJBVLVQDPJYKSSJBEQQEJ
Fish: 18.18 inch Jumping Largemouth Bass from C L A Day Fishing With Kids; Code: RQVSRRKVYWORW2690RDFXDMXVQQYXZOQNIBZBZUFPCDDJRCGDIOIZTHVOXFML
Fish: 7.46 inch Bluegill Male from C L A Day Fishing With Kids; Code: VPUADRQWZCDIP6496TNWFQKEQDVQFJVGIWAKKTIJBVUTGMRIFEDQUQOQUGPTJ
Fish: 7.99 inch Jumping Bluegill from C L A Day Fishing With Kids; Code: AIBCSKFMKMKGW5251AVKYNBMPXIRNLGSLNOZMJDHOJSXHEJZWHGNYVFQSIAMF
Fish: 7.69 inch Jumping Bluegill from C L A Day Fishing With Kids; Code: LWPYRJLJHPCUZ9554JMHUMOYKPKBXXLIMGOQZRPLUNFHWJKGYKZYTRMGLVFBL
Fish: 22.69 inch Common Carp Light from C L A Day Fishing With Kids; Code: LTJTESPXOLPNT3217MEYFEKHNWTAHAVDOQVJJROQFWVZNVYRAWBZYWBHUGZJM
Fish: 18.60 inch Jumping Largemouth Bass from C L A Day Fishing With Kids; Code: OTJEEWUYPUSWH0617EQXVUWHYCAMKCJZZUIVNESVSEIFDRKTFNLQSONEZLDGT
Fish: 11.72 inch Yellow Perch from C L A Day Fishing With Kids; Code: LKLNBDBDZVTEA6607WPNKGIPFJIHLIZFTTKENJTLVWRLMFOMPMAEGLTMLKYNB
Fish: 22.81 inch Jumping Northern Pike2 from C L A Day Fishing With Kids; Code: CPHXLYZHPWKOH6345CYULXAVRQMYIAONROHBSXRHFWNPPLISJHNSOQUWOQTOV
Fish: 13.31 inch Jumping Black Crappie 2 from C L A Day Fishing With Kids; Code: GJJKQJYYWBPDE1985NZVCWOZDDPHSMJYQEYFJAUXVKLKGEJVCYGFDGOFRCTIQ
Fish: 8.17 inch Bluegill Male from C L A Day Fishing With Kids; Code: LRUBRQGFNNTZD9196ICADZFVKPBRZZZLYIGBHSMQYIUDQPEAQXEMFCZUASJQK
Fish: 7.99 inch Bluegill Male from C L A Day Fishing With Kids; Code: RLJVRYOZLAKZB2332ITYOPVCUQPWRBCTYJUKJZSSTXRZCFOANVAETWCBJHVOI
Fish: 22.52 inch Common Carp Light from C L A Day Fishing With Kids; Code: RYSLGQBZDWKIY8183FUVVYARSQJAKUJKHOCNKQGPBRHOZZCMAJHTADFGJGFBL
Fish: 13.84 inch Black Bullhead from C L A Day Fishing With Kids; Code: WTCNPFHMUXPMZ3542EOCOAMYSKBZXOSXYFCGHRCTXDSZMQJNBDXDUSNQZVZSH
Fish: 15.25 inch Jumping Black Crappie 2 from C L A Day Fishing With Kids; Code: OSYZJNTZYQXCQ9512CTUQSYJNQAVCYPVRDEWZVAAKBALRBSUJXDFQVWUTITOV
Fish: 7.63 inch Bluegill Male from C L A Day Fishing With Kids; Code: XLFYUOXFGAXYT6752BZGNWJJYCEUPFLUVJSYAHADSVCSQWEXXWSMPOUOCPNFQ
Fish: 18.19 inch Jumping Largemouth Bass from C L A Day Fishing With Kids; Code: ZHQXCEAENROYX7017JLRMCAOZKGQHCTQRVKFHWKYRURSZHQMOOHIRMIENLWHJ
Fish: 22.09 inch Common Carp Light from C L A Day Fishing With Kids; Code: SIRDOYNLKJPPI6819PHRVHBPTQUUOQZMKLRJUHSQLUMWMYXQZJRRTPWTZIIUZ
Fish: 19.82 inch Jumping Northern Pike2 from C L A Day Fishing With Kids; Code: LEUNQBFLVRUIF6343TACVQSGMXHFFGTLPDYYHBZTZWWVTCPOCJEPQVXHAJDGT
Fish: 16.31 inch Jumping Largemouth Bass from C L A Day Fishing With Kids; Code: RHHNDAHQJHTRE4880JOMBFKEFCFETISSSKPMNRZAFDZXIIRTSYUVPIISLTRZC
Fish: 10.65 inch Yellow Perch from C L A Day Fishing With Kids; Code: ODWSRQQSEMDYL1448KPRZENIMJOAAMMDSHZKFNLDEBBHXIJRLKGDIUAUJOWHJ
Fish: 8.35 inch Jumping Bluegill from C L A Day Fishing With Kids; Code: ESKIQLSNKADKW8088OXSMEGPDWPNONFHRQNFULVPAHPGDGDEBKNOPFNBMIDNT
Fish: 7.99 inch Redbreast Sunfish from C L A Day Fishing With Kids; Code: REYZGNBWQFIIX9743EGLUXGNQJWDDKCNUCXNXJYFYLOHYUFLMKXXUNXUVOCCI
Fish: 7.07 inch Bluegill Male from C L A Day Fishing With Kids; Code: QJOAIQWWSDJOY9418BVYHLFLVQBPOWTUQRGVPSHHNDVGUZYLKCWXEWXXXPBZA
Fish: 21.82 inch Jumping Largemouth Bass from C L A Day Fishing With Kids; Code: OADOJFNZLERIE4301FHISWBQPQFHCPWYUZGLPFKPPJQSOUXKNEAEOZPVQADGT
Fish: 6.38 inch Jumping Bluegill from C L A Day Fishing With Kids; Code: MUHKDQUEYRLCX5136RXDHGBKBKHIKICGGZXHQPHFMNRXKKEOHGQWDDOIZWTIQ
Fish: 7.50 inch Bluegill Male from C L A Day Fishing With Kids; Code: ANYXAZMUEPHER4529JFRQASHPWJBSJSQZLVHFJFVKOEAOQXFMTCZEKSCWLUJG
Fish: 7.59 inch Jumping Bluegill from C L A Day Fishing With Kids; Code: WOFSLRKNHGGSE4274VDNXFVVSKZXSYGAKPVZXASGIYHWGDUHKQKRODBWVMNFQ
Fish: 9.79 inch Yellow Perch from C L A Day Fishing With Kids; Code: BZUCHSOZEJVJM5178IXOPGJWXWITZKSJKBYZCGDPRLFSKCHYXMIXMWOUWFXCT
Fish: 22.12 inch Common Carp Light from C L A Day Fishing With Kids; Code: RAHZUJKENTZHT1501XBZIMVYAWMTFJSUFVTPTAOVBRDFDQJERNJVPRCLWIOPY
Fish: 7.03 inch Jumping Bluegill from C L A Day Fishing With Kids; Code: IQOERXSHCQPJQ2871OKFPGMIGXBOWBRTENJZPWROEXGDGLIGOYNKBJDUNSBZA
Fish: 15.42 inch Jumping Black Crappie 2 from C L A Day Fishing With Kids; Code: SUEFHYMBSAZPP9644CDLGNHRFWWGHFMHLZWVYXOQLLBJPCTLRHIDZNONSCRZC
Fish: 7.19 inch Bluegill Male from C L A Day Fishing With Kids; Code: MQYZQOGZVQVRA7974KSRVWQVMWYYMHSFZSTJMZWNXTYNPOHHMKKNYHUZBOADP
Fish: 7.72 inch Redbreast Sunfish from C L A Day Fishing With Kids; Code: NYXOFJIMKGWCP0082BFKQQWEEJNYVOIYEJRDNOBQHVPEQWVTCXKRCFOAFSVUG
Fish: 9.63 inch Yellow Perch from C L A Day Fishing With Kids; Code: AXHHYLEELEXPJ2233TZNQBLFQWUMWFISKJTLHZSEDRRABXSCTTDXYOJQEVQEJ