Hi Everyone:
A while ago Chuck talked about the difference between the White Crappie and the Black Crappie on the Fish Ideas and Development thread and I took notice. Both species are prevalent all over the US and is considered a favorite sport and food fish by many anglers both young and old. When the big Bass and Walleyes are not biting, you can always count on the willing Crappie to provide some good fishing action.
I got side tracked from my Florida outing as my sister's boy friend Paul, who is a professional artist and photographer living and working in Minneapolis, sent me some pictures of Cedar Lake taken last Fall. I was immediately captivated by the vivid Fall colors and decided to try to make a new outing using those pictures. It would be a nice change of pace for me as it is very challenging to do a lake outing with quiet waters after the gurgling Nelson Spring Creek.
Just in case Uncle Barnsie would ask, "we already have the Black Jumping Crappie, why another one?" There are several reasons for this. The first one was my fault. I had set the jump rate too high for the first version of the Jumping Black Crappie and it danced across the water's surface like a Ballerina when hooked. Crappies do put up a good fight on light tackle but it does not jump around like a hooked bass. Reason number two was as Chuck pointed out previously, I had used a picture of a juvenile Black Crappie for profile picture and the colors came out a little too light. Not typical of the mature Black Crappie. Reason number three I think it is very important, at least to me. When playing the RWFF game, all the angler sees are the scene pictures and the fish caught pictures and both should be represented as well as one can make it. That is why we, as outing creators and fish builders, take so much time working with the scenes and the appearance of the fish. I didn't like the caught pictures in the original version of the Black Crappie so it was time to make some changes. So here you have the new Jumping Black Crappie 2.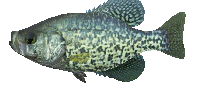 By the way, according Fishbase the Black Crappie can grow to a maximum of 19 plus inches and I sized this new fish accordingly. I hope you will be able to catch this one in the Minnesota Cedar Lake outing soon!
Regards,
Stanley