Hey, folks! The Android version of RWFF should be ready to release in the new few weeks, and I'm looking for some testers. To test this app you'll need at least one Android device, either a cell phone or tablet. When the Android version releases the iOS version (for iPhones and iPads) will follow shortly (probably about 2 weeks later) but the beta test is limited to the Android version.
The mobile version will simply be called Fly Fishing Simulator, and it will contain just about the same content as RWFF Third Edition. It has nearly all the same outings and sites, plus some of the Pishtech add-on outings, and a few more caught fish pictures. Some of the older fly patterns have been replaced with better versions. Fly tying isn't included. In the future I hope to find a way to support the custom content.
For comparison, the only significant mobile fly fishing game right now is "iFishing Fly Fishing". The free version has 1 site and the paid version has 6. At least in the free version there's no mending, no dry flies, and no surface feeding. Yet the free version has over a million downloads on Android alone and a 4 star average rating. For comparison, the new game will have a handful of sites available for free, and will use in-app purchasing to add outings. In total it will have over 500 sites and over 160 flies. I'd like to think a mobile RWFF can give their game some serious competition.
This version adds some game-play elements. When the game starts for the first time you're limited to a 2 weight rod and 8X leader, and a dozen fly patterns. All but the first site of each outing is locked. With every 3 fish you catch you earn a new fly, and catching more fish unlocks rods, leaders, and sites.
The interface is a bit different since this is for touch screen devices. There's a fly reel overlaid on the lower left. You can touch it and turn it either way take line in or out, or touch the left side of the screen and swipe towards or away from the reel to strip line by hand. Touching anywhere else on the screen controls the rod. That lets you control the line with your left hand and rod with your right simultaneously.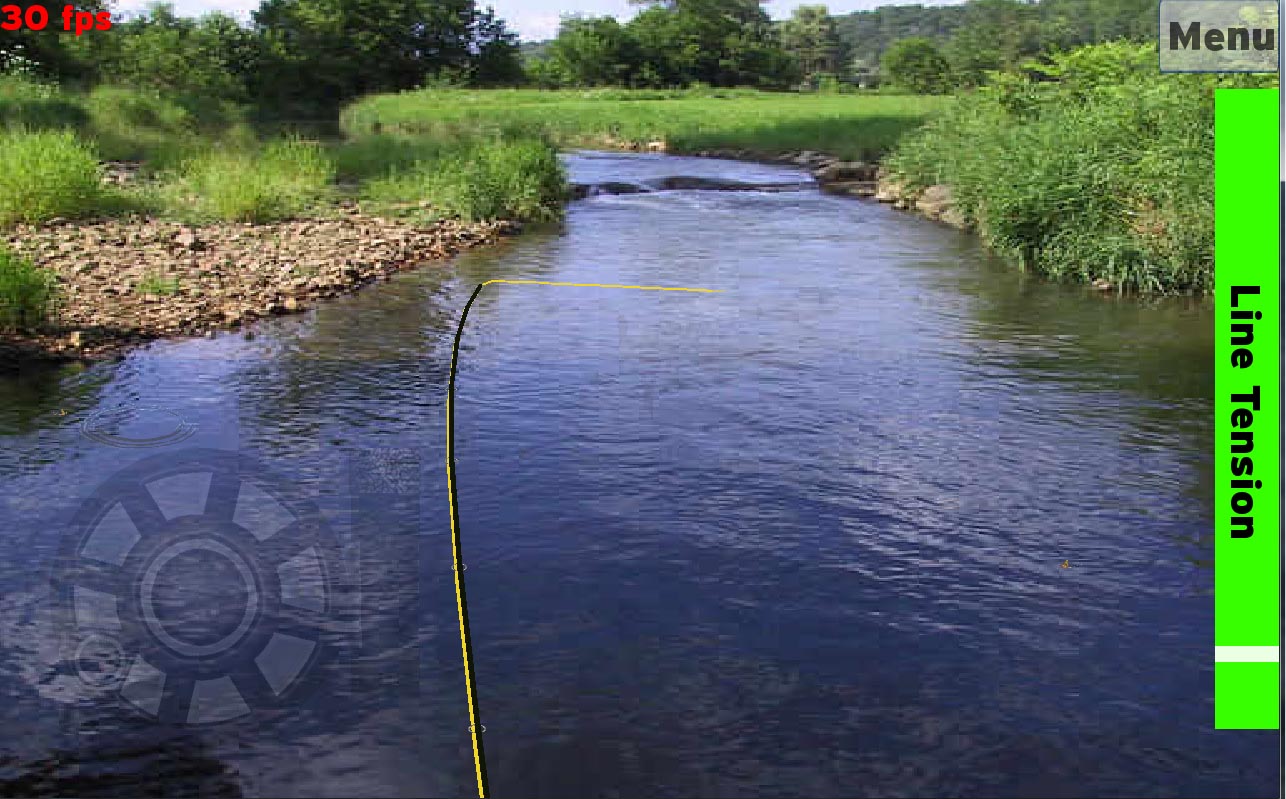 The beta version won't require any in-app purchases, so of course there's no cost to test the pre-release version. You'll be able to just tap a "purchase" button for an outing and it will act as though you've bought it. There's also a debug menu that will let you unlock all the equipment, or reset the game progress. Also the beta version will cease to function when the full version releases.
If you're up for some testing, and willing to provide general feedback plus detailed reports about any problems, please let me know via email at paul (at) pishtech.com. The beta is at least a few days away, but it's about time to get some testers lined up.
Thanks!
Paul