Hi Everyone at RWFF:
I just finished rebuilding the Parana River and now we have the V.2. There were a couple of problems with the original version using the "Acrobatic" fish parameter. This setting caused ocassional "gr" errors and sometimes crashes for some of our members. In the new V.2 I decided not to use it until the bug has been investigated and fixed by Paul. It has a lot of potential with this new setting but it is no fun to have to restart your RWFF every time it crashes.
Also I found the Challenge Mode not working in the original version and returned an error when I tried to use it. After some head scratching and deep searching I discovered the problem. I had omitted the "t" in the Site folder setting for the Challenge Mode and the software would not recognize it. This is my own fault and I apologize for this.
You can download the Rio Parana V.2 via this link. Just delete the original version in your outing folder and insert this one. I have tested this one quite extensively and it fishes very well and didn't return any errors.
https://dl.dropboxusercontent.com/u/734 ... %20V.2.zip
Now to the Outing Challenge part
. I am posting my first Outing Challenge attempt and this will set a bench mark for you guys to try to beat. This shouldn't be very hard as there are plenty of bigger fish to be caught in the Challenge.
Rules are simple. Please use Experienced Mode, 9 foot rod, 9 weight rod and 2X leader. This Challenge will last for two weeks and I will reward the winner of the Challenge with a nice useful prize when we come up with a winner. Everyone is invited to participate as this will be done in Experienced Mode, even the novice fisherman will have a good chance of winning. So get yourselves downloaded, tackled up and go for it. Please post your Challenge record and fish caught codes on the RWFF Forum when you've beat the previous posted record.
That is it, have fun!
Regards,
Stanley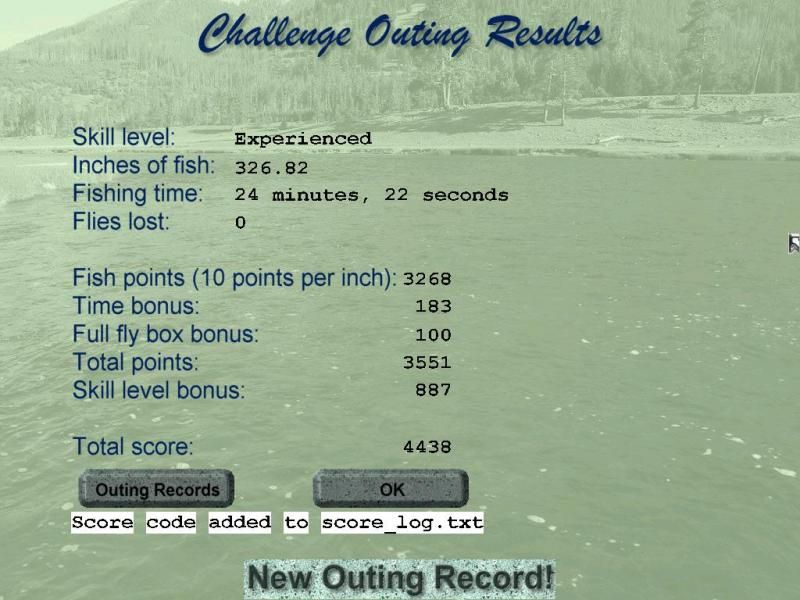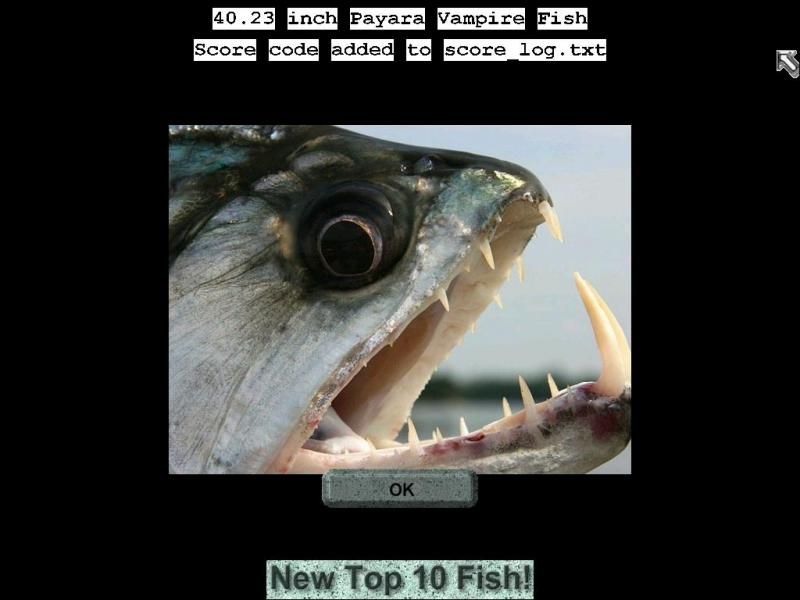 Fish: 29.34 inch Payara Vampire Fish from C L Rio Parana, Argentina V.2; Code: ZSYZKUVKMRXVF8626QDFTFWSVBWTSSMTEVLSMNNJNIOLWG0VJEZRYUIUAVMPD
Fish: 40.23 inch Payara Vampire Fish from C L Rio Parana, Argentina V.2; Code: AXLNXICTMJVBJ2233PZCSSHFTBIMWDIWNMTLVJRKHRIAHI3HTTDXKRJQFZILE
Fish: 40.23 inch Payara Vampire Fish from C L Rio Parana, Argentina V.2; Code: AXLNXICTMJVBJ2233PZCSSHFTBIMWDIWNMTLVJRKHRIAHI3HTTDXKRJQFZILE
Fish: 30.13 inch Barred Sorubim Catfish from C L Rio Parana, Argentina V.2; Code: USMZWLPVCFLZA2920JRRRPAQUIETHAQIRXDKWNHRNYJWCE1WSYVVYIVYNJCRA
Fish: 44.94 inch Giant Wolf Fish from C L Rio Parana, Argentina V.2; Code: LTNULBYLPHQMT3217IENHVGHQBHAHYVHRTVJXBNWJWMZTG5WAWBZKZBHUQJFZ
Fish: 37.86 inch Giant Wolf Fish from C L Rio Parana, Argentina V.2; Code: OBDCHXTAEDKXV7427DMAZPEWDPLRKJYGFTSCRYBRAMQLFV6GBMIHJDZGWNDGT
Fish: 28.86 inch Pira Pita from C L Rio Parana, Argentina V.2; Code: WKKNPXATGHTCH6933KZYNLOGNBEFUVWDGKQBHTGUQEFURK9FPTWPWKGNZYQJO
Fish: 35.73 inch Giant Wolf Fish from C L Rio Parana, Argentina V.2; Code: RBONWJCHGOUBR4627VZRHGQDWVSLNLMURXEOVTEXNUVZVR0IGDRGLVLWDHVUG
Fish: 32.87 inch Jumping Golden Dorado from C L Rio Parana, Argentina V.2; Code: HLVFYYIHQRHLH4809YFLDKHINJROVPSBBHLMSREONMQDVC7PFQLFEJUJLVTIQ
Fish: 32.87 inch Jumping Golden Dorado from C L Rio Parana, Argentina V.2; Code: HLVFYYIHQRHLH4809YFLDKHINJROVPSBBHLMSREONMQDVC7PFQLFEJUJLVTIQ
Challenge: C L Rio Parana, Argentina V.2; Score: 4438; Code: QWGKXHCLLVLEZWXXAWQACDQKXQDBATZICZWZDTUKRXBWWX4CPRDUFGZDHSGAN