Hi Everyone,
Well I got to fish Stanley's new outing. Beautiful scenery, some tricky currents and plenty of fish to catch. On my short list here
I lost probably 6 fish because of their jumping abilities and definitely their stamina or strength. I hooked one fish that probably
got it's second wind at least 10 times. I fought that fish for well over 20 minutes. I'd get the fish close to being landed and off
he goes till I'm almost spooled. then I slowly get it back in and off it goes. Finally after about the 10th time of spooling
me it makes a complete jump out of the water and throws my hook. This outing got a little bit of my attention as you can see from my
caught list. Stanley, you did an excellent job with all your fish. Beautiful jumpers completely out of the water. Fish coming out
of the water to get the fly and missing it but pouncing on it as it comes back in the water. Excellent all around job Stanley and
I don't know if you can make it more realistic then this outing. Also an excellent job on all of your new fish. You can tell you put
alot of work into this one, and I could say that I had a blast fishing this one. Roger (rwwalleye)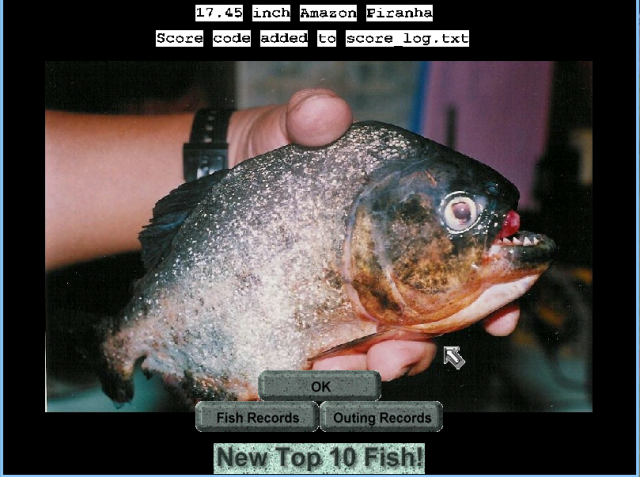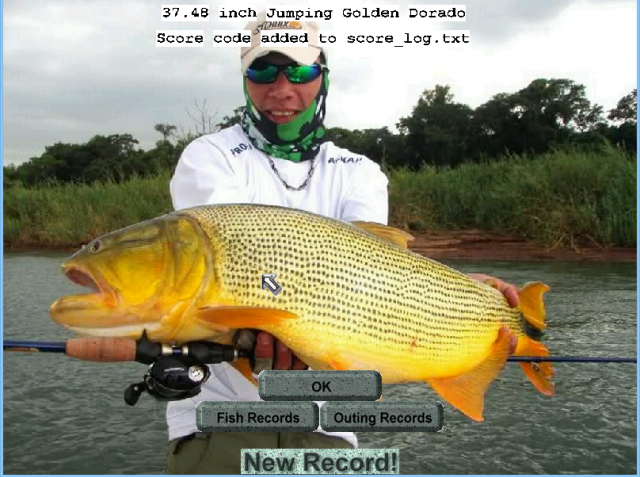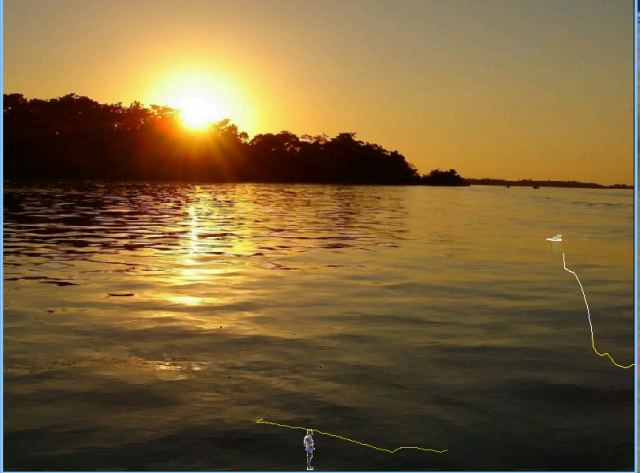 This shows one of the fish that threw the hook on me.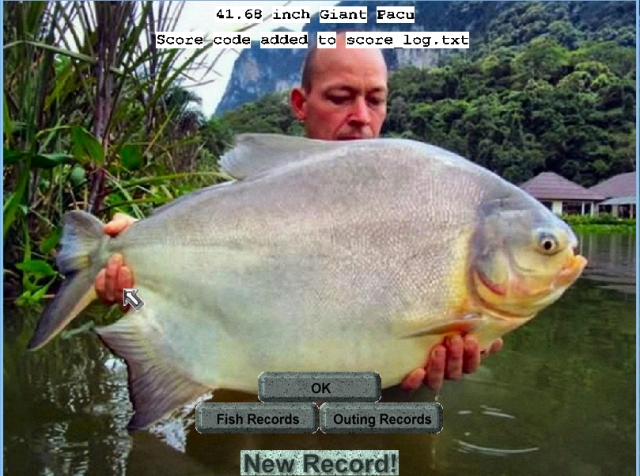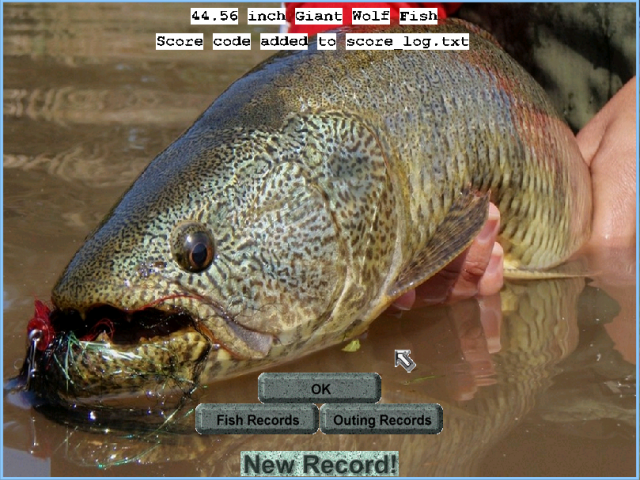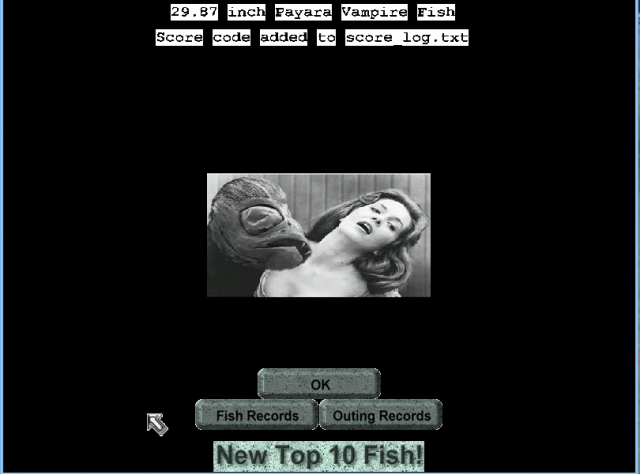 This fish jumped clear out of the water. Excellent jumping.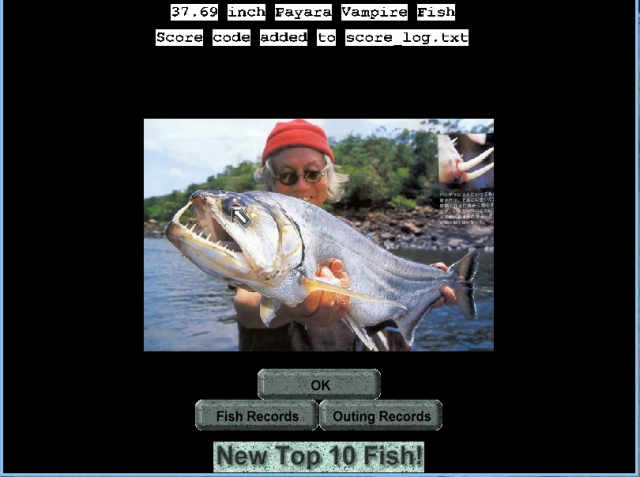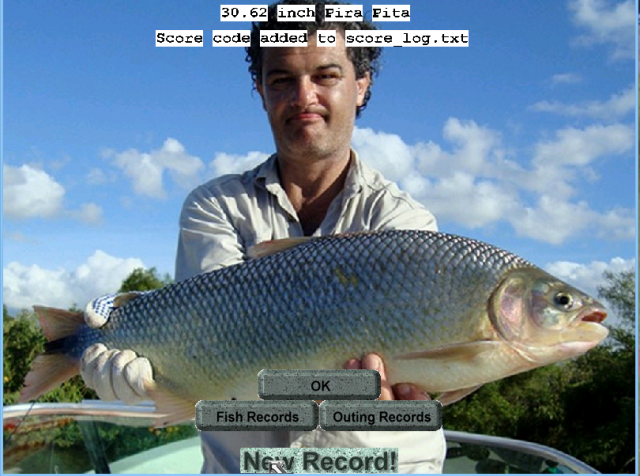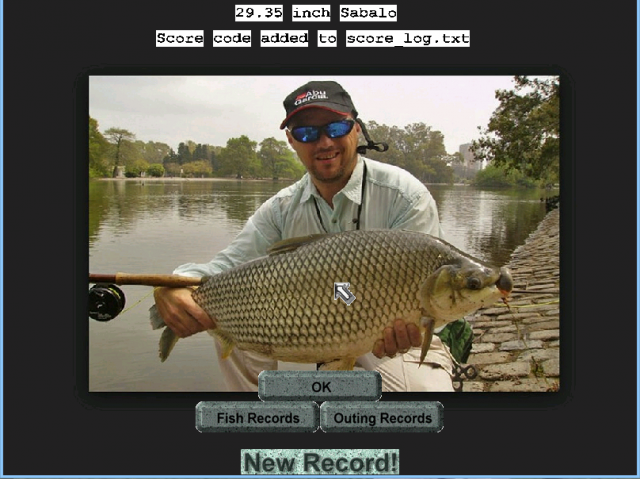 4/20/2014 C L Rio Parana, Argentina
Fish: 33.45 inch Giant Wolf Fish from C L Rio Parana, Argentina; Code: ROFBFAGUXTVEH7479ZXJLNCNNBTPFDSWWRMJNJSUMOTPSGUVTKYVYXNACJCCI
Fish: 36.80 inch Giant Wolf Fish from C L Rio Parana, Argentina; Code: DGWWDFBCLSSJC7430ICFVOKCSOSCGKFMGATVDPWBXLNONPNQQSZQRZXSUGDGT
Fish: 35.41 inch Jumping Golden Dorado from C L Rio Parana, Argentina; Code: YKIQKGKSPOYSP3530EMFTFWIAOPTAKWDFBNGTYJHDXFVVBBJBIZVSHNTXSODW
Fish: 25.64 inch Sabalo from C L Rio Parana, Argentina; Code: TZYTVOFCXILOY7605PGUBMLZBVIOYMLKJZBJXOZDSWZRVJXNAOKJSWWXZYYQO
Fish: 37.69 inch Payara Vampire Fish from C L Rio Parana, Argentina; Code: IVZGONDTPWYRM1238QRLNFYLGCRXSWWXSLYOVXSIEURHTKQSFLIWREOFVAGUB
Fish: 34.18 inch Jumping Golden Dorado from C L Rio Parana, Argentina; Code: ZIBBWVBNGQHIN8112NQHMLBSAFGIFVVTZVWWJXBAVFIMRKURCEPSDLQOREKMD
Fish: 17.45 inch Amazon Piranha from C L Rio Parana, Argentina; Code: BTFPMSDHAXTNR5784HPRWWULLTHSRNLXNLNTKIILRDCVXNDGSRMIHMRXOVJFZ
Fish: 31.90 inch Payara Vampire Fish from C L Rio Parana, Argentina; Code: RNLSNZBZOIWMQ6354WCRLBCLGFHXXZYSOAJSZBAYNLKNGQKVXBQSOEVXVLUTQ
Fish: 14.49 inch Amazon Piranha from C L Rio Parana, Argentina; Code: PYXRMWPXUOCWQ0686ADLWNAFKFYMABICGCNIMDCIRXYNBYGVOUNOLXVHDHHAE
Fish: 30.62 inch Pira Pita from C L Rio Parana, Argentina; Code: IPJFWUAWLEYFA9765WMPFJIIVLBWMBPWWNFIPXYYIUWJBISUSIFZCOSJJTCCI
Fish: 33.48 inch Barred Sorubim Catfish from C L Rio Parana, Argentina; Code: XRVFQGPNLUWPF8224OODWSTISFFOAXJDAGLWMZTBADNQOMWZJZWJOKPLNBGGG
Fish: 16.60 inch Amazon Piranha from C L Rio Parana, Argentina; Code: ZGQXFXCZDGPCY4991RNBKFVOWYOZXUZBJEGOHXRIORZYTMAASGZFRRXBGTAWP
Fish: 17.01 inch Amazon Piranha from C L Rio Parana, Argentina; Code: STWNKROHJBFPQ7448KNVWQKRULWXYFSSDASWYYWAPZRPKZDRDRABHAVKMRHHW
Fish: 15.54 inch Amazon Piranha from C L Rio Parana, Argentina; Code: OZCAFFQDUKADB2889ICGZXPPSCPGNTPHWKBTHWTLSMUCBYCOJIGNRKABLPSHR
Fish: 26.81 inch Sabalo from C L Rio Parana, Argentina; Code: AEJISUVAIDVXZ6919CFFBOSPZONHNPVYFORBWKJWEPQNSNHFBKAEEFJHWRYTZ
Fish: 22.49 inch Sabalo from C L Rio Parana, Argentina; Code: LYMFUSMAIVVWO3575NLMLEWCOBICHVZPCPDYPSXJGBGCSUGUQJPMOREBAUETN
Fish: 26.70 inch Sabalo from C L Rio Parana, Argentina; Code: BKFMXKGMECYAY8186QQKUEAVNCCYKVPYTNBOVAFGGLXPEWSBZZKMFGKUNHLES
Fish: 15.22 inch Amazon Piranha from C L Rio Parana, Argentina; Code: CXNCKIEFVKCRJ0850JNJZEXQGOTAYSJOMUHQGHTWNLAJLYCLFIGDXTQPMUSIH
Fish: 38.26 inch Giant Pacu from C L Rio Parana, Argentina; Code: PCNKVOTPGANIH7226NCHGNBHOVZGZRFECSUAYWUGHDEKKMPDQXEECKMZCQJFZ
Fish: 29.87 inch Payara Vampire Fish from C L Rio Parana, Argentina; Code: IGVZPWPDWYDRZ3165YNIERNKFUFCECBXTQTDSPDTYUSEHRIPHYLMHILOIBILE
Fish: 34.14 inch Jumping Golden Dorado from C L Rio Parana, Argentina; Code: JFSLQNFUWHLUV9942HDIWOZJHBBJRKMAVAOKXONRXXWGGRLOMKKVBVFTAUPZO
Fish: 38.47 inch Giant Pacu from C L Rio Parana, Argentina; Code: OTGFIYQKQORJH0617FNWKGYHYHOMEZJGZUIVBORBWEZFJEEYFNLQSZMEBVILE
Fish: 34.11 inch Barred Sorubim Catfish from C L Rio Parana, Argentina; Code: DQISJMUZSEEQU5164IWQCLSGXBXOFGWMRXIRNGJCQNSOSNHUYRJOBIOXCOBXF
Fish: 37.48 inch Jumping Golden Dorado from C L Rio Parana, Argentina; Code: PRUQQLLGHQBWM7299FGKXBLAQUTBJCIBTNRLSMIVVMDVWFXGNJBOKLPZOJHAE
Fish: 17.60 inch Amazon Piranha from C L Rio Parana, Argentina; Code: ZLVTWGEWQSWET5257JNCNZNLOUDIZSMVXCODZXCWKOTUAYGYJTVRNLBNMCVRV
Fish: 34.68 inch Giant Pacu from C L Rio Parana, Argentina; Code: ELHVOXDZXGDBL5401KHEIXTIRUKCUUEFMIZIOEAIAWLPFIOMAZBOQZGUYEABU
Fish: 44.56 inch Giant Wolf Fish from C L Rio Parana, Argentina; Code: TJFMKFFWVBWVU6618VEOMNTSGBWBLVOLKMBHPPKTELRMPIWTOUFOGZJNFWDLY
Fish: 29.30 inch Pira Pita from C L Rio Parana, Argentina; Code: DDGDQLVSASDEW2213TUTNCFRZIUCENPNISSWNPVGQTCZEBBIKLCSMJMTWQEWY
Fish: 29.35 inch Sabalo from C L Rio Parana, Argentina; Code: BFSYGTEPSCQWD8738IGCDJJANCBPMXLQWPTZDJCTKGMLXKMUQMXAZRXAJZCQF
Fish: 33.92 inch Barred Sorubim Catfish from C L Rio Parana, Argentina; Code: SFRDKXKJABFNC1562KEHDLZYWCYTSQJUMDYKSRQIICTGJXFOBVLTZFJVIAPIY
Fish: 31.57 inch Payara Vampire Fish from C L Rio Parana, Argentina; Code: JYEOJLVDAEPVG5279GMPRNUAYOXOZXZPBDPUEVUXSAGTVGQXEUMGFKEUSCWNO
Fish: 35.93 inch Jumping Golden Dorado from C L Rio Parana, Argentina; Code: BXEMKQTQERBBW1156FSHCNFLLUFKLGVNUSJJOZSDOXVESRHNMOSJTNMYMZWHJ
Fish: 14.76 inch Amazon Piranha from C L Rio Parana, Argentina; Code: WJWRSCMCNKZHQ5818NYFVDNARHENIXCHVQNKTKOYQAEAFEANTDOFAZVCVPAQC
Fish: 27.66 inch Giant Pacu from C L Rio Parana, Argentina; Code: PLBQJFWUDUBJA5836CZAJLVZEISAFICZXXXFMEPMSDIYEDZJBGFZMVTDEBPIY
Fish: 38.37 inch Barred Sorubim Catfish from C L Rio Parana, Argentina; Code: IGHZLNSDWHBTZ3165YBUQVPOODQYGABUWTTDSPDTYUSEHRIPHYLMHILOHKODW
Fish: 15.15 inch Amazon Piranha from C L Rio Parana, Argentina; Code: XYGBTIITGXXZI1503REPVVSCFRXCMTSXHRIUGQNGEOQIKWEOKKZJDGVSFFSHR
Fish: 27.13 inch Giant Pacu from C L Rio Parana, Argentina; Code: TMVRLHOPGDHLA3755AABFZIOMLZYDQWQLXTGXXLGLCBCZWIAVALMBUULXUSSC
Fish: 40.64 inch Barred Sorubim Catfish from C L Rio Parana, Argentina; Code: JIBUUUKHPGARC4089NZVPAFFNDWXJNCTETGRNWGEEOGWQFXELRHLWQQSSPLTS
Fish: 30.96 inch Payara Vampire Fish from C L Rio Parana, Argentina; Code: LKPTAAZSAOUCA6607XAYLWMTOXHDHDZJWWKEBTSRZWILSSIRPMAEGWSMMLKZX
Fish: 18.93 inch Pira Pita from C L Rio Parana, Argentina; Code: SQIAKECPQJNWK0394WJKVSAGZXMSGGBSHVZXIQVFAQHHILRJWCCCCKKEYHHVR
Fish: 22.79 inch Sabalo from C L Rio Parana, Argentina; Code: OTSTAGLKPYTPH0617FBIWKALHQZIGXJDCXIVBORBWEZFJEEYFNLQSZMEBFSHR
Fish: 28.85 inch Sabalo from C L Rio Parana, Argentina; Code: GEFLVKFGLFJKJ2639NAZMZIIMSNBRJFFFQQQFSRHDMIGFFPULLTTQCJTPFCQF
Fish: 41.68 inch Giant Pacu from C L Rio Parana, Argentina; Code: XQPOYBQECTEYH7108DUYXZWQIQFSQYPDVKAFYRBXSSMOCWMANJOYDOFAJQCQF