Hi Everyone,
Well this is another of Martin's excellent outings. Some large fish and excellent fighters. Caught 10 of the 16 species and really enjoyed it. Another
one you should try. Had one fish snap me off. Will try another outing in a few days and post. Have three vehicles broke down and have to fix them. So
much to do and not enough time to do it.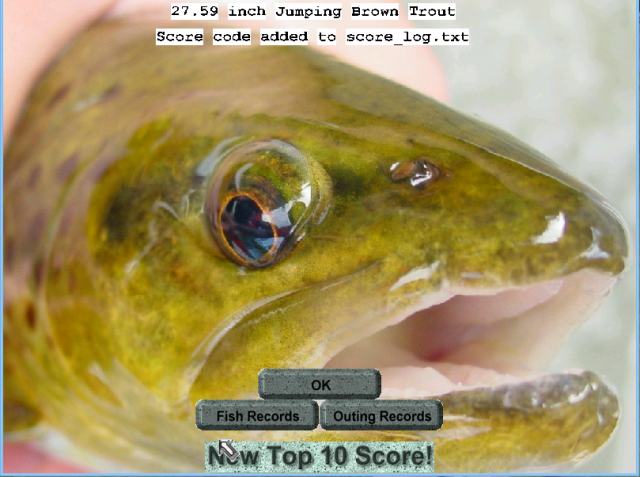 4/10/2014 Sw The Vibrant Tarkio River Iowa - Missouri
Fish: 35.88 inch Jumping Largemouth Bass from Sw The Vibrant Tarkio River Iowa - Missouri; Code: KVFIDKCEZDGBN9735FWUTICRFXNHAJWUXYCEIVZIKDPIBMTMLZDCMWVMZMODW
Fish: 25.60 inch Black Bullhead from Sw The Vibrant Tarkio River Iowa - Missouri; Code: AKHSUHKRLOVPL9482FIBJIKCBRZWBGCAEFTTFDHBHEQKOCZSAEWBPBEEEQUTQ
Fish: 33.50 inch Jumping Red Rainbow from Sw The Vibrant Tarkio River Iowa - Missouri; Code: WNVNRACORFMZN1170URVTSATQEYBIOMDFQZLZLDEFCVCENYSIZCOLOOLSMKYH
Fish: 54.19 inch Pallid Sturgeon from Sw The Vibrant Tarkio River Iowa - Missouri; Code: BTIBKGENCISNR5784YTPCGWRMYGORKLXQMDEMAMZRKIVBAXEMQMIDSPXOKWNO
Fish: 35.66 inch Jumping Rainbow from Sw The Vibrant Tarkio River Iowa - Missouri; Code: LYDQYIVUJIWNO3575NZYXIYGXKTYLSZPFQTJRKBXGIMCWHASKIPMKXCBYBGEM
Fish: 38.92 inch American Eel from Sw The Vibrant Tarkio River Iowa - Missouri; Code: PRXVDLQXHRDOM7299FUWJFNEZDEXN@IEWOHWUEMJVTJVASREHIBOQMNZPFYTZ
Fish: 41.97 inch Channel Catfish from Sw The Vibrant Tarkio River Iowa - Missouri; Code: JGOTAELEOXHCU2868JWXFVZTJFEWDLOWGAHUNXABWPDAWMPLURSYRPNWGQHAE
Fish: 24.38 inch Black Bullhead from Sw The Vibrant Tarkio River Iowa - Missouri; Code: CRNNNVEARHDTX0366YMDOSJLELDDWVCVKGMUKZETRKMLXJYMNMCGNESSARKBS
Fish: 27.59 inch Jumping Brown Trout from Sw The Vibrant Tarkio River Iowa - Missouri; Code: PLEPFDAYDUBCA5836CNMVPXDNRDWHFCCAANQOWTASKOYIQTHVFFZSWRDDINLW
Fish: 60.36 inch Flathead Catfish from Sw The Vibrant Tarkio River Iowa - Missouri; Code: AAUIDEAXGJNMU0777VOFBIJEBSOLXKLXBKDWUMVSPBLLBEXWBEVCVPMYWMDGT
Fish: 23.21 inch Black Bullhead from Sw The Vibrant Tarkio River Iowa - Missouri; Code: JQEHXJNZTTSJE1574TQLNVARKEPIHHFYRYXQXOVCPSQIKSRIBRBWDBEKWFVUG
Fish: 28.32 inch Jumping Brown Trout from Sw The Vibrant Tarkio River Iowa - Missouri; Code: RWLTUQVODSPSJ4962DVAUJGKXYQVAVNYUZDIYBZRXSVAMTOYCKRFUVASXWHHW
Fish: 46.15 inch Blue Catfish from Sw The Vibrant Tarkio River Iowa - Missouri; Code: GUVGFOJPWEWVN0516HJGJQRHGDRGC?BEMBPDXBKNRWWEHBKUREYGFXUWGAUYV
Fish: 43.60 inch Jumping Pike from Sw The Vibrant Tarkio River Iowa - Missouri; Code: SRFIFPUOIJNAJ3499XONAVHMSRMJQBWSQKTZYRQPIAOBYOVYMSKFKEAOBFGEM
Fish: 52.36 inch Blue Catfish from Sw The Vibrant Tarkio River Iowa - Missouri; Code: SWJVJMUNWDTFW3865GYDJIQHSRNLN@APEIBOQRBKWYIFXAKXVEGRYBEIEZNLW
Fish: 57.73 inch Blue Catfish from Sw The Vibrant Tarkio River Iowa - Missouri; Code: BISEYGEUEXEHR3055NBPWVXNTEWLGRBYYYCJVBHVZECBKLSIJAVZZNGGAOHAE
Fish: 35.95 inch Jumping Rainbow from Sw The Vibrant Tarkio River Iowa - Missouri; Code: EUYAXLKYMLROE2010SKJPZPFQRGSUIBHKHSYMEHBLDWCLMTYFQDJGLMXAADVI
Fish: 24.55 inch Black Bullhead from Sw The Vibrant Tarkio River Iowa - Missouri; Code: KOXTKQEMKXEWJ5156AJHAPNLBRUXMKWOLTGHOENDGSUQXTLXKNZUVNHFIAXCT
Fish: 54.18 inch Jumping Pike from Sw The Vibrant Tarkio River Iowa - Missouri; Code: NCLCWQWQXQEJZ0629YZEGSBBHRZOVXFHDHNGORVIBJKJKTSXYHJHJZBBVOUYV
Fish: 22.06 inch Black Bullhead from Sw The Vibrant Tarkio River Iowa - Missouri; Code: QCOMYZSLWXHPV6829YTVOINISXHAYASDPDIJSEZOOYXPAHWADQSXLROQIVRZC
Fish: 46.70 inch Flathead Catfish from Sw The Vibrant Tarkio River Iowa - Missouri; Code: KAIZWGBJBDJEV9290CLHNWBPKEATLVVTCPMNIEIDHVVHXRMMJRKUWFVQEKEQT
Fish: 36.68 inch Jumping Largemouth Bass from Sw The Vibrant Tarkio River Iowa - Missouri; Code: STTAMPDFKUHEQ7448BRTCAMXVQVTYCSSGBIHAQAOPGXPOMXPXQABTLTKNPEQT