Hi Everyone,
Well I just finished fishing Martins new outing from Thailand with Stanleys's new Siamese Carp. Besides the new Siamese Carp which gave me
one heck of tussle to bring in, You'll also see by my list that this outing includes alot of huge fish. I even had 2 fish that gave me such
a battle that they fought so hard and for so long that they finally snapped off the hook. Another excellent job by Martin with the outing and
another excellent addition to the fish list, by Stanley, with the Siamese Carp. Be prepared to spend a little time on this outing. I caught 13 of the 15 species
and the Arapaima and the Alligator Gar just wouldn't let me catch them. You'll have a good battle on your hands so give it a try.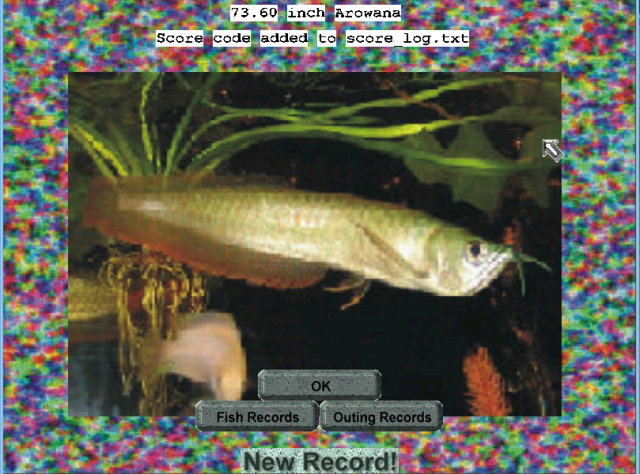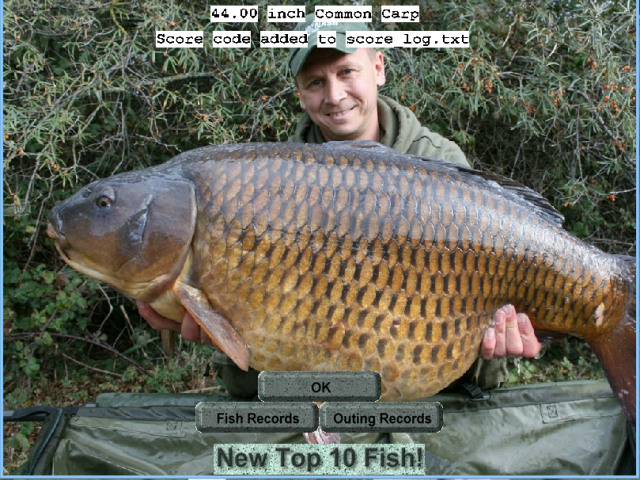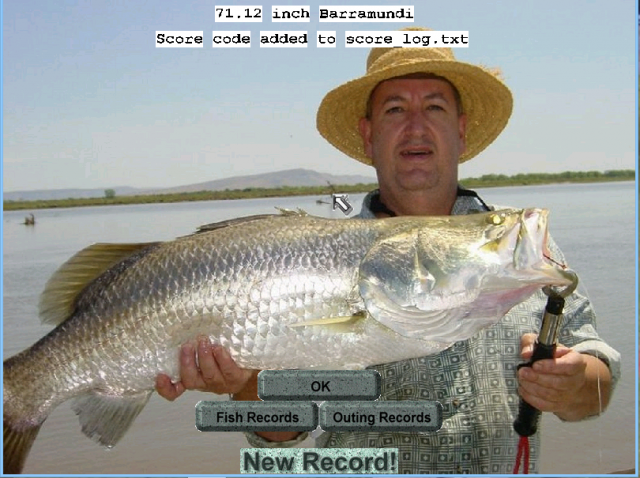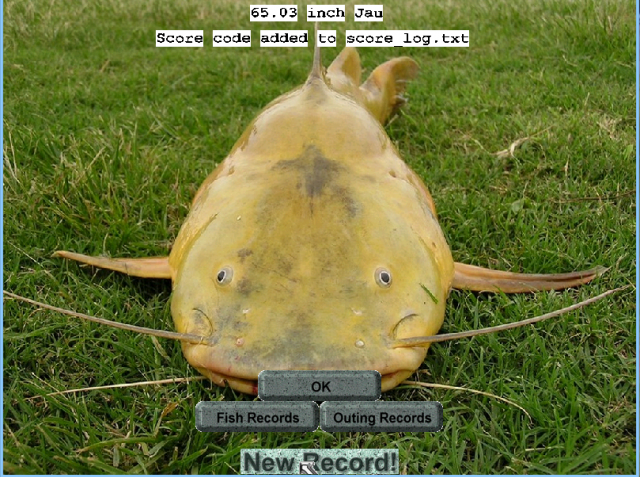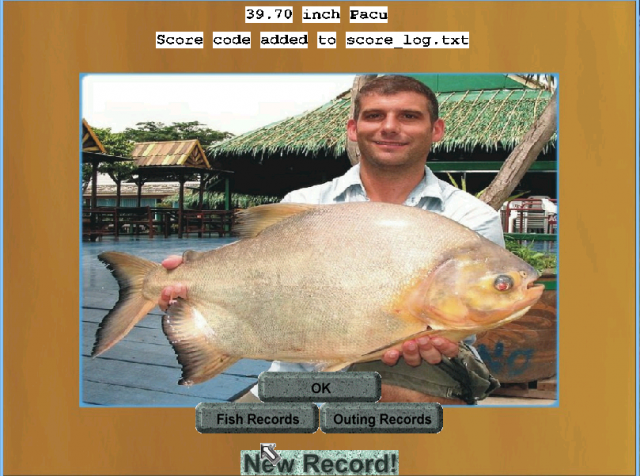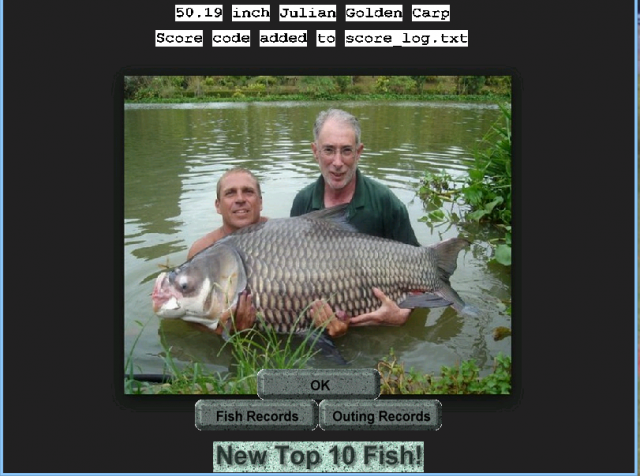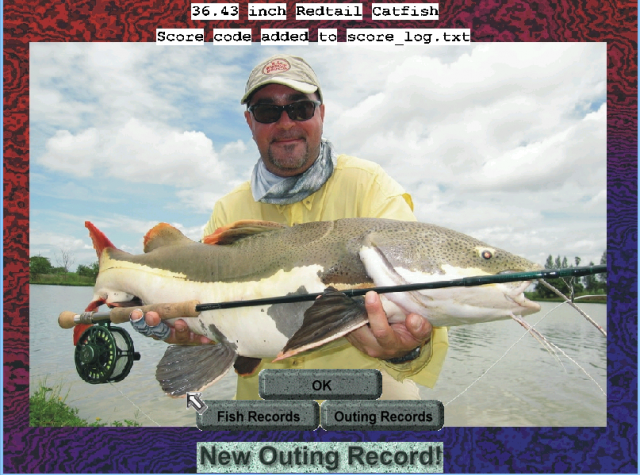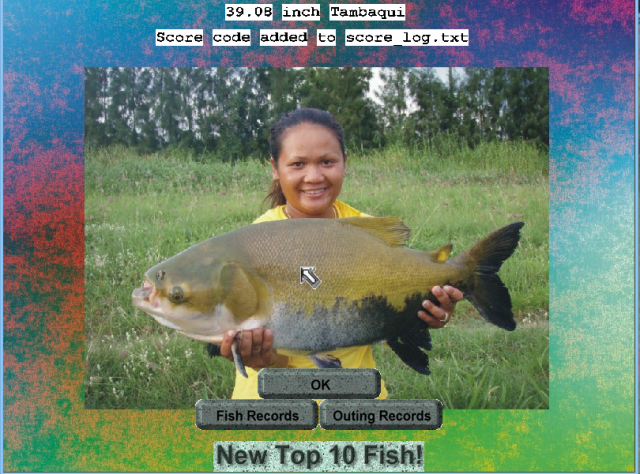 4/5/2014 Sw The Wondrous Krabi Lake Thailand Dusk 1
Fish: 36.43 inch Redtail Catfish from Sw The Wondrous Krabi Lake Thailand Dusk 1; Code: LDRRAITKEZZKP3228TGKRDXECQGKVEYOKGDSJULDHWSLRDNPCLPEIWJFUDTIQ
Fish: 39.78 inch Common Carp Light from Sw The Wondrous Krabi Lake Thailand Dusk 1; Code: ENRMWUMOYDYGB9621GYWWGAYMKNHGJTJGUWBSNOAUVACGLFQGPRBVCFQINXEW
Fish: 66.94 inch Siamese Carp from Sw The Wondrous Krabi Lake Thailand Dusk 1; Code: AVBRFYMVMZDGT8202QASPMKGVDBZM?UZXTUOVCVKMOEDOQYLFFNKZODURTHHW
Fish: 38.03 inch Common Carp Light from Sw The Wondrous Krabi Lake Thailand Dusk 1; Code: RHANAADWKDSPE4880KZXCVOIOQEARCSZVOFXDTDGVOVOSZZLOIUVJCESKHXEW
Fish: 52.77 inch GiantSnakehead from Sw The Wondrous Krabi Lake Thailand Dusk 1; Code: PNPHQIRCFDVQP9857YPSXUCPRYVFPGQDQKDYQNDLLUXCGNHMHPVNAGRQPZUJG
Fish: 65.04 inch Jau from Sw The Wondrous Krabi Lake Thailand Dusk 1; Code: HTGQHIBWXCYIJ8314JZXBMCGQLVMPGUYNPBLCIUXCLZFOJHQYCEPNSGBHQABU
Fish: 37.87 inch Tambaqui from Sw The Wondrous Krabi Lake Thailand Dusk 1; Code: UUSMOXEODEIRP6141SNTAUNFEXGYNXMMPPIDAEVJPPXJEISAZGLJZBKUZJDGT
Fish: 30.46 inch Snakehead from Sw The Wondrous Krabi Lake Thailand Dusk 1; Code: FQMVPNGEBANIU5661XBZAGWNWFTYRTWEONMHADRPISXOBGMEGQEUTDMWITSVN
Fish: 50.19 inch Julian Golden Carp from Sw The Wondrous Krabi Lake Thailand Dusk 1; Code: GONFFTFXSPVUA0143XUOVABGNRQNWEVCPDVXRBJQHAAXXPFMOMCRDPXZUVGXW
Fish: 36.26 inch Redtail Catfish from Sw The Wondrous Krabi Lake Thailand Dusk 1; Code: VOHFWAYPRWCDQ5572STEBDPCGWCVVGTJDGNEMMUTRVQQENHANGVFFRTFNVRKN
Fish: 42.91 inch Common Carp Light from Sw The Wondrous Krabi Lake Thailand Dusk 1; Code: NPURDOOFWLJIW5572VBBNIGQFSTAXQLGMMDJGHKRMHGPZXTGFYQVMOCFTOLRG
Fish: 39.70 inch Pacu from Sw The Wondrous Krabi Lake Thailand Dusk 1; Code: NSYMYHCNHBVUD0618SBCUQKIBLLTNOCLKUWIXIDMBYRXILFOMMOUHJNDNTUYV
Fish: 49.03 inch GiantSnakehead from Sw The Wondrous Krabi Lake Thailand Dusk 1; Code: ACJCKPBSHQYBJ2998ZRLLNPHEQGUFLHYRYSEWDFEIMUQYTTCNOLQVZNLIXYYM
Fish: 65.33 inch barra from Sw The Wondrous Krabi Lake Thailand Dusk 1; Code: DPFFPPQZJAMBV4048GFZJMOEVXISBGBLMZNLBPWGUVWLLBLIXTBELYUNWCQEJ
Fish: 44.00 inch Common Carp from Sw The Wondrous Krabi Lake Thailand Dusk 1; Code: KOYUUTFSLRCTJ5156AJHAPNLBRUXMKWOLRGHOEOPSWTHXKFMMYZUJVGFHLXEW
Fish: 39.08 inch Tambaqui from Sw The Wondrous Krabi Lake Thailand Dusk 1; Code: HFPEHCOUMMDXV2348SAXOTZLAXBJOQMCEPIYOJPEVOBWGGIFWXPQWKUMTZIUZ
Fish: 36.64 inch Redtail Catfish from Sw The Wondrous Krabi Lake Thailand Dusk 1; Code: WQBAEPQSKBATT8405ZZEAAELNXQCXLCIDYASHTFEGXEJNSFPQYAMTRYRHBHCZ
Fish: 41.03 inch Common Carp from Sw The Wondrous Krabi Lake Thailand Dusk 1; Code: KVYIAKYKZJDUN9735FWUTICRFXNHAJWUXYCEIVAUWHOZBDNBNKDCAEUMXBXEW
Fish: 37.38 inch Redtail Catfish from Sw The Wondrous Krabi Lake Thailand Dusk 1; Code: ELSLOTDVXJCXL5401KVQUBVMADVYYREIPJPTQWFIMHQGJMCZWJBOKIDUWGHCZ
Fish: 71.12 inch barra from Sw The Wondrous Krabi Lake Thailand Dusk 1; Code: BRGQJAZDBPYLK1663VQJABROJROFBJPWAWOORJDMWIGYETXCWVWUYGNBCVHAE
Fish: 47.99 inch Asian Bighead Carp from Sw The Wondrous Krabi Lake Thailand Dusk 1; Code: DRKTGGKAJRALK8260KHFLRTQZEZBJ@YLCPCTDOGYKCYZIHFZISRRWSVIGORUX
Fish: 39.42 inch Redtail Catfish from Sw The Wondrous Krabi Lake Thailand Dusk 1; Code: OENPJDCQPYDMB3543NXFFWQRGRNNYCOGDZBUJYZFBPFSTPJJDKOGMHGFOZTIQ
Fish: 37.62 inch Common Carp Light from Sw The Wondrous Krabi Lake Thailand Dusk 1; Code: OCKGNFTAOMKKM8322JVZDRLGCKVEQBSGNJLEHYXNMBWEVJHSTMQSBNEJBFSPQ
Fish: 71.48 inch Siamese Carp from Sw The Wondrous Krabi Lake Thailand Dusk 1; Code: XPYICFFQLOCTQ4903BPVAXYKPENBKBVCNRMZUAPBFAQLVSIWNLYNNETXCBZJM
Fish: 63.84 inch Arowana from Sw The Wondrous Krabi Lake Thailand Dusk 1; Code: BKEHZKGMFNZOY8186QEWGICZWLNUOSPYWQRZXSKGSWCGIAGOVJKMZPHUMOJGP
Fish: 35.32 inch Snakehead from Sw The Wondrous Krabi Lake Thailand Dusk 1; Code: HCXIGCCTBPRWP6011NTOHLNTDEKQYTWGYJPRYBOJOXRGXSWXQRRRCPJOAEBZA
Fish: 73.60 inch Arowana from Sw The Wondrous Krabi Lake Thailand Dusk 1; Code: SDURYRGUAFSLU7541HINNJVQBESGOMVWZQZFSSMINHXJQCRKNGVFYQFZXTSIH