Hi Everyone,
This is another excellent outing from Martin. Alot of the fish were hard fighters. I snapped off 3 huge fish which I don't even know
what they were. Caught all my fish from surface to 3 feet. Had alot of action. You definitely don't have to wait long for a solid strike.
Thanks again Martin, another very enjoyable outing. I downloaded your 3 new releases and will begin fishing them, either tonight
or tomorrow. Caught 11 of the 14 species. You should enjoy this one.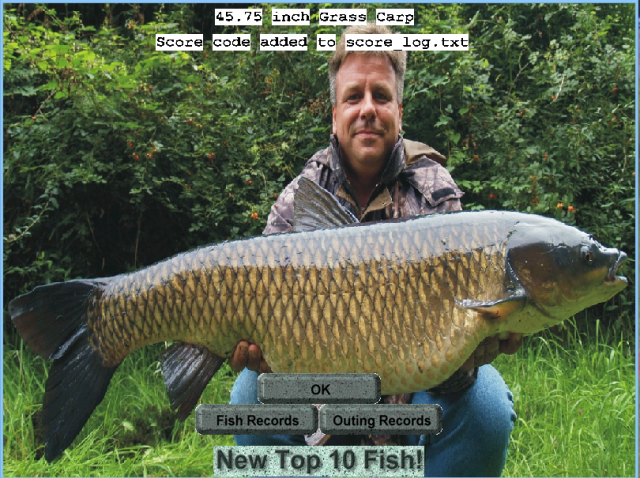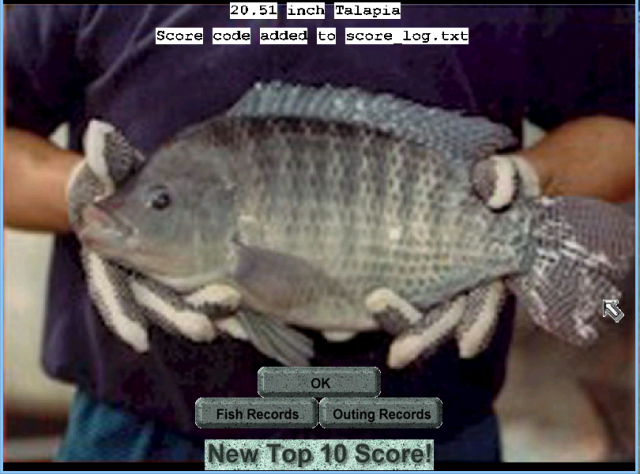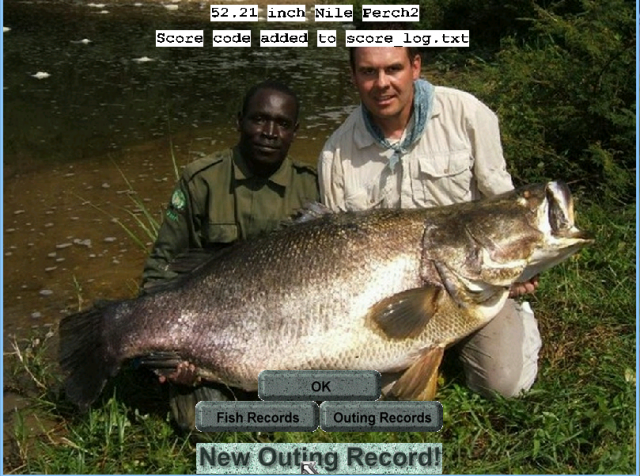 4/1/2014 Sw The Teeming Chamo Lake Ethiopia
Fish: 52.21 inch Nile Perch2 from Sw The Teeming Chamo Lake Ethiopia; Code: TCLEHKCGAOSVR3029RGNFYHQLDOMBUGQAHUUXZTEWZLIKEBSYTBOHTFFNVMMQ
Fish: 38.17 inch Jumping Silver Carp from Sw The Teeming Chamo Lake Ethiopia; Code: LRCCASBLORTZD9196JNLEPJZTDANXTZSBKWMXUNVYIARVQLBAPEMFQAUZIRUX
Fish: 20.51 inch Talapia from Sw The Teeming Chamo Lake Ethiopia; Code: UMPSJFJXWJMFN2658EVDCYSLHENWSCSKVGHPSFPZNQDVJSRVYNRYWDABELWNO
Fish: 34.29 inch Jumping Tigerfish from Sw The Teeming Chamo Lake Ethiopia; Code: LRCCASBMONULD9196JNLEPJZTDANXTZSBKWMXUNVYIARVQLBAPEMFQAUZSVZT
Fish: 15.49 inch Perch from Sw The Teeming Chamo Lake Ethiopia; Code: ZXLNIGFNYOENS8084EYIKRVZCRRZOMQTBLJSGXAWGFWDCRYPKJMDAUWODEXCT
Fish: 17.10 inch Blue Tilapia from Sw The Teeming Chamo Lake Ethiopia; Code: DCPKHMEMHXJAF1198RLCUDJPXFNGINVTDWFIBYGJFQJTRZWFGNUHCLXINSNFQ
Fish: 30.18 inch Nile Perch from Sw The Teeming Chamo Lake Ethiopia; Code: XBAGVMDGASGIB7026LQVFLMPYRSFJDNGWXTFGTGHISCZHRQUZWRNVQEAUTLHN
Fish: 31.99 inch TigerFish from Sw The Teeming Chamo Lake Ethiopia; Code: YZXQLXKKIBWYV1302WFMXXIFLXMKJBZVZRACPHAUGFTUOIXHBNWFIITTPXBZA
Fish: 35.37 inch Jumping Tigerfish from Sw The Teeming Chamo Lake Ethiopia; Code: YQYYVOVJTAZCC6702OQBTZONDJBQNBDXEUOXBYFPVGOHNRMCQVUKYXMQNCFVG
Fish: 40.59 inch Grass Carp from Sw The Teeming Chamo Lake Ethiopia; Code: ZOOPLAHCKIJKA0484OJPOLTGUEYFSMCVYNXNRPXRVGSYAAFKZRTPIJOLBRRUX
Fish: 45.75 inch Grass Carp from Sw The Teeming Chamo Lake Ethiopia; Code: NSPBTCHHHHVZD0618SBCUQKIBLLTNOCLKWWIXIALLNBUDVEXAUOUNDSDMRRZC
Fish: 39.60 inch Jumping Silver Carp from Sw The Teeming Chamo Lake Ethiopia; Code: STTAMPDMKXHWQ7448BRTCAMXVQVTYCSSGDIHAQYZLZGDJNQNNJABXIXKLPEID
Fish: 45.56 inch Common Carp from Sw The Teeming Chamo Lake Ethiopia; Code: OXEVXVRMTXGKM8860MOMIVLIXEJBGQTHJUCWHXLSHGZCDONTJCQSWYJGWIRJX
Fish: 35.32 inch TigerFish from Sw The Teeming Chamo Lake Ethiopia; Code: JMVTQWDNSDFCH2222MEHBLQUCRFQJFVXLSBSTXAVWJGMKPGHXNVVYZIBNZXVE
Fish: 19.12 inch Crucian Carp from Sw The Teeming Chamo Lake Ethiopia; Code: TIQLYFNTCTTSD5512TVXTOXQXXPGHWMSFWFTDZVOSIFGDGZQCWXLVBWCWMLBQ
Fish: 39.30 inch Jumping Silver Carp from Sw The Teeming Chamo Lake Ethiopia; Code: EMVHEDHAHUVAK8525MBTZDUSTYNPYNZNXBSKEFUDWHBXQEMIGHJZYVNFBQNQJ
Fish: 38.04 inch Jumping Silver Carp from Sw The Teeming Chamo Lake Ethiopia; Code: YOKZGOLUSTMZM1780LNVRTJBZLJHXIPWOBZHZZVXOAFTPTSMGXEWLVFDANYAH
Fish: 37.84 inch Jumping Silver Carp from Sw The Teeming Chamo Lake Ethiopia; Code: PTHHXLUNIAXCC9211IXCTKSQKKWGDAWEUFWEWWUUZSBXTRESIARCTAGNXLDYD
Fish: 37.91 inch Jumping Silver Carp from Sw The Teeming Chamo Lake Ethiopia; Code: XKCMQZKWXDXPU4637AFOIJGHOEDZNDJFQUFKCBJNTRHMJHBHSGKBLTGDWHVZT