Hi Everyone,
Well finally get a little time to relax and do some fishing. My dad was in the hospital for 6 days and finally got him
home and then had a few days of running my mother. Snow in the morning of 3 to 4 inches so will fish another outing in
the morning and post either Saturday evening or Sunday. Hope for a quiet long weekend.
Spent alot of time on this outing. Didn't catch all the species but I caught some really nice fish, especially
the Jumping Barracuda. If I'm not mistaken this is on of Stanley's jumping fish and does it jump. Fought this big one
for almost 25 minutes. I lost another big one when it threw the hook from all of the jumping it did. It might have been a
huge Jumping Tarpon. The other fish that I didn't get was the snook, will try again another day. Martin did
another excellent job on this outing and I know he put alot of time into it. Was really enjoying this outing and was catching
alot of fish as you can see, and didn't want to quit until I fished the outing all the way through. Thanks Martin for another
excellent job and look forward to some of your newer outings coming up. Hope you are enjoying your holiday.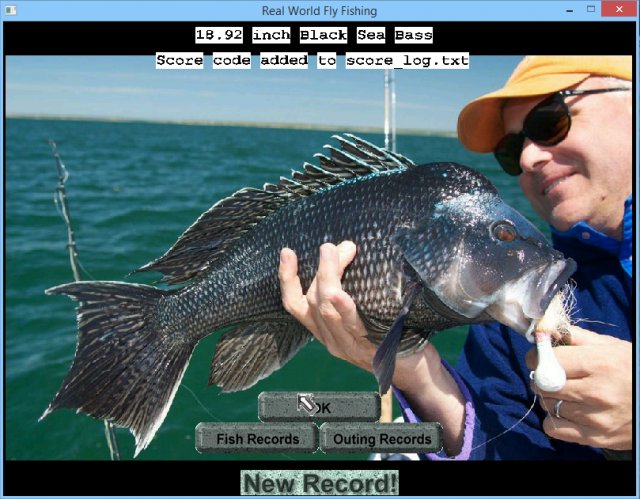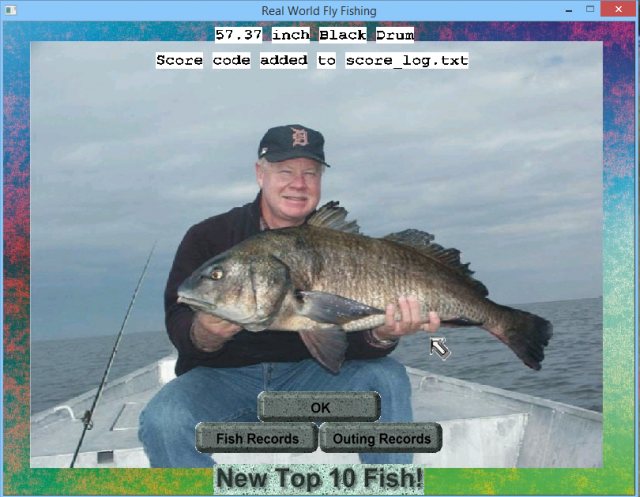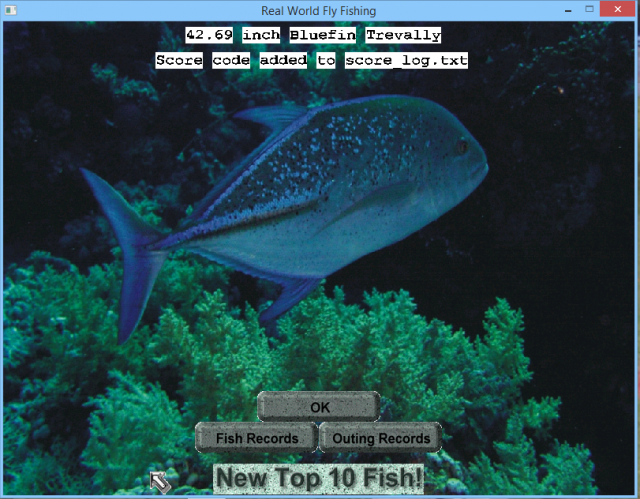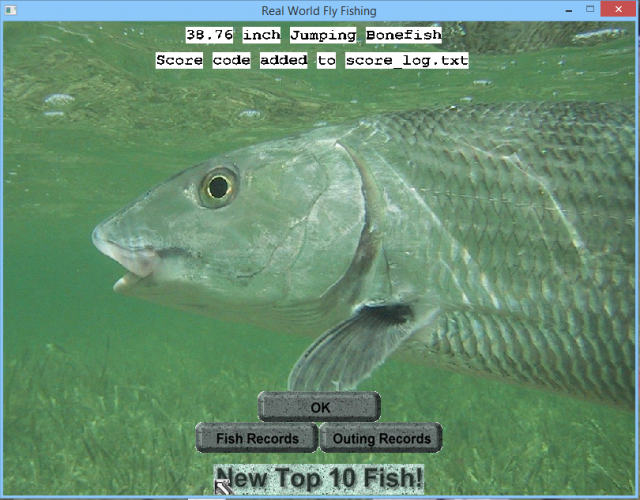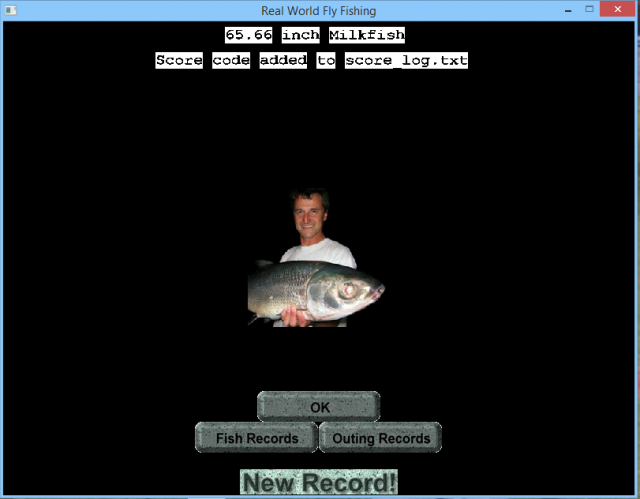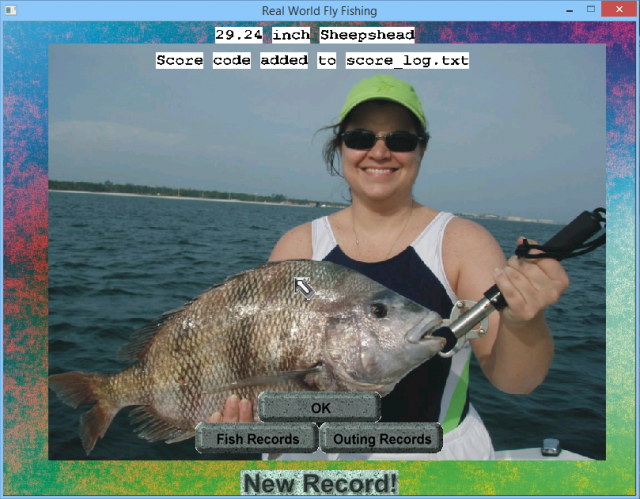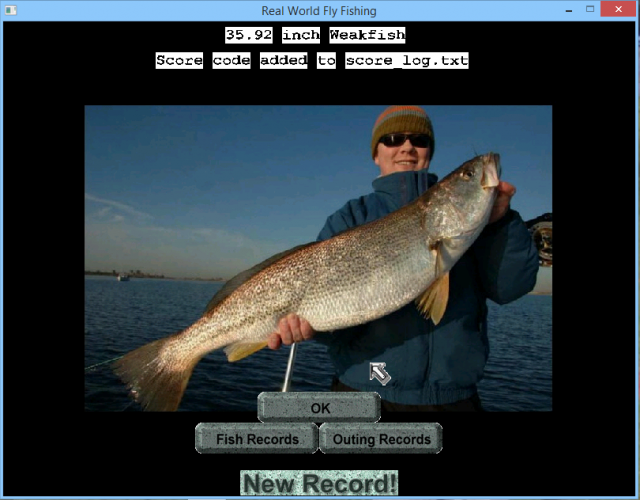 3/28/2014 Sw The Sian Ka'an Lagoon Mexico
Fish: 38.76 inch Jumping Bonefish from Sw The Sian Ka'an Lagoon Mexico; Code: WCSQWKPYAOYQF1449XCOXVHAFWXCSWCEMEGYBMWLGOHVJBSETSLFXSQUVAZJM
Fish: 16.21 inch Black Sea Bass from Sw The Sian Ka'an Lagoon Mexico; Code: XPHHMNGCJLBSQ4903PZFKDEVYQOFGBVCNTMZUALBMWJHRDUORBYNHFXXBMUJG
Fish: 57.37 inch Black Drum from Sw The Sian Ka'an Lagoon Mexico; Code: EOBYZAWVJWPCR2746WNJLPFHGQFDKOVNOVHSGWCEAUTSOMBHGNZMZESSOLHCZ
Fish: 31.76 inch Weakfish from Sw The Sian Ka'an Lagoon Mexico; Code: MVXNGMEGIZFYV6032UNRNZEUVKGVC@FJRURJUAYHRXHECCQPDOYZSRYLHMILE
Fish: 33.34 inch Weakfish from Sw The Sian Ka'an Lagoon Mexico; Code: REDGKOQARFGVX9743FRWVNKRZXVZVECUXFNYNLYLVSDUEWZVMKXXIIXUVXDLY
Fish: 30.82 inch Hogfish from Sw The Sian Ka'an Lagoon Mexico; Code: ETLHTZCXDFYQN1114QNGSWQZXEOAGMZKCTPHYVMRXANNVYPFXAVYFTXMSFOPY
Fish: 65.66 inch Milkfish from Sw The Sian Ka'an Lagoon Mexico; Code: MKLQQACQTKXGN5400IVSHWEQJQVTQHMLGGYWWAUKYRTDDODUIHOYXMXCSISSC
Fish: 31.22 inch Hogfish from Sw The Sian Ka'an Lagoon Mexico; Code: CWFEHUMAEZBGT9734HWSGFTOELMNOTPSHHTKUQDAGPXUAXKRJSYSBCHEFASSC
Fish: 39.22 inch Bluefin Trevally from Sw The Sian Ka'an Lagoon Mexico; Code: RPKEMAPMPINSG0575QJNBQKVLRXCHXMTIUOLDKDQNYRWDLMRHAGGDNXLIYUYV
Fish: 32.83 inch Weakfish from Sw The Sian Ka'an Lagoon Mexico; Code: KVSGTPDQZAGWN9735FWUTICRFXNHUJWUXBCEIVWUDDHVXOZTRADCUFYMZNEQT
Fish: 53.38 inch Jumping Barracuda from Sw The Sian Ka'an Lagoon Mexico; Code: TMYQHFSTHDIKA3755AABFZIOMLZYZPWTLXJRZPMGEJZPZLIFVALMPEVLWXLWD
Fish: 16.51 inch Black Sea Bass from Sw The Sian Ka'an Lagoon Mexico; Code: FPKGVZUTRDLCE2545VEWDDQHLKTGDWCIGVJQMUVTPLHQLBGXNYWJELGUCBAWP
Fish: 18.17 inch Black Sea Bass from Sw The Sian Ka'an Lagoon Mexico; Code: ECNOJBQYZLNPS0891VGXRVBUSYCEPRIKNGDOTOGDJLFWDHEMPPIAUYAZVUXCT
Fish: 37.75 inch Jumping Bonefish from Sw The Sian Ka'an Lagoon Mexico; Code: FLQYLCHLPWGQH4303ORKRSFJVXJWFVSHZNFSIMCBSRWGQFKYTBQHHPLKFZCCI
Fish: 47.16 inch Jumping Barracuda from Sw The Sian Ka'an Lagoon Mexico; Code: MMWJDQAFTCPEV9531EYYJBKCNXNCGHILWWNEYSDCGFCZAMFKSFELIOZQEZBXF
Fish: 50.23 inch False Albacore from Sw The Sian Ka'an Lagoon Mexico; Code: WXIWBGITYKSVE9884ELRBBBRRDJNFKDFPPWPBKVRQEAWNWZEVADMNJIZYNJFZ
Fish: 18.31 inch Bar Jack from Sw The Sian Ka'an Lagoon Mexico; Code: RAGERYSKNPAAT1501YMKJCZCJKLPXDSBIZJAJCOBYYSSJSDORNJVDMCLXQQEJ
Fish: 18.70 inch Bar Jack from Sw The Sian Ka'an Lagoon Mexico; Code: CSQGPEVSAKXKO1482ARGTVIROXDVYRERSHPLYHSJJVMSFTOKPVKQXGFDHMODW
Fish: 49.51 inch Black Drum from Sw The Sian Ka'an Lagoon Mexico; Code: VVSBDQTFEEDTC8960XGRUWEISDVGCFTGHQJBHDKYCCEEFQKHSHZFYBKNFLSSC
Fish: 46.97 inch False Albacore from Sw The Sian Ka'an Lagoon Mexico; Code: KHAFCBKTPYDVY2867OXUHPQWXKBESTVRGFJKUVQCEGQMPLAIPDOUEFEXTYMPD
Fish: 31.10 inch Weakfish from Sw The Sian Ka'an Lagoon Mexico; Code: EJJBTAQEWTGZE3480HTKKNQBWFDPCQIIZWALOESQMXAOHZMJQBMATPGGMHDLY
Fish: 44.05 inch Permit Fish from Sw The Sian Ka'an Lagoon Mexico; Code: MNNBUFIDDIIET2657GVBOEIHGRNTOECPEOQVMAVGFJDTMCPBGVMWSHJBKDWNO
Fish: 18.92 inch Black Sea Bass from Sw The Sian Ka'an Lagoon Mexico; Code: TLOCITVFVLJBJ0639YVGAWBITRZGRTCPDJYALHVKEGYVNVYOZSVBGLLIQTDGT
Fish: 35.92 inch Weakfish from Sw The Sian Ka'an Lagoon Mexico; Code: FVVOBPMTWHWFQ4039XLGRTGIEEUHJRIJKNUWTCPCLUCODDEUATZGTBCQOQTDC
Fish: 55.18 inch Black Drum from Sw The Sian Ka'an Lagoon Mexico; Code: JMDYBBOXTXEOH2222MEHBLQUCRFQDFVXLUBSTXZWTQPLLQTQNVVVOOMBPQFBL
Fish: 34.96 inch Weakfish from Sw The Sian Ka'an Lagoon Mexico; Code: RNSLXFTFOLWSQ6354NGPRLERHKGTRWYSRFZDBTBYGSIAGFKAXBQSSTWXXUILE
Fish: 29.24 inch Sheepshead from Sw The Sian Ka'an Lagoon Mexico; Code: CREJADKSSMCFX0366YMDOSJLELDDQVCVKKMUKZBFKKEYTLETTNCGVNVSBFYNB
Fish: 18.38 inch Bar Jack from Sw The Sian Ka'an Lagoon Mexico; Code: CKMFOWBUVHBCM6909UZQVZMEREKSDWCPGCPXQIHAGYJHPTOESUZGWWPKLESSC
Fish: 42.69 inch Bluefin Trevally from Sw The Sian Ka'an Lagoon Mexico; Code: IWWELXPAHKRCD2334SCBEMZVIXCLUPYTEHSQLYLMFMPOFPAOTTQZFUZQZULTS
Fish: 25.31 inch Sheepshead from Sw The Sian Ka'an Lagoon Mexico; Code: DSNAOBTHSEZGJ0185LMIQUAWJRZTLDSPKLNSRXTCQJZXQAKQIQZCAUJLOWEQT
Fish: 17.50 inch Black Sea Bass from Sw The Sian Ka'an Lagoon Mexico; Code: ATWYIYEMIKPSE6081VXMFGEURFKQQ?YYHGFYTLHSLEVDMVQNZOYOIVOHGDQEJ
Fish: 39.09 inch Bluefin Trevally from Sw The Sian Ka'an Lagoon Mexico; Code: QHBISLUOSRPVQ5287ZECGVELTXICYPFADBPYKDYNDWBFCDQFZEGJZXDCNFQEJ
Fish: 52.90 inch False Albacore from Sw The Sian Ka'an Lagoon Mexico; Code: HOQILNVEKECNN9946APQJZTDQLMLLQIBZNTEKRGJNCZXEIFCLFIDRBGQAYAOA
Fish: 42.62 inch Bluefin Trevally from Sw The Sian Ka'an Lagoon Mexico; Code: EGXXJEKWDLVSX6053CLJDFDJAELONTSLBLZEXWZUXGQGYLATJMOCOZWATPSVN
Fish: 74.40 inch Jumping Barracuda from Sw The Sian Ka'an Lagoon Mexico; Code: YCFXRGQXLYEPN9855YRBHFDRMEHNGMCBNZUDMRYYLQZXFPJAFHFKMJABBHYYM