Hi Everyone,
Well I have to say Barns did an excellent job on this outing. Beautiful scenery, good currents and definitely alot of fish to catch.
I caught 18 out of 19 and a few huge fish. The Giant Snakehead eluded me. Definitely had a lot of fun with this and alot of hard
fighting fish and some fantastic jumpers. Another excellent job Brian. It's definitely a keeper.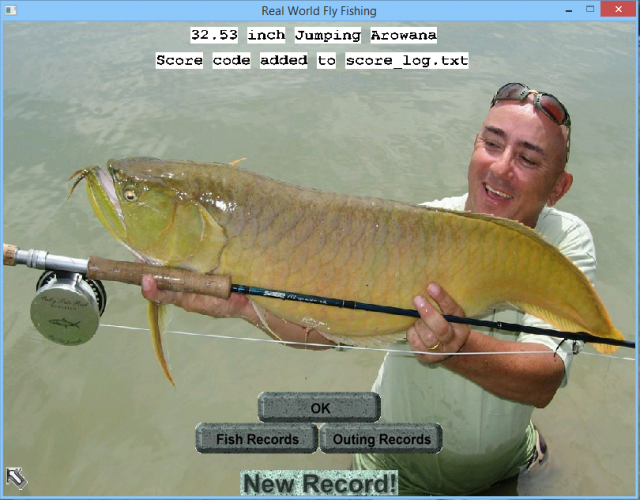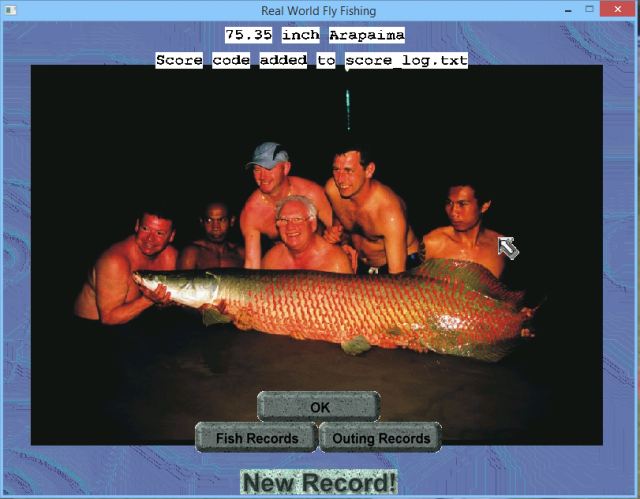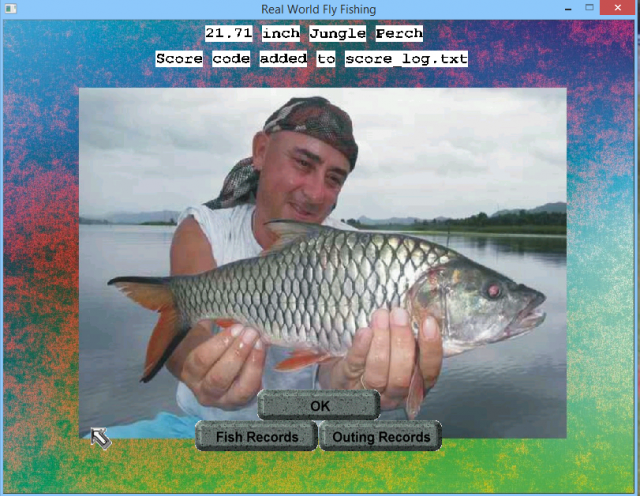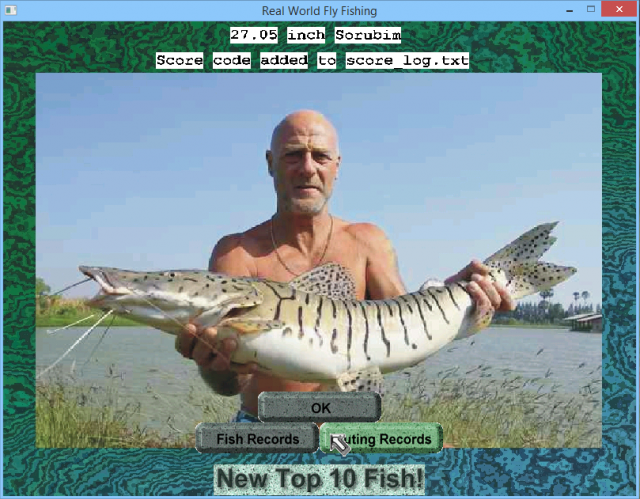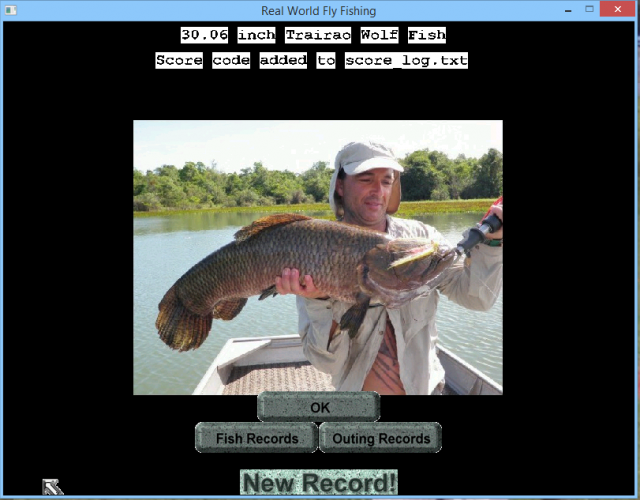 3/19/2014 Urubu River Amazonias
Fish: 32.36 inch Jumping Tigerfish from Urubu River Amazonias; Code: EWMRMLTVOAJDT7231WVPZEVQUXXBIJPHAYHLEJEMBREUOXBQVPTXWUHLNSAQC
Fish: 50.06 inch Alligator Gar from Urubu River Amazonias; Code: SAPBQWHBGIVKO0104CIMGTJZEDAFWPFRAGGLAGOTUMMGNKQHKIXHDYXBYYTAR
Fish: 20.06 inch Jumping Arowana from Urubu River Amazonias; Code: VYQHAKOGWUPGI3086CNSBEQAHEMGECJLGDBFVRKTYUVDYIWSYVFDPCNTZNMXA
Fish: 21.48 inch Talapia from Urubu River Amazonias; Code: GCSVSKVKIONDB8318KXTKUDWILVSBPIHOYQYDHIODFMXSHVMBEDFOQHYHRXLI
Fish: 6.12 inch Silver Piranha from Urubu River Amazonias; Code: SDVGGLYOYQQPU7541HINNJVQBESGMMVWZOYKQGHHJDXWWYDXRWVFYTIZYUXUD
Fish: 38.21 inch Jumping Speckled Peacock Bass from Urubu River Amazonias; Code: ZGNKHVREECNPY4991IRZQPXUXDNVVRZBMFVEHDRHWYECDMAASGZFRMXBJJNYQ
Fish: 75.35 inch Arapaima from Urubu River Amazonias; Code: SDUKXRGUAHRMU7541HINNJVQBESGMMVWZOYKQGHHJDXWWYDXRWVFYTIZAZGWN
Fish: 20.68 inch Jumping Arowana from Urubu River Amazonias; Code: VIJNGCRJLUCNE3019IMUNNZTVKACNMNHYQACMSVAKIVFSHVQESAIFIHJIUTBH
Fish: 14.76 inch Amazon Piranha from Urubu River Amazonias; Code: HCRUJKQJAUSOP6011NTOHLNTDEKQWTWGYHOWWPJIKTRTDOIKUHRRSWMOFCQXJ
Fish: 19.70 inch Jumping Speckled Peacock Bass from Urubu River Amazonias; Code: TTZDOWDUSQDHL6342MMOYAWUQRSJQOFRPKFTRUXTWUJYNHRPWLOMCBASPVBJK
Fish: 35.21 inch Jumping Golden Dorado from Urubu River Amazonias; Code: GFZATJXVVVAJH3544PFCRCHGFEFTZMZENFIXTHJKSWWEBVHTHTBWJLSWWIAQC
Fish: 15.32 inch Jumping Golden Dorado from Urubu River Amazonias; Code: OHWCHWZEHTQAI8680SFGMECJDKXOM@WDJHSYPMVAECPNIZIDNPLEXJUDIUHPM
Fish: 32.19 inch Peacock Bass from Urubu River Amazonias; Code: VJSQOQVZWPTBV4115KJXSQXZFXATVIPLGHETABNERUWZEXNPAJITPJRTNXPOE
Fish: 21.76 inch Jumping Speckled Peacock Bass from Urubu River Amazonias; Code: NHXZNHYIPMOSU9087HJLPFKEIRAQZVJMSFUAWWTGFOCRXSMFUNXTBDQNCWDPU
Fish: 32.53 inch Jumping Arowana from Urubu River Amazonias; Code: KENKPMXHERPWS7440USATRIILTJUIWFUIUPQCBWFEPNVYIOVJPQDFQSZDYVRV
Fish: 27.28 inch Jumping Arowana from Urubu River Amazonias; Code: CVWYXYKOUMJBU8639FZPADUILYMVQOVOYNHQEVSVNMERYSAUVKIHVHPBAMFJB
Fish: 57.64 inch Jau from Urubu River Amazonias; Code: ZBAHYPGNLTQLK5533AHSZCORWDETNBVWXGOPPMHUZTSYXSMCBTMTLXKHGVKLU
Fish: 15.55 inch Amazon Piranha from Urubu River Amazonias; Code: RWOGSSGACFQPJ4962DVAUJGKXYQVWVNYUZCNWPVCFSUESGUAILRFYKCSAAAWH
Fish: 22.14 inch Jumping Golden Dorado from Urubu River Amazonias; Code: KWIUQTDFPQWQL0651GTXYLJXYKNZEFYQFXFAURMXAGWGTPJFFQLEZMGXHOGUB
Fish: 11.40 inch Jumping Arowana from Urubu River Amazonias; Code: YKIQKGKDOQYRP3530EARFJYMJXAPWHWDICCWTEJGLEKZFBBJBIZVSCNTZIFPY
Fish: 30.06 inch Trairao Wolf Fish from Urubu River Amazonias; Code: GLHGHAMXZCIAU5906RMNFSXPYQGMCHFFRVCDZHDTOFQCTXFRMWETZBPBGBCFU
Fish: 21.71 inch Jungle Perch from Urubu River Amazonias; Code: UOTMHTLFYUZVD6679HYBEEXXLDFXEUGKLYNKSKOYHLDYRCGPYBHUSSZXSHAWH
Fish: 34.35 inch Tambaqui from Urubu River Amazonias; Code: WZKPALOBZENDM3005HOXDGGDVKBWXLZGFFDCBPDIMLJBVFBHFYTAUJIMMPBJK
Fish: 45.66 inch Arapaima from Urubu River Amazonias; Code: QNGNKCJXWJZFD8650JLNULUMMRJDGSDCIRAJHRZEOECUFQOXEZKYLTZHBRPBQ
Fish: 38.48 inch Redtail Catfish from Urubu River Amazonias; Code: SOWVHWXQPLYHC6173AHMSNVUVQUJWEFVJEZFGFTMBJDPVNPTMEMOTGRQMSNYQ
Fish: 27.06 inch Sorubim from Urubu River Amazonias; Code: MMFOPPRBTIPUV9531EYYJBKCNXNCIHILWUMJWGCBVFJQKXFFSFELEUYQGZCFU
Fish: 14.00 inch Amazon Piranha from Urubu River Amazonias; Code: JVCRZXFYGMAJZ0832BBSWJSUKEYJJXJWFWDLOTTATPBPWSEQYFPIUFSWCMNYQ
Fish: 30.09 inch Jumping Tigerfish from Urubu River Amazonias; Code: THUUQWIOTVAME4497RQUOMQLMDQOVSSOXXBHNEBSEMVCCCUCENPAXVHZUHNSL
Fish: 30.09 inch Jumping Tigerfish from Urubu River Amazonias; Code: THUUQWIOTVAME4497RQUOMQLMDQOVSSOXXBHNEBSEMVCCCUCENPAXVHZUHNSL
Fish: 36.94 inch Redtail Catfish from Urubu River Amazonias; Code: QXYTZQSEDOHFM6384TFJCUNKNRUPJGBWKOPGRIMEGHPUSPJCLZLXFXQMHQLKX
Fish: 44.33 inch Payara Vampire Fish from Urubu River Amazonias; Code: UKXGAUSWWXSSG8437ITXSTMHDYWNGBWJFPRMWUDHSJSPEXCIEWBKVWWOVXSFX
Fish: 36.24 inch Redtail Catfish from Urubu River Amazonias; Code: ECDGACAQADNWS0891VGXRVBUSYCERRIKNECTRCFCYLMNNSEHPPIAQEZZYOHVR
Fish: 38.02 inch Tambaqui from Urubu River Amazonias; Code: TUUIUQDGLKCBC7247ORRDCDAJESAWLZNYEJKFDPPEFKSYXJOKCWXMCJDVFVGK
Fish: 39.04 inch Pacu from Urubu River Amazonias; Code: FULTHDBMECSKZ1813WGDMQHCLKCQLUOFCTQKDIEFARIDCGUYELJVOGSFKJOJQ
Fish: 29.20 inch Jumping Golden Dorado from Urubu River Amazonias; Code: JDETBNOHVSQEO5723EPOYNVCMEVWKOYZIVOSVDDQXYRWTLJXUEUHSJEYPTXXO
Fish: 30.25 inch Jumping Speckled Peacock Bass from Urubu River Amazonias; Code: DKAMWWYXOGEQH5602XVSSZEBUYGIRIPNQBEBHMHSCMDUKLJXLWFRVISBUGRNX
Fish: 37.27 inch Tambaqui from Urubu River Amazonias; Code: VRITFWLCCYPLX0627QBFILTLDYLWODJFBPEQAAQFCIALUXFDXKTEQTHEJHNYQ
Fish: 62.36 inch Alligator Gar from Urubu River Amazonias; Code: NCNBNWHHXYFBZ0629YZEGSBBHRZORXFHDHMLMFRTJJJNQGYZEIJHNODBWWJDE
Fish: 30.40 inch Jumping Golden Dorado from Urubu River Amazonias; Code: XVEJLPEKOLCZC6466MEOONGLIYOCUVCEJHWLQOMJXELWLISGEWCKTBKUNYKZX
Fish: 12.66 inch Amazon Piranha from Urubu River Amazonias; Code: CUWGARMDCORCD5603DTMDANCAEVEISTRINDZQNBAOBVXMKQVZUAEMOFQWTBKA
Fish: 32.02 inch Tambaqui from Urubu River Amazonias; Code: DJZZNIGWEHDII4587WYPVWYVBLHRSEVRHJAKTDPWUJCAGDZYXGXPMPBQOATAR
Fish: 38.75 inch Redtail Catfish from Urubu River Amazonias; Code: FAWSNJQDQIZIY5473DZTLPFFKLHTWCZIOXLJISXVPLPWJBXPYMZYAQKULZNYQ
Fish: 49.00 inch Jau from Urubu River Amazonias; Code: YDIVMHPZTIWME0951SOEMIBXFRZEIQWYWOFZYOPSITHHBQTMBXNVTLIMMRPBQ