Hi Everyone,
Well I spent a little time on FlymanJoe's new outing. Excellent job with the scenery and water action.
Fishing was a little slow at first until I started giving my fly a little bit of action thru the water
and the fish started coming thru. Some smaller fish but definitely some excellent fighting. Will try to get
time to work on the challenge to catch that Monster Blue Catfish. Other words for Joe you did an excellent job.
It will be interesting to see your next outing. Keep up the good work.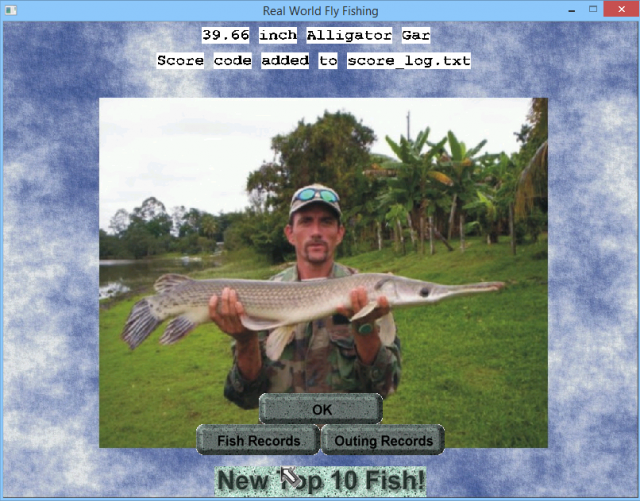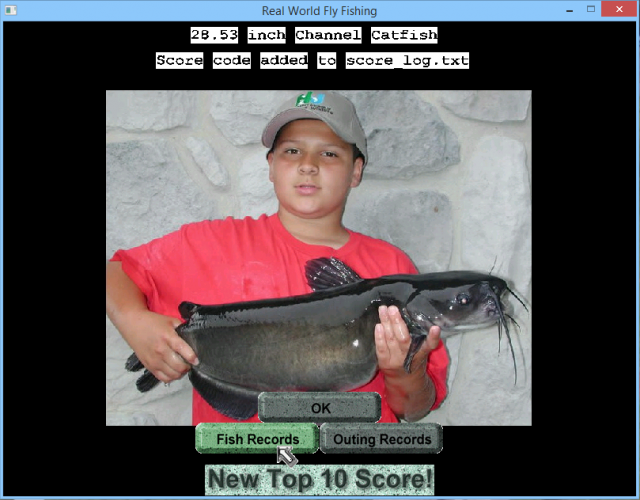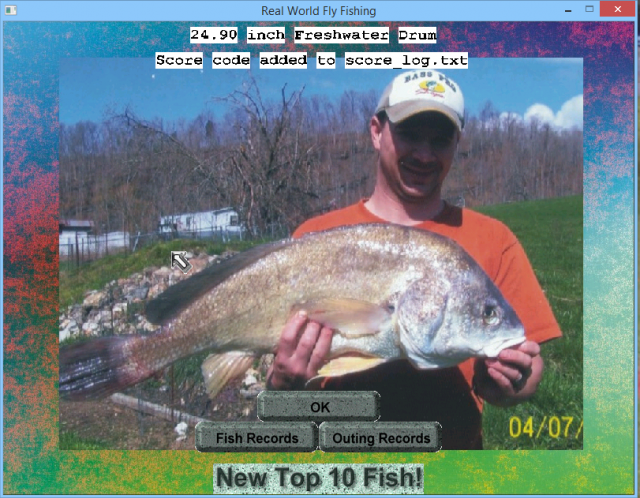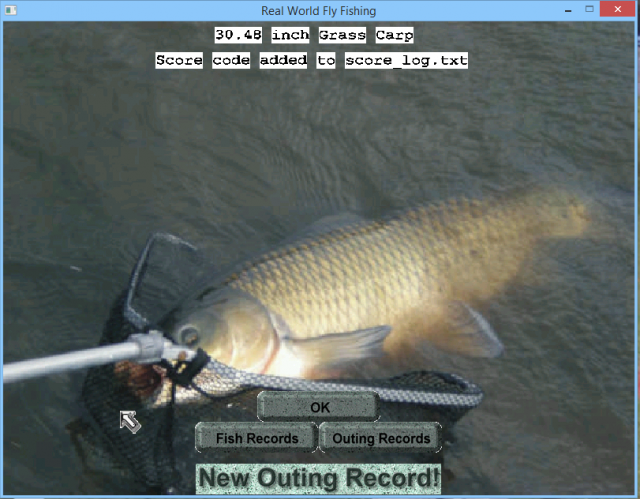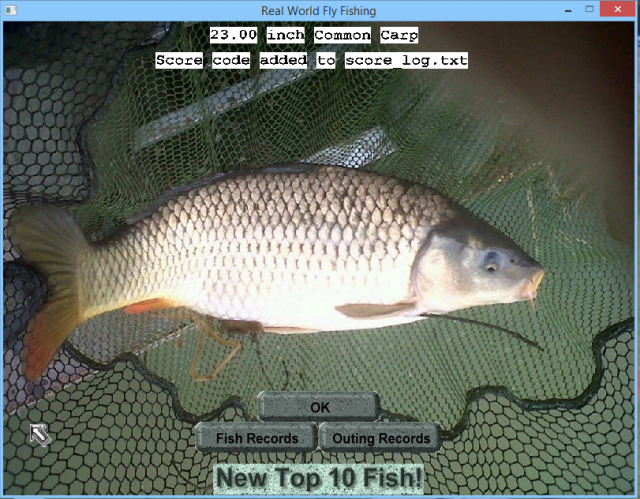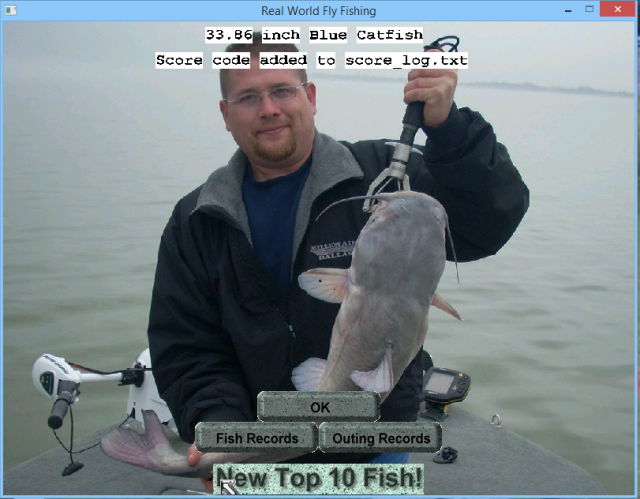 3/17/2014 Mud Creek
Fish: 30.10 inch Blue Catfish from mud creek; Code: NGFLGEOBZMSTE8961EZMRCSYSLTCRRPIKIMDTJVWWVHPLCUGYEPICGFCTZJFZ
Fish: 28.78 inch Grass Carp from mud creek; Code: TRIRBBQYAHRBW2111IFUVUYJQSLDBNJQZWLNARHENYFKPJXZLNYYBDFFBFGEM
Fish: 30.48 inch Grass Carp from mud creek; Code: HUGPPUHXOBALA9410KZEFPQMEEYIVKOCWDZRZBSDEUNMGVDUQAMAWORMOAHPM
Fish: 24.54 inch Grass Carp from mud creek; Code: LLJGSXNZJRUWR9723YSFPZAZCYKYP@TQELFNADCXEYARNAAIDUIPJJBPSUHPM
Fish: 24.16 inch Channel Catfish from mud creek; Code: AFWAOBSMZKLVP9035VTQRVIZEZAZTIXCQGFKVVUKRJJLODRWXSIPPXASBWWNO
Fish: 16.21 inch Freshwater Drum from mud creek; Code: GOJLKUQNRHVWA0143WPSUAIGQYBRUEVCPDPEALXABGFKDLRZSCCRDSZZYIRNX
Fish: 24.90 inch Freshwater Drum from mud creek; Code: NSOBTRBJGMWOD0618RWGTQRIESWXLOCLKUQPGSRWVEWKOHRBQCOUHMPDPOHVR
Fish: 39.66 inch Alligator Gar from mud creek; Code: QNAJEYDGWDZFD8650IGRTLBMPYUHISDCIRVLSNSPMOHUFQOXEZKYVPYHYZVRV
Fish: 25.38 inch Freshwater Drum from mud creek; Code: NUCSARSEHXOKS4839UGMEWWTIYOGTGQMBCFXIRAODSXYLFTRABEHSGRRBFIIU
Fish: 19.44 inch Freshwater Drum from mud creek; Code: AZPFBDSIMGQSQ6574WIIAWCVGYWVASEADAKLIDTMUOBSOIOXERTLDNIDSYIIU
Fish: 23.00 inch Common Carp from mud creek; Code: BAPNQSHUWLIKP9470YFDXZIBZSWNIWYWLRVCWLLHCZCMAYYWAABONGSOWSLTS
Fish: 33.86 inch Blue Catfish from mud creek; Code: VPUAZZKCACFWP6496TTLFGVICYFQBDVNLXKCJFAZLMVXWZLNFEDQONMQVLYNB
Fish: 21.31 inch Channel Catfish from mud creek; Code: SJUDKHWCCRRWH7715QSBAZSZXXEDSGTQVGNSHKCJDOWTOBBNVRZCXFDWGTODW
Fish: 28.53 inch Channel Catfish from mud creek; Code: VSUTMKIOTQRWV1723QBMMOHRYRWRQALKJHLJAFBUAVGFFNXULSBGJIXPMQOPY
Fish: 23.48 inch Freshwater Drum from mud creek; Code: EFQYBHMSSJBTZ5138ZJKXDMDSYFBJOYPLOPUSYZJDFBVWGQXVEGZVVJXQCAWH
Fish: 22.92 inch Blue Catfish from mud creek; Code: WNNMEGBPQUOPN1170TMZSSHTTLJFGOMDFSTSIVSALMZGKAEUOACOZZPLSQPOE
Fish: 26.31 inch Channel Catfish from mud creek; Code: JORLBENVTMZXW7543OJJCQCGJFIDXGJYBICPEYBGOOLYSHVBXULIFSEOBBOPY