Hi Everyone,
Martin did another excellent job on this remake of Cascade Creek. I fished top water through all the Creek sites and when
I got to the open water had to go below surface to catch fish. I don't think I was throwing the right top water fly. As you can
see I caught a lot of fish and had alot of fun doing so. This is one to try but don't use to light of tackle, I had 4 or 5
break offs. So give it a try and another nice job Martin.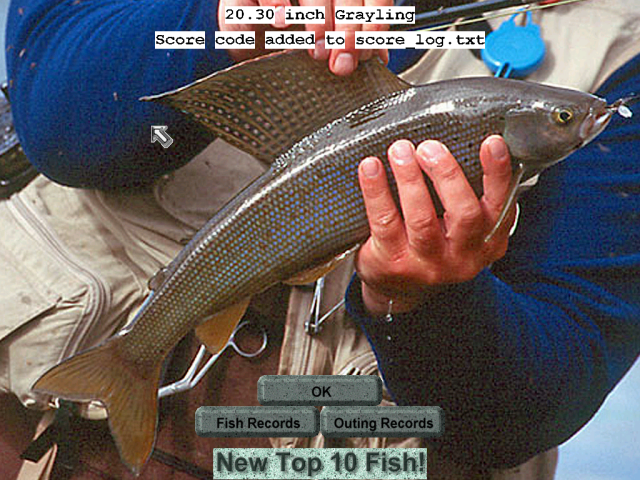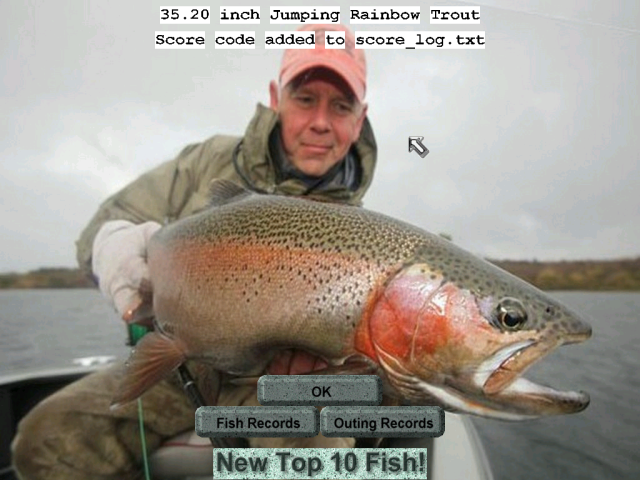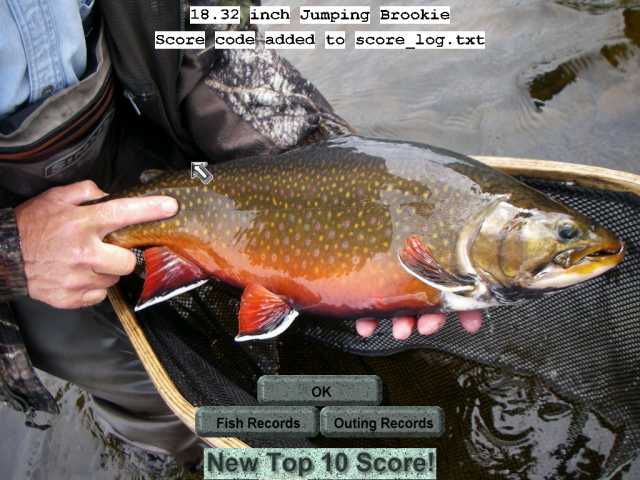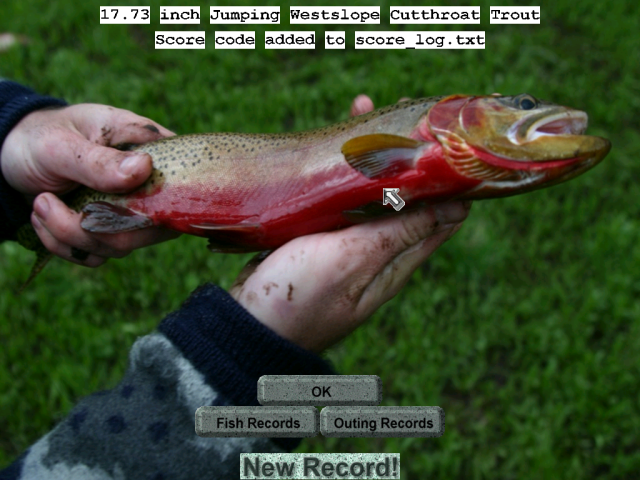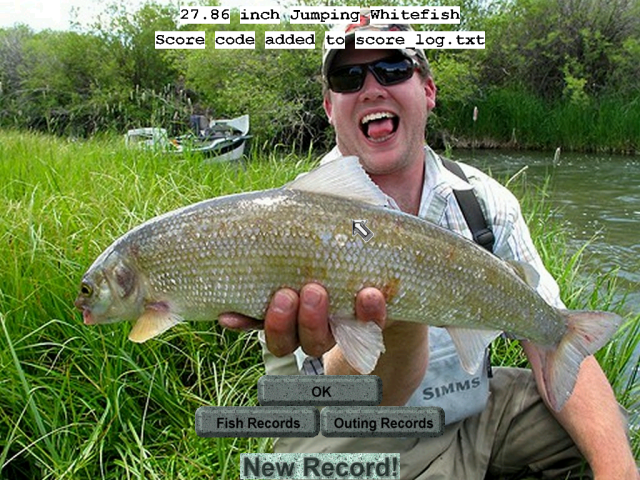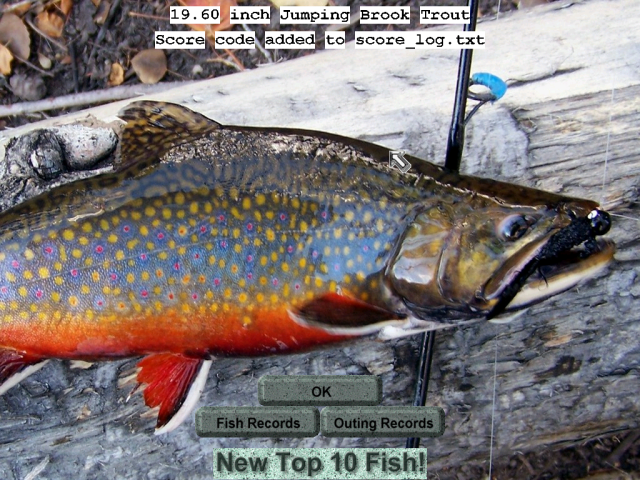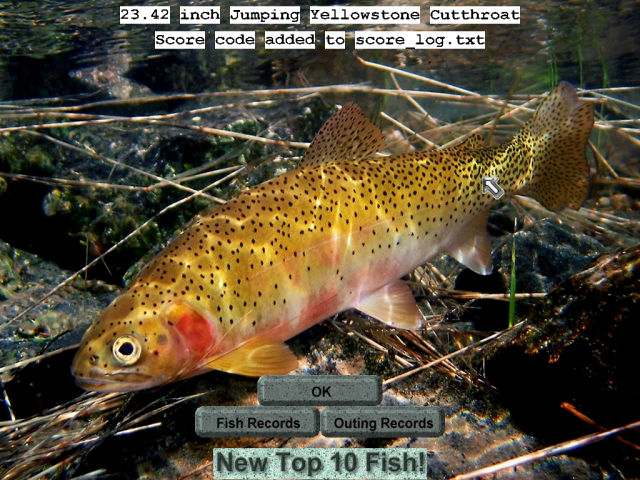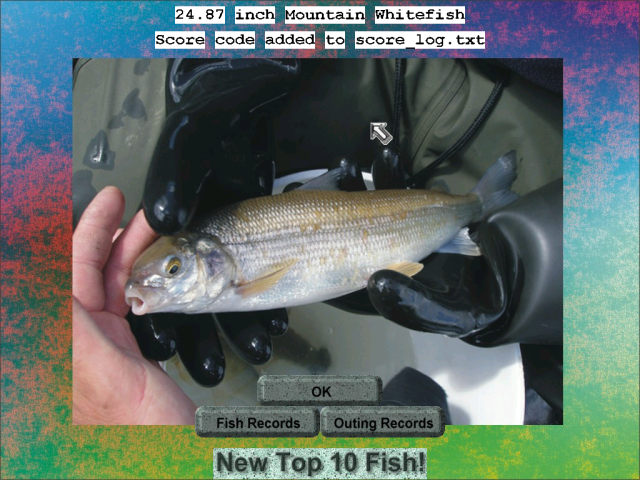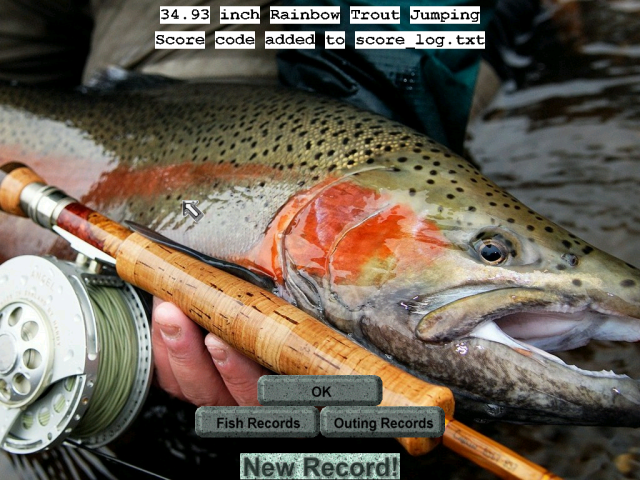 Fish: 20.30 inch Grayling from Sw The Cascade Creek; Code: IIZRMXYEWZVIO5386ASPCJCQBLSDAEPQKGYWWYPQQXIPBYCFSWBAEONBSTTOV
Fish: 34.93 inch Jumping Red Rainbow from Sw The Cascade Creek; Code: PKBKKURHLSJZB4610AXYAUFNDGOBBNAYPYKZANIVDPXCPVHJNYYOWOKSXEDGT
Fish: 35.31 inch Jumping Rainbow from Sw The Cascade Creek; Code: TIXGLFRTDJULD5512SKMDWEGGYACJAMKCVFTDZEUHFFQBSMUSEXLISACYLVOI
Fish: 18.32 inch Jumping Brookie from Sw The Cascade Creek; Code: FSRMKTAVCXZQK7682RSMUTJOQEVDBXSXJABPDUGTOSIJRASHUNTHVIRSULSVN
Fish: 33.56 inch Jumping Rainbow Trout from Sw The Cascade Creek; Code: ZSSUEVMKMVYRF8626UDQCMLMKLSLSSMOBSBDOFYOYFDJTIXVJEZRXOIUZXGGG
Fish: 16.66 inch Jumping Westslope Cutthroat Trout from Sw The Cascade Creek; Code: GRMKQRSSCAKVG5489BQMMQUGTLSJOFLZLSOEHBQJVDVUZZDOZRAQPNMXOIVUG
Fish: 24.65 inch Jumping Cutthroat from Sw The Cascade Creek; Code: OUMRYNDVZJTMF3533GVSLVOGJMCWSWDUHLBXRPTCPMPWSMOPTVTBMMXHFVXCT
Fish: 26.59 inch Jumping Brown Trout from Sw The Cascade Creek; Code: OPZVIWBYOIMLK4375XLLUIXLJMBMMZZXTNUIZXRPSGVTLAARCIXPGXKVATFVG
Fish: 23.42 inch Jumping Yellowstone Cutthroat from Sw The Cascade Creek; Code: EUYAXLKSLZPNE2010RZYZHWVZSROULBZHGSYMEOSWTFAEZZALRDJLWPXYYAWP
Fish: 33.81 inch Jumping Red Rainbow from Sw The Cascade Creek; Code: DXRBFNURNPJYX9453LLFRPQHBRMQXEWFVEVZBOGUEWCEUGQJYDMODLVFRJADP
Fish: 35.20 inch Jumping Rainbow Trout from Sw The Cascade Creek; Code: QPMCVSBEXRJHK2771MCIOHHOZZMISOZUVHQMLCTBYIVCPOROOFAMFJTUICDGT
Fish: 24.87 inch Mountain Whitefish from Sw The Cascade Creek; Code: AGRLHKEFILPZO1230XTEHGHUDFAIDIRRVWXCAUEBWAPHMTBWMIQZQQMUHREQT
Fish: 19.60 inch Jumping Brook Trout from Sw The Cascade Creek; Code: MKIRVIQKRQXAN5400HKHRELGSRGPWKMDDCYWWAEPQHKOAZDPIHOYUOXCRDJQK
Fish: 27.86 inch Jumping Whitefish from Sw The Cascade Creek; Code: GBXRXJVDSLWEC5292HPFPZDGYSGXDOOVDXNCRCBYZSNPTRDMFWVVGTZNWHFBL
Fish: 26.23 inch Jumping Brown Trout 2 from Sw The Cascade Creek; Code: ODUTKOFRFCBIL1448KPRKCYCEYYSYJMCSHPVVPVOTYHFAVDWLKGDTRAUHJNFQ
Fish: 14.06 inch Jumping Westslope Cutthroat Trout from Sw The Cascade Creek; Code: SFZYIHYOZICFC1562JHIZXISOMULWQJPMDOVUJBNTZIEGXFOBVLTKRKVHDIUZ
Fish: 15.45 inch Jumping Westslope Cutthroat Trout from Sw The Cascade Creek; Code: CTIGQYSYSQPWM4587BDYIFVMQSGIERYFXVTDMQUKJOEXNUYELLSTDJWFNQVUG
Fish: 34.47 inch Jumping Red Rainbow from Sw The Cascade Creek; Code: IICMQXYYXNVZO5386ASPCJCQBLSDYDPQKGYWWYPQQXIPBYCFSWBAEONBSSUTQ
Fish: 26.82 inch Jumping Whitefish from Sw The Cascade Creek; Code: UHAXSEQADEGIA3390CADVTPGQYXIUHFEDGSIHGNRGHSBIJPAXQDMBXMPZSJQK
Fish: 35.07 inch Jumping Rainbow from Sw The Cascade Creek; Code: BDVRCJDWQQVYV4717DGXPPMIBFFGAXPLGYUCDBEYOPRVWMKEYOHMYBFMVNGGG
Fish: 17.12 inch Jumping Brook Trout from Sw The Cascade Creek; Code: FNEPTCQGPUYTO8324QIFDGRLQFMTBYGZMBUIKDWYAVXFLOMJDAGVQLNYQOJQK
Fish: 30.28 inch Jumping Red Rainbow from Sw The Cascade Creek; Code: XGADMZQNVUONX6494SPZGHCIQRFDPEZWHKAUYSABTMWNMXJEGJFAUWPUYKNFQ
Fish: 31.53 inch Jumping Rainbow from Sw The Cascade Creek; Code: PSFDDUTXRTDMD8115GOOYPTAAYHLVHCSJFKNINLEGMTNFVHXCRJZWYAKTLMAV
Fish: 17.73 inch Jumping Westslope Cutthroat Trout from Sw The Cascade Creek; Code: QDHAFLGCOTKPL9944RGNDTAEUSJOGZMRUTLAGMPBYRHHEKUTXHAAADJBPDJFZ
Fish: 30.79 inch Jumping Rainbow Trout from Sw The Cascade Creek; Code: DPNANFZTIROVV4048FUOTUVUEYTOBJBDJYNLBPCLTHGSEXXVBJBECBYNVBMAV
Fish: 33.85 inch Jumping Rainbow from Sw The Cascade Creek; Code: LUBGCJUMHFJOJ6333NBBVFUHYGCKNTPGWQPLNCPXCWKRCQKVOMJCKUKSZCFBL
Fish: 22.39 inch Jumping Cutthroat Trout from Sw The Cascade Creek; Code: ROIABRBRWIVYH7479OAZGVSNJYJHFDSOWRCUPBDZXLINPGUVTKYVZOOABOLWD
Fish: 22.14 inch Jumping Cutthroat Trout from Sw The Cascade Creek; Code: KMRCITZQIDITU1125WWQIKPPGLNKEUIORZRZMMLUKUTATIOJGQCGGWQJWCLWD
Fish: 32.44 inch Jumping Rainbow from Sw The Cascade Creek; Code: QFVRVLQTQAEIB3266UILGYGQYRBPOAJSKJAQIEZAGGQCCIOJPGQWLXCOADHHW
Fish: 24.14 inch Jumping Yellowstone Cutthroat from Sw The Cascade Creek; Code: RWLTUQVYCOOAJ4962CKPERNAGZBRAYNQRYDIYBGIIIEYFGUAILRFZGDSXCTOV
Fish: 19.14 inch Jumping Brookie from Sw The Cascade Creek; Code: SEXUVYPNHEJCL8647ICFUUBMDSUTWLPKEMLWGAKJMWHKUPVOFEDQIQBKBQGGG
Fish: 31.17 inch Jumping Rainbow from Sw The Cascade Creek; Code: NQEEBXBMGBZXN6697VNTCTLMZFEGXQFDRCHAUQHSTERQDJXKFEYGNKYQAYAMF
Fish: 17.62 inch Jumping Brook Trout from Sw The Cascade Creek; Code: DOCVSWRWPVMTE3843DXLORWPLMBWTFHGBHJUNGLPUWXYSPFENTTBTAOCPSJQK
Fish: 32.58 inch Jumping Red Rainbow from Sw The Cascade Creek; Code: GEWWZAOALJIJJ2639MPOWHPYVTYXTLFACNGBHKCMOJXECFPULLTTBOKTNJYYM
Fish: 27.50 inch Jumping Brown Trout from Sw The Cascade Creek; Code: OSYZJNTZZCYBQ9512CTUBQJDFFKNAVPURDUHPXKLZYGJUOMZJXDFBSWUTNTIQ
Fish: 35.34 inch Jumping Rainbow from Sw The Cascade Creek; Code: WUVBXRVGMCGZY4647FTXWBWYDLCIVQMBGEWILCEATDHRBTNJPLFOPQXTGHVOI
Fish: 26.30 inch Mountain Whitefish from Sw The Cascade Creek; Code: YRMEMXTLDAAFT7827PCTJJUJXFEENJXTKIROHHFZSOPLWTRYCTCUTHUBUMUJG
Fish: 23.87 inch Jumping Cutthroat from Sw The Cascade Creek; Code: TOUHXNCHGJWDQ5076DRWZMUPZLCDNTTDYLYZBHGLLNAOTULRFZBAXIWHIOUJG
Fish: 17.79 inch Jumping Brookie from Sw The Cascade Creek; Code: QNYKNSSBVHASD8650SHRFWGOWTAGKVDUIVBEJDKKRUMOSQOXEZKYMPAHVIRUX
Fish: 17.04 inch Jumping Brookie from Sw The Cascade Creek; Code: UQHCFVTKZIRUS8898UWLZUOKZMOJQYCDBQENWOIWRHWGCAAGIZXHMIULAYRUX