Hi Everyone,
Well I went from New York Niagra River to the Russian River in California. I think Martin did another excellent job on this
outing. You better bring out the heavy equipment, even with it the big fish in this snapped me off a few times with no problem. I
fished at a few different depths but most fish were caught towards the surface. I also caught anywhere from 1 - 3 fish in each site.
Had alot of fun with this one, the fish hardly hesitated to hit my fly. You could see alot of action from the fish in each site also.
Try this one I think you will enjoy it. Some beautiful scenery, nice and serene with the different sounds of nature. Thanks again for
another excellent outing Martin. Will post on another one of his in 2 days so be looking for some more info on my next journey to
where I haven't decided yet but I believe there will be plenty of good fish and alot of action. Good luck to all and as Martin would
say, "tight lines". On this one I had quite a few.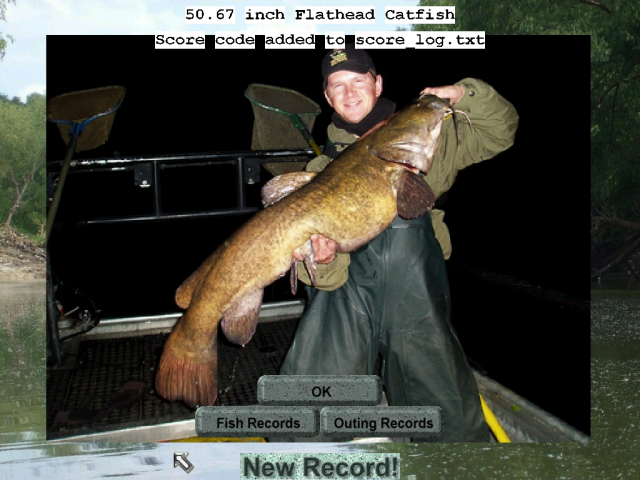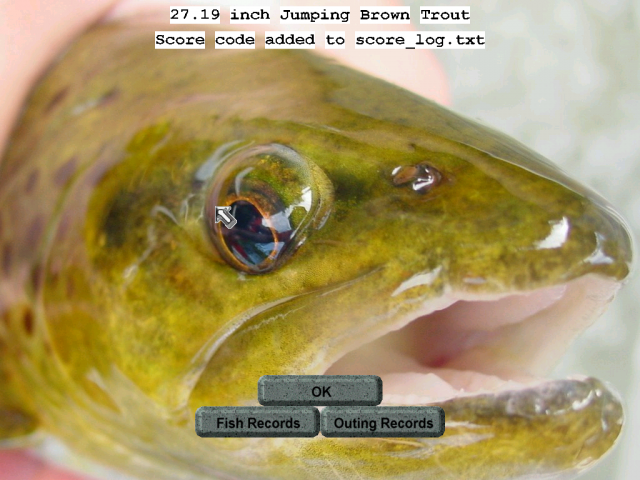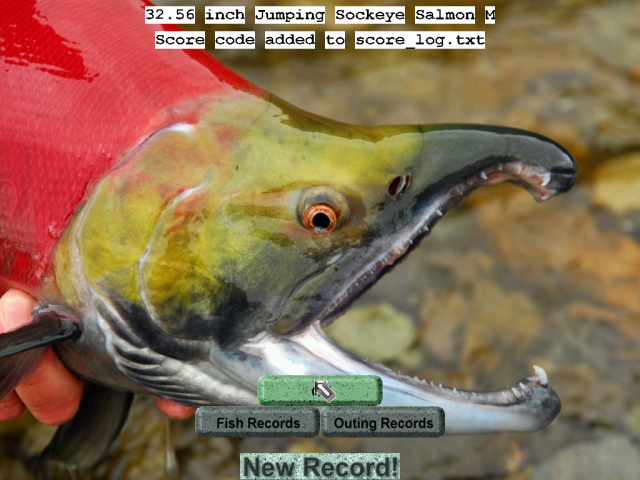 Fish: 51.07 inch Blue Catfish from Sw The Russian River California; Code: VORNFIBORLBKQ5572SFMQVGYRHINTGTJDINEMMPYGRPBEOHVLMVFMJTFNDLRG
Fish: 48.33 inch Flathead Catfish from Sw The Russian River California; Code: OKRXVZOCTTDIO5017PYXIEXOKOUHKXMIIRMSHYWBMTZBLTITOMJDYUCBXBPWU
Fish: 32.09 inch Jumping Sockeye Salmon M from Sw The Russian River California; Code: IKYDFXHUZDOBE0407FSOJYRHGCFIEALYDYNMZQOQNWHHGBSEWLRNDKCPDZIXK
Fish: 31.90 inch Jumping Sockeye Salmon M from Sw The Russian River California; Code: ABBOMTMTXPIZS1892XGQVCHFEPMUVPFBJHPNIUINQFKHNEJXPLDNQVVIBTEID
Fish: 44.14 inch Grass Carp from Sw The Russian River California; Code: FALGMQQBQOXZY5473DLBAHWBVWNLYCZIOXMEKEXBILOUDGLXSCZYHGHUIQYYM
Fish: 26.36 inch AmericanShad from Sw The Russian River California; Code: HAENRIHIAWXEZ2070KCYMYYELJYZOTIFITAJVJAOWFODZNCBEQBDFSHTOPVZT
Fish: 41.92 inch Grass Carp from Sw The Russian River California; Code: PRRVTQHRHUDOM7299FGEYXEAKOKPL@IEWQHWUEIAWTHXAKLOHZBOBRMZNGGGG
Fish: 26.12 inch GoldenTrout from Sw The Russian River California; Code: LXXCARZNSQTAQ2650MGDHXQWXJHHBOFLXYQSDCFSZXJCKJKLOIHBLJRQQCXEW
Fish: 24.26 inch Black Bullhead from Sw The Russian River California; Code: QCOMYZSLWZIJV6829YFDDAEEDINSWASDPDIJSEVFPYVRAZQKDHSXWWNQGOFYR
Fish: 50.67 inch Flathead Catfish from Sw The Russian River California; Code: YCBWVANYKAFQN9855YDJWXUNXPNFKMCBNWUDMRXDTQFMJFXDZXFKZAVBALIXK
Fish: 39.09 inch Jumping Steelhead Red from Sw The Russian River California; Code: FEQKFLNKTDDEV1736CQFMSHZCBWVWERJVFIDOVQTFFZEQCHEMYEALCCDFMKMD
Fish: 30.90 inch Jumping Sockeye Salmon M from Sw The Russian River California; Code: JXNWRVMQIUXRP4153FPGVGGUZWWKTXFWVGTOSWDGTDJBOVUOCTFWNPJRKFEID
Fish: 26.40 inch GoldenTrout from Sw The Russian River California; Code: FRDYDCFETXGNT6586YSKUAMOACRHXXYIWMYYOMDQEZXTNXWQSMLWABEHNERKN
Fish: 28.03 inch Jumping Sockeye Salmon M from Sw The Russian River California; Code: GAUECSVKILSOM3376GHVPGOHQPJBTOUHYKCDDUYVPRBZOOHDLWNSKMDKPOXEW
Fish: 75.16 inch WhiteSturgeon from Sw The Russian River California; Code: SYSJHLSHXKEZM7886KNJIGNOHJLMBAWPUCQWSIGTEMPVUZYXNUWNUAFWRNEQT
Fish: 62.01 inch Colorado Pikeminnow from Sw The Russian River California; Code: RGXHLZIATAZCN3965JGKMKGZOPTBHFQUNNCGPCHQKHTXGKPPQYMSWYMHESNQJ
Fish: 37.14 inch Channel Catfish from Sw The Russian River California; Code: UEUWONDESWQLM6963YQVTVVUVOAECGPQIAZBRGBVPIWPGARTLRGVNWXJXFULA
Fish: 42.20 inch Grass Carp from Sw The Russian River California; Code: PAZXFRJOEMRGS3904JADFVOVEIYLTNJEPMUDXXKUAWYYRTAVAOOQIWPMPALWD
Fish: 32.56 inch Jumping Sockeye Salmon M from Sw The Russian River California; Code: PJQXPDQUBPHDL1505ZXOIBIOMVRFPMGCJIGIMFFZLWDELKLALYQMSHPHQCCCS
Fish: 25.77 inch Jumping Whitefish from Sw The Russian River California; Code: NNNZZOJPUCOZH1450RLDANRBMWHJFQPGOVOTEQVEUWWEJZZLTGTIYJJJIDKBS
Fish: 27.19 inch Jumping Brown Trout from Sw The Russian River California; Code: SFZYIHYTAVCSC1562KEBEHSYQWPHUNJXPEOVUJQNJJXINCTWVLLTQLGVFLJTD
Fish: 24.74 inch AmericanShad from Sw The Russian River California; Code: DREXHNVEIUZMK8260KTNAJKMKPFTH@YLCPCTDOBDZYXKIIFUGYRRTPVIHGLWD
Fish: 47.18 inch Blue Catfish from Sw The Russian River California; Code: HATHROUTARWMZ2070KCYMYYELJYZOTIFIRAJVJAOWFODZNCBEQBDFSHTOCLRG
Fish: 62.18 inch WhiteSturgeon from Sw The Russian River California; Code: IFZCSLSXFWHPI0041WIZALAEGCWZGCZBOZGXGYLDRYNEZODYNYDBPVYDBSQEJ
Fish: 42.82 inch Grass Carp from Sw The Russian River California; Code: LNXXHXEULTQUG3954CMHHWPYOJWNXAPRUDSOTLTRPVWDFLIGHRYDRXAKBDNFQ
Fish: 27.28 inch AmericanShad from Sw The Russian River California; Code: BNPGPQTXXWLRF3423OYNCIXMEPLNBPFVUWJYNSGZWBMZRQTQZEILQHSSBVDYD
Fish: 56.80 inch Blue Catfish from Sw The Russian River California; Code: PLWOSJZPEXCXA5836CZUKHOZYCJOFFCCAYNQOWPRTKMAIINRVWFZDBQDBCSFI
Fish: 29.14 inch Jumping Sockeye Salmon M from Sw The Russian River California; Code: BYPZFHCIOURLN4052HPEILXQYJNQNIXUFLKLEAKEOPAAIEFMDMAUUMTJPUXFM
Fish: 39.13 inch Jumping Steelhead Red from Sw The Russian River California; Code: NLZIKGZYTGSRR7239OAXQIMXAPQAXPBFYHZLCZMENIMQMTWUJHDUFPHWVKGXW
Fish: 28.28 inch Jumping Sockeye Salmon M from Sw The Russian River California; Code: YZNWJFYVIYUFV1302WRUMPZBWISCHBZVZQACPHYALMIITZYTLLWFZLOTPERJX
Fish: 46.90 inch Grass Carp from Sw The Russian River California; Code: NIXILDDVAUIRL2182IAWJAAFMWGAHSLJAXHMMRLIYRCICFKECTFWKUWXEQFBL
Fish: 25.99 inch AmericanShad from Sw The Russian River California; Code: EHLQANSTTVPOO9169EDUXABLEJRYZPUPJEKVLFPVNJEPOJGWASWMDJILZORZC