Hi Everyone,
Just fished Chuck's Niagara outing, Chuck did an excellent job on this one. Stanley's new fish definitely went well with this outing.
Even though you have some fast currents in this outing, the fish are definitely catchable as you could probably tell by my caught list.
Even lost a few of these dynamic jumpers. The fish definitely fought hard especially in these fast currents. I even spotted Stanley's
UFO. Be a little patient with this one because you do have to try out and see how the currents work the best. With the beautiful
scenery, excellent new sounds, the water action (great job with the mist on the falls) and excellent jumping fish I really enjoyed this
one. Excellent job Chuck on the outing, and excellent job to Stanley on the new fish. Only one complaint Chuck, in the last site no
matter what I did (even put the fly in their mouth, those 2 fish just wouldn't bite. Thanks Chuck again for a fine outing.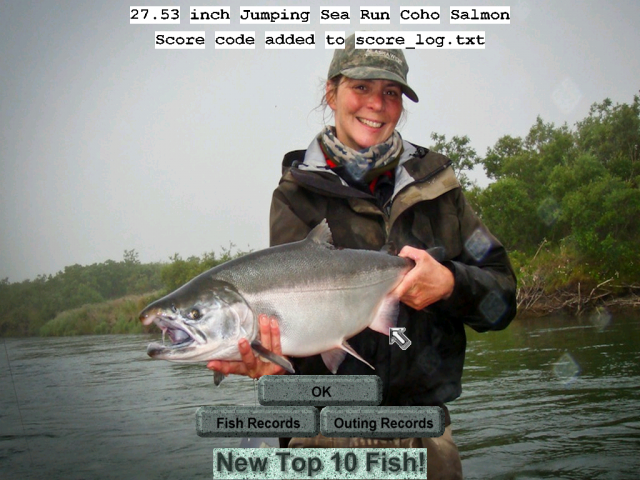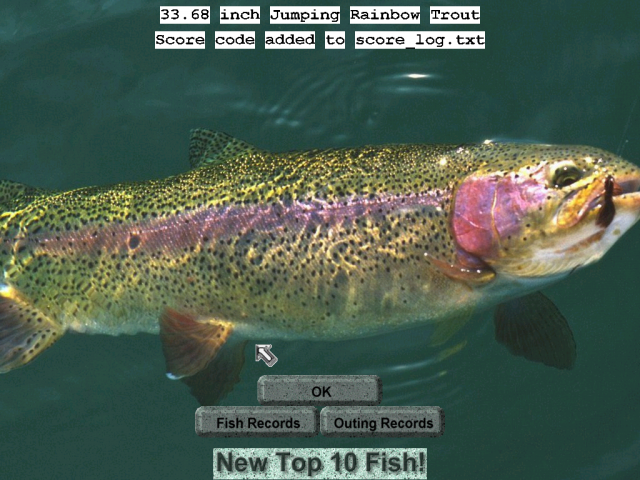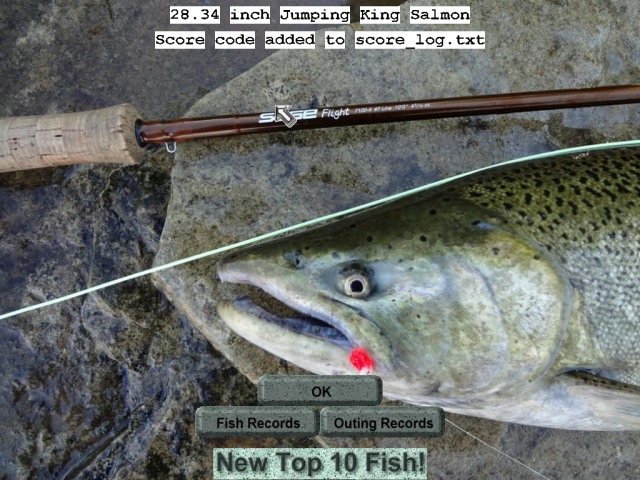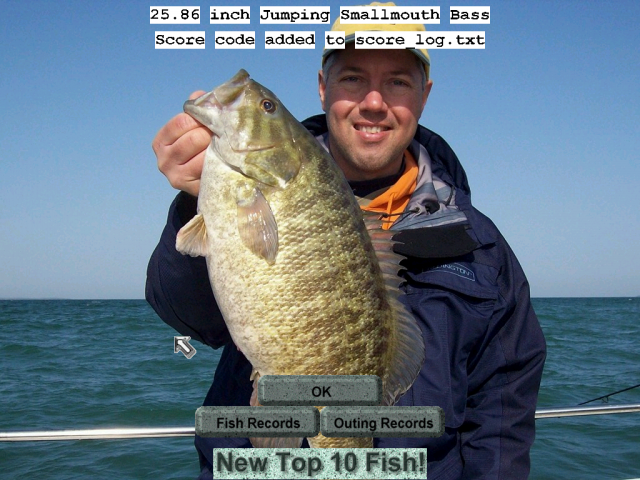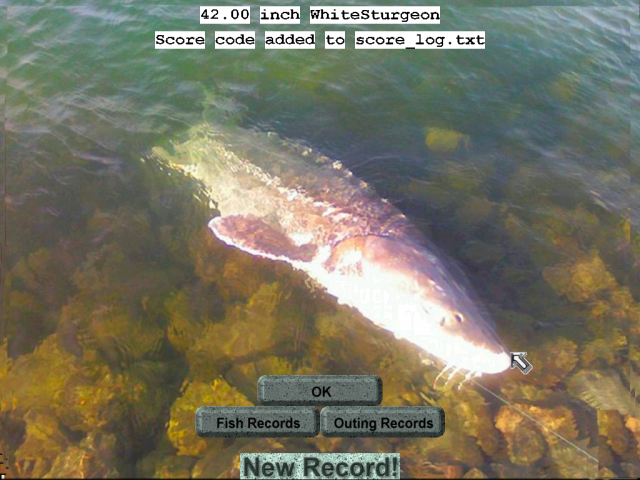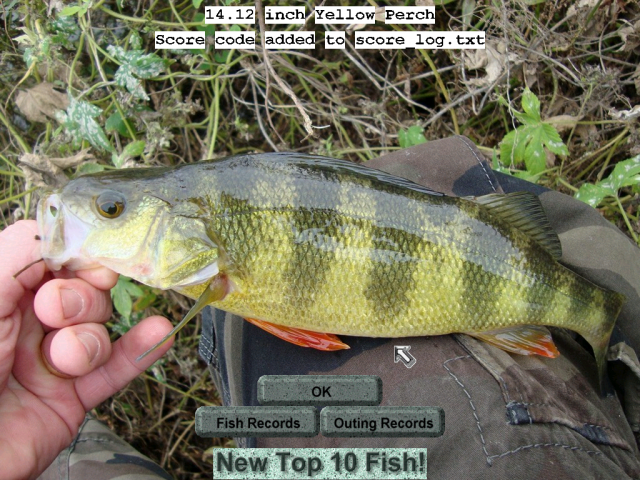 8/1/2013 CLJ Niagara River, NY
Fish: 14.12 inch Yellow Perch from CLJ Niagara River, NY; Code: EGHXAGIHCJTUX6053BAYCWPJJVGAPTSLBNJTNCNYEOWNIWAOJMOCXOWAVRILE
Fish: 14.11 inch Jumping Smallmouth Bass from CLJ Niagara River, NY; Code: FMTLYTQJYIXHX7428PLCNMYPXIERP@MLHNAGMAIBHCDHMYUKPKYKIKWVLWWNO
Fish: 14.31 inch Jumping Smallmouth Bass from CLJ Niagara River, NY; Code: XNBQSQCYHZIGA0972XCMPIEYUOQLZAZCOCHGIHPNLYGADIASHCIZVXWBQCABU
Fish: 24.69 inch Jumping Smallmouth Bass from CLJ Niagara River, NY; Code: FHOOHCGULHSSC8062HYOUALQZCGWKBHGTQTRUBGOLFJEFMOMZXKYCVSBAPSHR
Fish: 13.83 inch Jumping Smallmouth Bass from CLJ Niagara River, NY; Code: LRCCASBLNSWND9196JZTTHAVEOGFTTZSBNGBNAAACXPXGCYFQXEMSRAUBHJGP
Fish: 25.86 inch Jumping Smallmouth Bass from CLJ Niagara River, NY; Code: FFAXACWZKYHNM4831DWIJUOFVWONCALFDZDJSJWWDQIQINMVOYMKJTQGOPYTZ
Fish: 22.58 inch Jumping Steelhead from CLJ Niagara River, NY; Code: PKBKKURIKGIQB4610BURFEPTFQJXVJAGSCUOQTMUSHMYCVHJNYYOYGLSZKDVI
Fish: 17.88 inch Jumping Smallmouth Bass from CLJ Niagara River, NY; Code: VZBLMTXOGALVZ4102EEDVZGCLBKQC@LHOXXOBSRTYNDMKYGJMDNGBRGWEVDVI
Fish: 22.90 inch Jumping Steelhead Red from CLJ Niagara River, NY; Code: XMQEXZBRYYRKK9856SLXZBNYNXWMRWFFGLEPUYGJENFGRAIBTMAXLENRNJCUK
Fish: 19.77 inch Jumping Steelhead from CLJ Niagara River, NY; Code: IGPUJXGEVOCHZ3165MFXEHRUJPRCE@BXWTTDKNSXYJWYRRIPHYLMUMNOKTCDA
Fish: 14.88 inch Rock Bass2 from CLJ Niagara River, NY; Code: QAQLZQAXVXYXF2808JNSAPJCJCQVM@WCZODQGSAMGSLVIWILYTCKHAYUZLHMB
Fish: 13.14 inch Rock Bass2 from CLJ Niagara River, NY; Code: GKUMFOKEOKHXV2800QBSXHPFQPUMWKLBJFJWDQADGCHYIHNSQGWISWHQYXUYV
Fish: 47.18 inch Jumping Lake Trout 2 from CLJ Niagara River, NY; Code: ZVRQGMFGYKJML4963BHKWEHJJWFIELCTLCEZULDBUGCVPXJDQLWPUBUTTRILE
Fish: 42.00 inch WhiteSturgeon from CLJ Niagara River, NY; Code: NHKURMLHQHMUU9087HVTEXBATCGIZVJMSHFKOOILXWBHXSMFUNXTERSNAMYKR
Fish: 37.23 inch Sea Run Brown Trout from CLJ Niagara River, NY; Code: GLGGDFSOZJIRU5906RYVUKOLJBMEEHFFRXNNRZSYGNPSTXFRMWETCPRBFPDAN
Fish: 16.47 inch Jumping Sea Run Coho Salmon from CLJ Niagara River, NY; Code: FSRMKTAMCVZFK7682SPFZDTUSOQZXTSFMDLETAKSDKXFEASHUNTHXASSWSEWY
Fish: 28.34 inch Jumping King Salmon from CLJ Niagara River, NY; Code: WOFSLRKWIBFTE4274WAGNNQVMJELOSGHNSVZDIGQMNCQWQOMKQKRBSCWXPPZO
Fish: 27.54 inch Jumping Sea Run Coho Salmon from CLJ Niagara River, NY; Code: NTDACOUPZQOPT1714USNPLHJXIJCLKWHSNKOBWEMPNQUAXJSMLWFJXKOTTWHJ
Fish: 42.33 inch Jumping Steelhead Red from CLJ Niagara River, NY; Code: FPSHICIKSDLKE2545VQESVHDWVZYHWCIGVTFCAJXWTNXVMGSNYWJDFHUDZGEM
Fish: 25.93 inch Jumping Sea Run Coho Salmon from CLJ Niagara River, NY; Code: TXBNKEFCVYSVI2684LDIACYORIHTOIPSWUMTNVFPLXTPILVWQQUNKLWCMISHR
Fish: 34.12 inch Jumping Steelhead Red from CLJ Niagara River, NY; Code: NXEKZOVFBZBJY9956BXABWSZNVSVJMGIZUOMFNXEMHBEVTFZGPCGGTFXZTJGP
Fish: 25.10 inch Jumping King Salmon from CLJ Niagara River, NY; Code: TJILGWABUIUBU6618VEINJMSAVNPNSOONPBHHNZXEAVGZIWTOUFOTDLNFFWNO
Fish: 27.62 inch Jumping Lake Trout 2 from CLJ Niagara River, NY; Code: APUQQBROHACMH8740OFQIOTTNCGYWEOXSFKXNIDFWKIIBJLBXSSNCTUXIXVUG
Fish: 33.68 inch Jumping Rainbow Trout from CLJ Niagara River, NY; Code: FUFDZTKGEWUWZ1813WSLBIYYWVIINUOFCTBUVATKSZHTCGUYELJVRUUFHXGEM
Fish: 32.22 inch Jumping Lake Trout 2 from CLJ Niagara River, NY; Code: HJHNRZYRPHRCS0688ZRJPWBESWRTJSWDLPWDIXKAGNTBHYYZVSVRMBUWSTLTS
Fish: 35.95 inch Jumping Lake Trout 2 from CLJ Niagara River, NY; Code: AMDLOSYMOQQMB3424IXHBGHJQJXXHHYAUWSQXACJPSYSSVZLYDUOHYJZRGABU