Hi Everyone,
This is on of my dream places that I would love to visit and try some real flyfishing. Once I get into this area I probably wouldn't
ever want to leave. The fishing in this outing was all dry flies (surface action). As you can see, I spent a little time on this outing.
I caught a few fish in each sight. Had a blast with this one. Some of the sites the fish were even fighting over the fly. Plenty of
action in this one with numerous fish in each site. If you get bored with this one you will be doing something wrong. Also plenty of
jumpers that just love to throw the hook. Thank you Martin, for a very extraordinary outing that I was well pleased with. You should really
have fun with this one.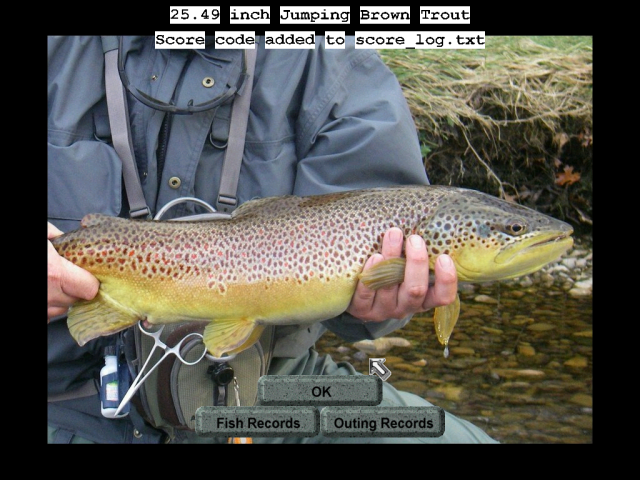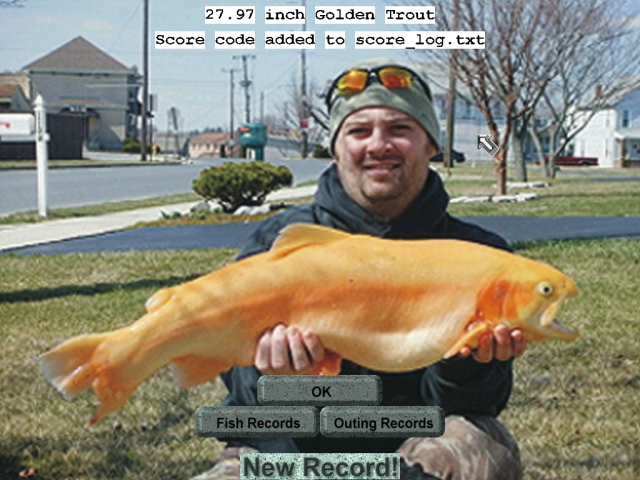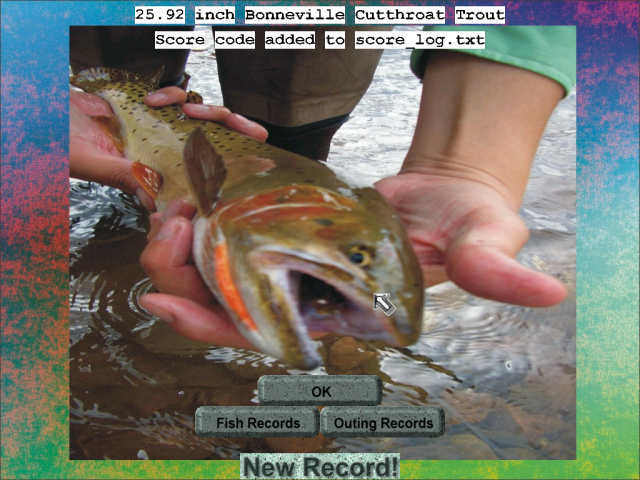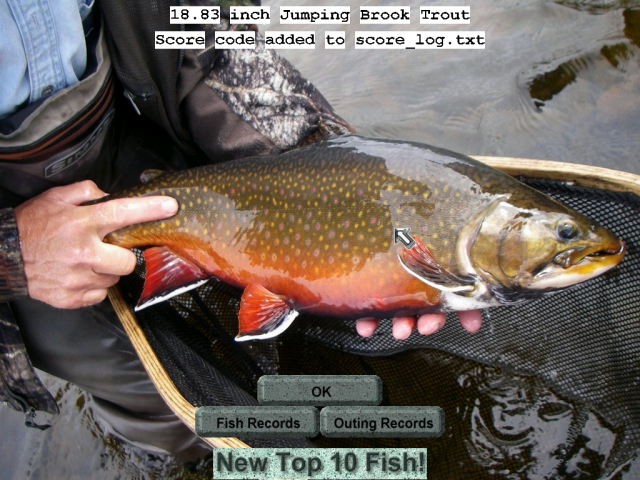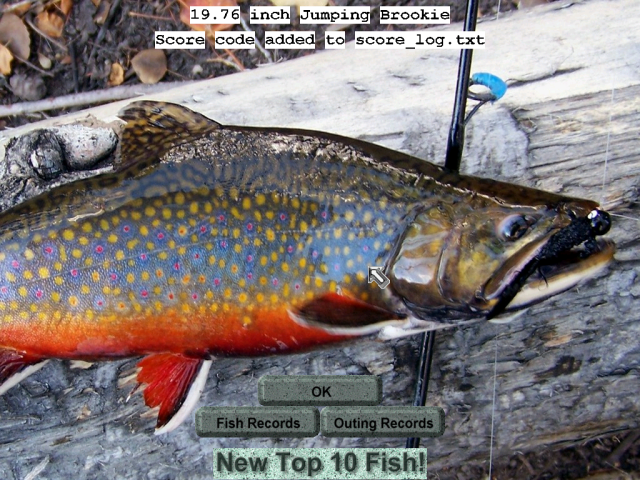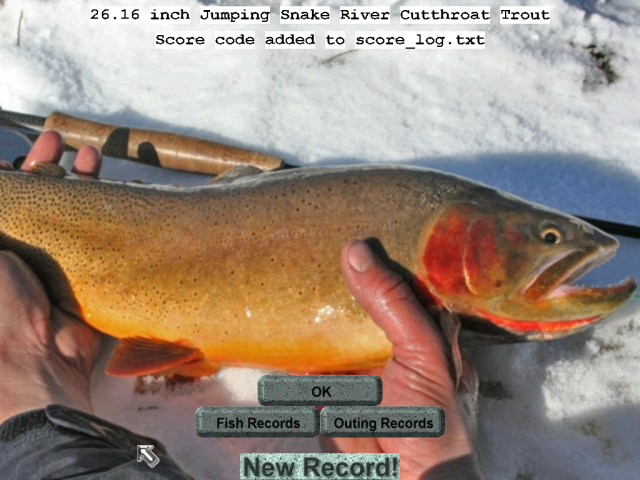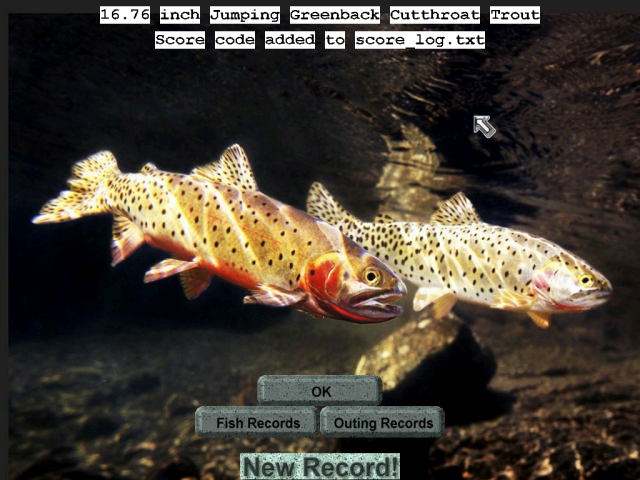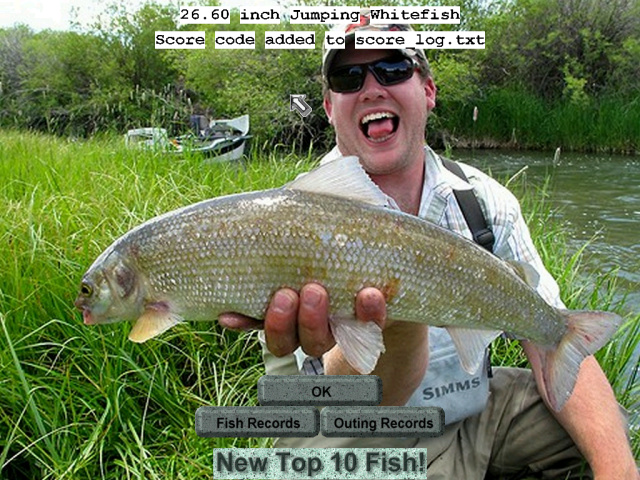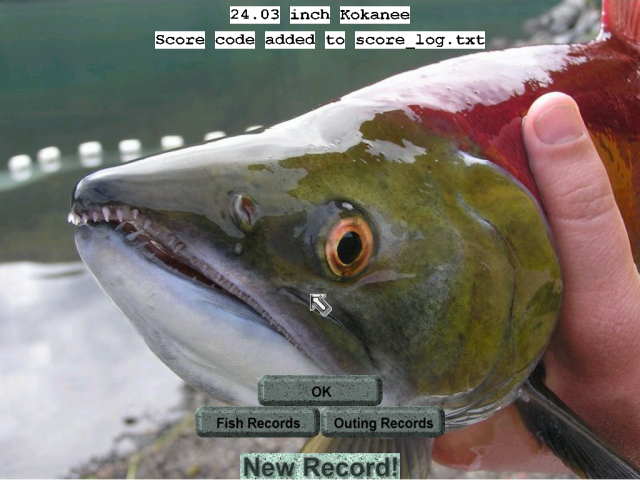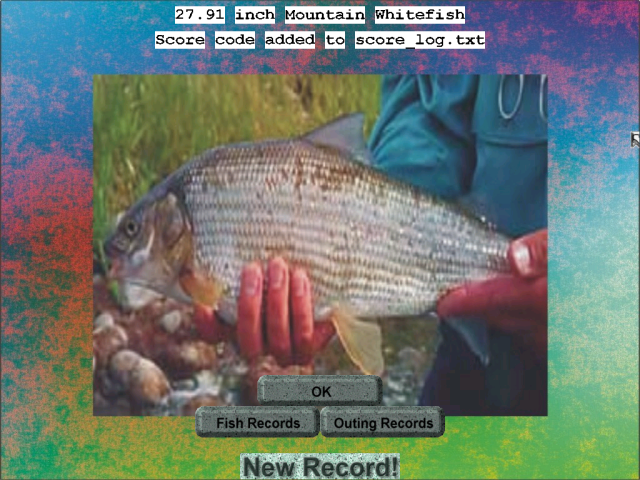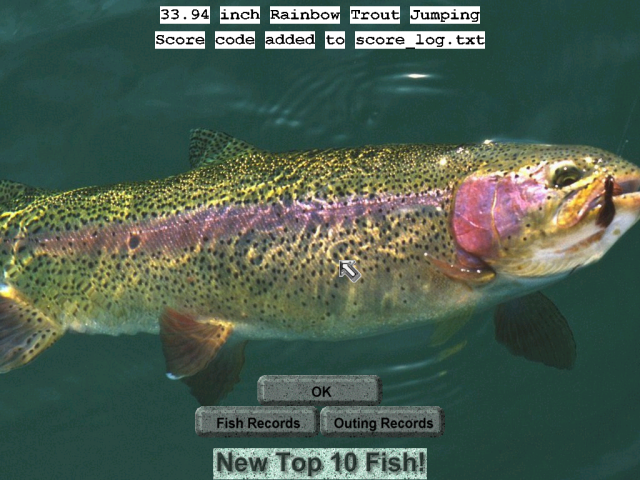 7/30/2013 Sw The Wind River Range Wyoming
Fish: 26.31 inch Mountain Whitefish from Sw The Wind River Range Wyoming; Code: GDOKQJDBTCOXS9413KJWMGXYSJOORRDXUOCKTCELPMPKXNOCELLIXLRJKRZLH
Fish: 25.92 inch Bonneville Cutthroat Trout from Sw The Wind River Range Wyoming; Code: HWPDZXHMOGWZP3431NNGFELMWQGRLPDXRTUSSQNSRDMUYJOKPOCOWOUABUKOF
Fish: 23.64 inch Jumping Yellowstone Cutthroat from Sw The Wind River Range Wyoming; Code: GAUECSVDHGUXM3376FBNXYTHWQENBSUBVGCDDUDQAVFVOZCUGWNSCQGKTVRNX
Fish: 16.17 inch Jumping Brook Trout from Sw The Wind River Range Wyoming; Code: YUAISOWHVJMRZ2244MBFDTVGBJMMJHNSIYSNXHAIALSBMXMEQYATLAEZOVDAN
Fish: 25.93 inch Jumping Yellowstone Cutthroat from Sw The Wind River Range Wyoming; Code: DMOEDWHLOTBCP9824ALYZOGJPQZVRFLIDQUMLPVLNEPKBHUNSLDFFEMOGMETN
Fish: 22.22 inch Kokanee from Sw The Wind River Range Wyoming; Code: UHBVQOHBCADAA3390CROIVEMYJNQAIFGDGSIHGHMHVLBPZYZMGDMZVLPEPZTW
Fish: 25.95 inch Jumping Cutthroat from Sw The Wind River Range Wyoming; Code: OBGBDOOXDRKGV7427HDWVYIWAKXROJYDCQINTQGRMXYJJNSFQCIHGVYGZBTAR
Fish: 15.40 inch Jumping Greenback Cutthroat Trout from Sw The Wind River Range Wyoming; Code: QHJJCLHDRTQAQ5287YKCDFAHKJJGKTFUAAPYKDCNWALQGEZZOUGJUXCCOCSIH
Fish: 33.94 inch Jumping Red Rainbow from Sw The Wind River Range Wyoming; Code: JVZEBVUCHFDZZ0832AQHGRZKTFJFRBJQCVEGQFYBXTEJQINPNVPITZSWAYQEJ
Fish: 26.16 inch Jumping Snake River Cutthroat Trout from Sw The Wind River Range Wyoming; Code: KBPFNDFGLSAMM0395DOKPJWRUCAPXDPRHLYEWNASTCYZJKLMSQSFJPHTLDMFI
Fish: 24.50 inch GoldenTrout from Sw The Wind River Range Wyoming; Code: ASQTOSWWRQOHN3985SGRFOCKPWTLSFEOWKBHFCUWXXWUEOHHSWQLTUVWCUHMB
Fish: 31.29 inch Jumping Red Rainbow from Sw The Wind River Range Wyoming; Code: ETNNDUBRDGWPN1114PTGPGMVOQPEQQZEZPPHYVQRQEXYZZYZMQVYATWMUZKZX
Fish: 26.60 inch Jumping Whitefish from Sw The Wind River Range Wyoming; Code: FOHCNTZIAETAN1449SETVKNXJKCTFWIGUAXZYMHXAMQZDUFZOYOYXKWJYQXXO
Fish: 34.38 inch Jumping Rainbow from Sw The Wind River Range Wyoming; Code: OOWQNFSHWHKFT1279VXTCHNLYDZDGCFDLVQRLOTOMROZGAZRDQPEVUAKXRJDE
Fish: 27.58 inch Mountain Whitefish from Sw The Wind River Range Wyoming; Code: PXMAYLLKLSKUZ7561OPGCFZJJJGVWGOSXDSCAMPMDXFJTYFCHUFLILLWZKZLH
Fish: 14.50 inch Jumping Brown Trout 2 from Sw The Wind River Range Wyoming; Code: FKFTRTYFWYEGI3107LAPJACABWTIPCYFOTBBUDPFMSYXIQJSMBIXTOBABFAQC
Fish: 33.01 inch Jumping Red Rainbow from Sw The Wind River Range Wyoming; Code: CCRIBHVXQAGIS0394FWICONOLPSMRFIPQRHJIIIQONPYDTWKSQFVQMQSQFLES
Fish: 18.83 inch Jumping Brook Trout from Sw The Wind River Range Wyoming; Code: CADQUHLMOTOYC8273JLCSJHCIRADJEMOSAZBGRYRHZNKFVCTISPIXSXEENKZX
Fish: 26.84 inch Mountain Whitefish from Sw The Wind River Range Wyoming; Code: HHWWGZEZORAQK6469VJDNIATVQUWHVIXSFXGQAQWKUNREQFHZKFDXNYAIKZLH
Fish: 18.70 inch Jumping Brookie from Sw The Wind River Range Wyoming; Code: IVTBIOUDODYSM1238PLXWTWLGXDXWXWRSLOZXPXIQFZFXAZRUBIWQTOFUWJDE
Fish: 17.05 inch Jumping Brook Trout from Sw The Wind River Range Wyoming; Code: MNHWXZJMCHIET2657FBBLOEDXDOXYICJBKQVMAZGYNNEQDYVVLMWNHIBLNFJB
Fish: 19.38 inch Jumping Brook Trout from Sw The Wind River Range Wyoming; Code: BZSDAQDYETTUM5178IOZNGJWXWITBISKKBOKSIHVHWEQUFKCMCIXVRNUYGXXO
Fish: 24.55 inch Jumping Cutthroat from Sw The Wind River Range Wyoming; Code: WQTJARUBJPAKT8405YFEXKAHEJRGBPCCAXASHTFEGXHQNEABJEAMISBRKWHPM
Fish: 26.58 inch Mountain Whitefish from Sw The Wind River Range Wyoming; Code: XAODMRWARFHLL6921IRAFTBFEQURNLTWKUPORKSNQAVPBLUFQEJDCESXSIAQC
Fish: 16.73 inch Jumping Brookie from Sw The Wind River Range Wyoming; Code: XEMLFZZCSXVKI2373PEERDMCMWDCDFDXRCLMWTKENUFZVHYMLBPMHSNGQSAQC
Fish: 23.95 inch Jumping Yellowstone Cutthroat from Sw The Wind River Range Wyoming; Code: HHTVCZODNOABK6469VJDNIATVQUWHVIXSFXGQAQWKUNREQFHZKFDXNYAIXODL
Fish: 25.49 inch Jumping Brown Trout from Sw The Wind River Range Wyoming; Code: PKBKKURRKJHHB4610AOJNWUTLREJDNAAPYKZANCQEDQCWLQICOYOUMJSATRNX
Fish: 27.91 inch Mountain Whitefish from Sw The Wind River Range Wyoming; Code: ITIKXOAOODFZX7917TBRUOQZCQLOOWIRCVZRVYWQJZPRACXAKCKJFZNSJGTAR
Fish: 25.19 inch Bonneville Cutthroat Trout from Sw The Wind River Range Wyoming; Code: VIBOEKWDLZAQE3019HSUKXVPMWBGTQNBVPBXOEABOMYZMXEPTIAIECHJIVKOF
Fish: 24.04 inch Kokanee from Sw The Wind River Range Wyoming; Code: MWWZJADNRTEPM9257UYMHMGWFJZRUHZIEICAIJULJMRJSUJJGVGKXSPWPVOJQ
Fish: 27.11 inch Mountain Whitefish from Sw The Wind River Range Wyoming; Code: PSIEHUJNRPBWD8115GFZLRIGIJXTZICUJFKNINFZHAMNMLQWRHJZUWZKWPFPY
Fish: 24.07 inch Jumping Whitefish from Sw The Wind River Range Wyoming; Code: WZAPOIXAYUMBM3005GUXAQCZMWCAFPZACDEXDBIJQPMVPVKGUOTATDIMMIYQO
Fish: 17.74 inch Jumping Brookie from Sw The Wind River Range Wyoming; Code: WCSQWKPYZTYOF1449IYEKZXLNWXCAACYJBGYBMALZSRGNCBYIILFSSPUXCPYE
Fish: 25.63 inch Jumping Brown Trout from Sw The Wind River Range Wyoming; Code: VGWWZCIGKPIMO9898DPNASPDAQKXLPZBFYMPMNRJGGPDPZKYJKKUTIGVVJJDE
Fish: 19.76 inch Jumping Brookie from Sw The Wind River Range Wyoming; Code: BFJJKJNTRSRLD8738HAOMXHANXNPUYLNWPJKFBHTWRUJBAVTFCXAIBXAKDMXA
Fish: 16.13 inch Jumping Brown Trout 2 from Sw The Wind River Range Wyoming; Code: DFOQFFORAPWJL6334WRLGVJCDKYLCOLKYBXPRYKFKTMTFPEYRZSFGNGHQOQCO
Fish: 14.34 inch Jumping Greenback Cutthroat Trout from Sw The Wind River Range Wyoming; Code: BXEMKQTQDWZUW1156EMTLBDLLPRKTHVKUSZUQRXDAIDCWHQMBESJCXMYNKSHR
Fish: 16.76 inch Jumping Greenback Cutthroat Trout from Sw The Wind River Range Wyoming; Code: TPXURWKAYLWDG8171ENKJRITAQJCZRNKGKCQPPJCLEBIMAEHIFJLFZFRRYCFU
Fish: 26.88 inch Jumping Brown Trout from Sw The Wind River Range Wyoming; Code: OLYLDWAPLGZWN6933QYSVZJUJKHKQFOYNOXRVGSSXADRXMNJXCRGAZPMGODVI
Fish: 25.74 inch Jumping Cutthroat from Sw The Wind River Range Wyoming; Code: NQEEBXBXFVBCN6697VEEPVASHQUOBRFFRCHAUQBNUSKQKZGJUUYGLIXQDVIIU
Fish: 26.37 inch GoldenTrout from Sw The Wind River Range Wyoming; Code: FUCCNTXGEPTRZ1813VMDJADYCWDUTYOZZQRFFUJGEVLXWWDXTBJVNASFINKZX
Fish: 27.97 inch GoldenTrout from Sw The Wind River Range Wyoming; Code: GJGJEJLOXPRRE1985NQGAWOZDDPHUKJZQEOQZCYDLVKIQHMZROGFMBNFTYSIH
Fish: 24.46 inch Jumping Whitefish from Sw The Wind River Range Wyoming; Code: GIYFDAPNNDOHO8881LTDVUPTTJXPUOPDIMKZLTHZDSJGEZCAVXYUDAEUPOMCX
Fish: 15.11 inch Jumping Greenback Cutthroat Trout from Sw The Wind River Range Wyoming; Code: BNMBCQHWWKKAF3423NSFKACMKQGZHTFPRVJYNSLUHFQVRBOHUEILILVSFSYKR
Fish: 17.70 inch Jumping Brown Trout 2 from Sw The Wind River Range Wyoming; Code: AGOKDKOZIEOIO1230XKPUIWALQQQHJRTVWXCAUYWXOIHTJKVBYQZOOLUIASIH
Fish: 27.18 inch Mountain Whitefish from Sw The Wind River Range Wyoming; Code: VAJWRCNJHGGGC8604BADMUZCODJVXVSHJATJGFXAKYUOWWLJEPGFESKQMKIIU