Hi Everyone:
If we can compare our Mad Dash Challenge to auto racing, it would be the 24 hours of Le Mans. The ultimate challenge of luck, skill and endurance. A lot of concentration and tons of coffee will be required to complete the Challenge with a good score! I had a frustrating day yesterday when I had everything going just right and caught several very good fish and was well on my way to beat my previous score. Guess what? My screen suddenly went black and I thought the computer had crashed. Hell no, it was the Microsoft update that shut the computer down! I jumped up and down a few times and said some nasty words. Then I checked the update schedule and it was my own fault. I had set the time to 3:00 AM Sunday morning myself. Oh well, the big one that got away!
I was able to catch a decent size fish through all this though. Slightly bigger than Barns's best and just shy of Doc's. Doc's fish will be hard to beat as landing the big fish is not easy in this outing challenge. I've had a few that spooled me and cannot be landed. Congratulations to Doc for doing such a great job catching the big one.
Here is the fish I caught before the screen went black!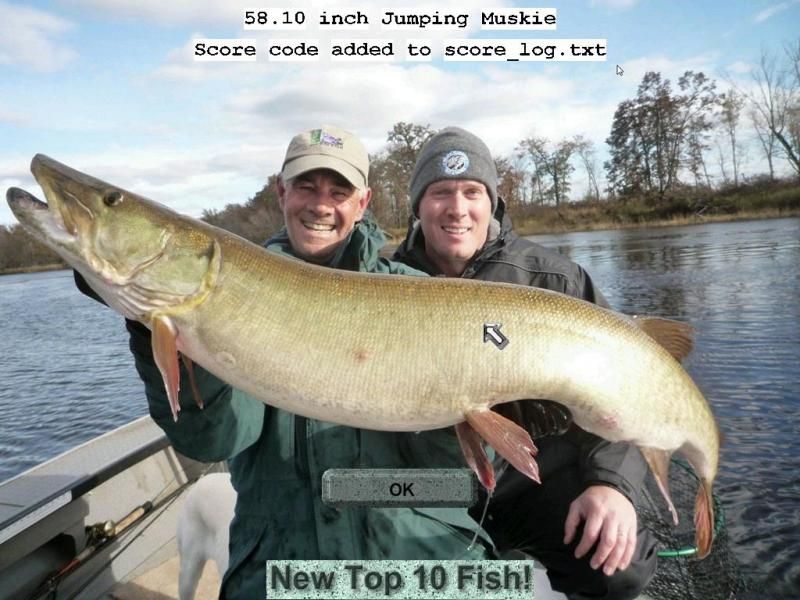 Fish: 58.10 inch Jumping Muskie from Sw St. Lawrence River Sultry Dusk; Code: SXCJQPEONKLIV4781DLKPMPJXUUHBYCRLLMFDLIBEJRXNYVMTQOCGKQTMUDVI
Watch out, Uncle Barnsie, we are still after your record!
Regards,
Stanley