Hi Everyone:
I just finished migrating all my RWFF stuff to a new computer. I just couldn't believe how many different tools and software were used in making fish, or building outings for RWFF. It took me nearly one week to get everything moved, adjusted and working on the new PC. One of the last things I wanted to try to do was to make some RWFF YouTube videos. Unfortunately, the old video making tool that I used had just gone commercial and they wanted about $50 for it. To me it was not worth it as the software is pretty crude and in my opinion, not worth the money that they wanted to charge. I got on Google search and tried several different free video making softwares. I finally found a decent one that was simple to operate, and still produced video files in good clarity. I then set about trying to use this software and make a video based on an unpublished outing called, "C L Selway River, Idaho".
The Selway River is a relatively unknown stream situated in some of the most pristine outdoors in the Northern Idaho Panhandle. The Selway, as the locals would call it, is not a huge river and the upper reaches are accessible only by foot, or back packing. Many years ago I did a three day backpack trip up the Selway with several friends and we took along a good size inflatable rubber raft. Our backpacks weighted nearly 60 plus pounds each and we took turn carrying the rubber inflatable up the mountain. We arrived at our put in point after two days of very hard hiking on a small mountain trail. The scenery was beautiful and unmolested, the air was pure and the water clean and potable. All during the two day hike we did not see another soul on the trail, just wild birds and animals. That is primitive outdoor at its very best! (also this was way back in the early 70's!)
Upon arriving at the put in point, we soon discovered the long hike and the weight of the backpack/rubber raft were not the most exhausting part of the trip. My good friend had forgotten to bring along the air pump for the 10 foot rubber inflatable and we had to blow it up manually by mouth! Quite a feat at an altitude of over 5000 feet above sea level! We took turn blowing into the small nozzle of the inflatable until we turned blue and then someone else would take over. A few hours later we were totally exhausted but we had a floating device to take us back down the river and back to civilization again!
We did some flyfishing on the way down the Selway and it was nothing short of fabulous. The wild trout had not seen, or have been molested by humans so they attacked anything that looked like food with a vengeance. We had success with both wet and dry flies. In fact we even caught some fish with sodden dry flies dragging through the water. The fish just didn't care! They have not read the Flyfishing Manual.
We caught many fish but we released them all as we saw no need to keep them. fresh clams from the river and steak cooked over an open camp fire was delicious!
Back to the video making. I had a bit of trouble with screen resolution with some of the new software that I tried. Some came out jerky, others fussy and not to my liking. I finally settled on the free CamStudio as it seemed to do what I wanted it to do without a lot of problems. Please take a look at this short video and see how you like it. It is best view in HD as it would appear a little out of focus in the lower resolutions. You can see the gorgeous Selway river via this link:
http://youtu.be/GyGjdWjHRP0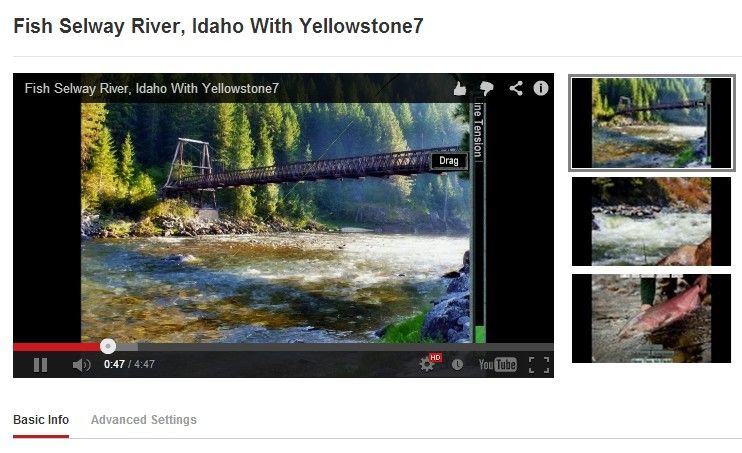 Please click on the "like" button for me if you like the video. Thanks!
Regards,
Stanley