Hi Everyone:
Every once in a while a gem of an outing would come along and SW's new "Fossil Creek" is one of them. Martin sent me an email not too long ago (yesterday?) and told me about a little stream that he had found in Arizona. He was pretty excited about the uniqueness of the stream and the quality of the pictures and thought he could work them up into an outing or two. I sensed a bit of excitement in his email and I waited. True to Martin's lightening speed in outing making he sent me the finished outing in less than four hours! Pretty incredible.
I downloaded the outing and had a good look at it. Martin was right! The scenes were beautiful in fairly high resolution. There were shallow runs, small waterfalls and some very inviting water not only for the fish, but for the angler as well. Martin is getting pretty good with the new software that I gave him to try a while ago and he also used the six frames per cycle to great advantage. The water flowed smoothly and flatly like a shallow stream should. I tied on a small ant imitation and gave the new outing a go. I found in small and confined water a top water fly worked the best as you can reach the top edge of the water without running afoul like you would with a weighted nymph or streamer. A few casts later I caught my first fish with the little ant and it is a beauty! Fighting a large "jumping rainbow" in a small stream is something that you would want to experience. I am not sure a small stream like the Fossil would hold a 3 foot rainbow but what the heck! This is all meant to be fun and fun it was fighting and landing such a large fish in shallow water.
Below you will see some of the scenes from the new "Fossil Creek" outing, coming to a theatre (hopefully) near you soon!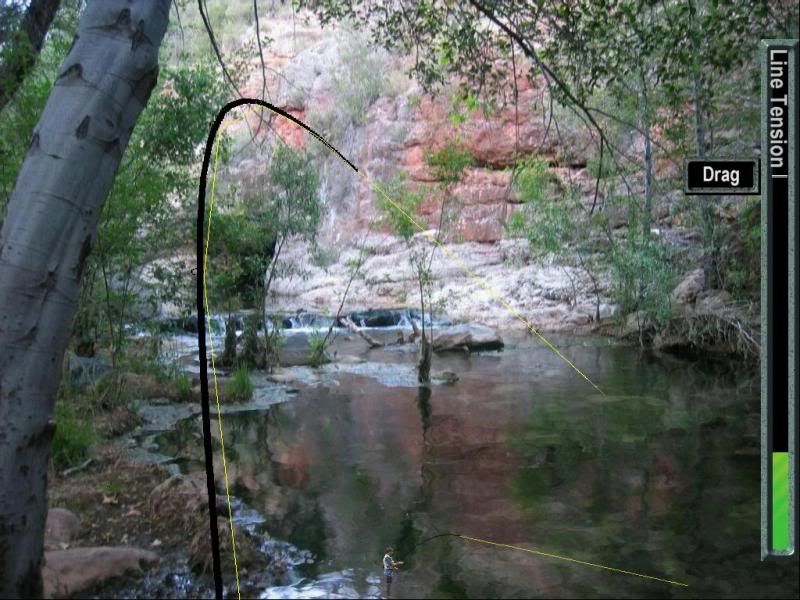 Regards,
Stanley