Hi All:
After I saw SW's fine fish caught in Ebro 2 I decided to have a go in Expert Mode.
Murky water, slow moving, large sinister looking pools with strange currents. Perfect set up for some catfish of extraordinary proportions. A great place for a treble hook, fresh chicken liver wrapped in a nylon bag with a heavy sinker. The smell of blood should attract those giant catfish. But wait a minute, we are flyfishers, not bait fisherman. So now what?
Visibility is poor in these murky waters. So something very dark? Something very bright and silvery would attract these lunkers? Sorting through my flybox, pretending I was a large catfish sitting in the current waiting for some food to come swimming by, or floating by. What would I eat? Ah, maybe a big juicy floating insect (actually catfish don't often feed on floating insects, their mouths are turned down so they are basically bottom feeders), maybe a fat shinny minnow that looked a little slow and crippled. Yeah, that is it. I selected a shinny minnow and went fishing. Trying to twitch it a little to make it look crippled.....!
Cast after cast produced nothing! What went wrong? Damn it, I will make the minnow even fatter and bigger so the catfish can see it. Another cast, a twitch between a pull, that is it, Bang!! A violent hit and when the giant catfish felt the hook and the tension, it headed for the far shore with the reel screaming, almost smoking! Another dream come true, right in the comfort of your own home. Brought to you by Martin, aka SW, Producer and Director of EBRO 2, Espana.
Martin, in your warning label you should have added: "Highly addictive! You may lose some weight because you will forego sleep and dinner for this game". Thanks Martin!! (didn't dare to put in the wife part!)
Regards,
Stanley
Fish: 69.68 inch AmurCatfish from Sw River Ebro Spain 2; Code: KJVLTJGERFXOO6808BYIKCMWQNONOWTRVVYSUAZQSRWP6UCTABEIGRCLFJXSJ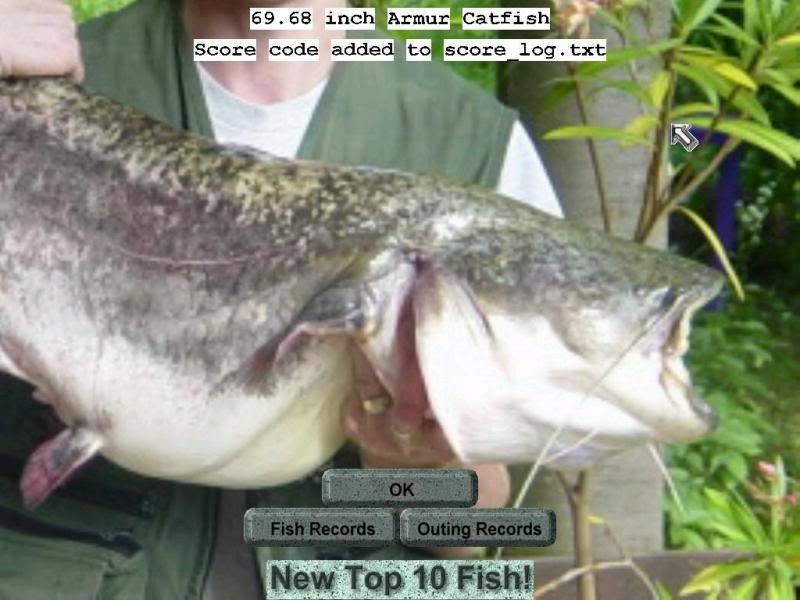 Fish: 53.65 inch Wels from Sw River Ebro Spain 2; Code: TYZRIXEWPBKEZ6780WVLRVEMHNXSQGKODMODJMHVKFAR0BFVMYCYBHKMSBMFI